One of the most familiar figures in Irish Athletics is Frank Greally who has almost single-handedly kept the Irish Runner magazine on the road for over thirty years – and done much more besides.
Now Frank was written his story – just in time for Christmas – called Running Full Circle. In the opening pages, we meet Frank as he returns to his native Mayo having lost his athletics scholarship in the USA. It is not the triumphant homecoming that he had envisaged when he had set out three years earlier.
He reminisces about his early years: discovering his talent as a runner with the likes of Padraig Keane and his late friend Pat Cribbin, winning Mayo and Connacht cross-country titles and setting an Irish junior record for 10,000m at Santry that still stands.
After his school days were over, he found work as a postman, first locally but then in Dublin, where he joined Donore Harriers and was coached by the legendary Eddie Hogan. A compact and wiry runner, Greally had done well enough to win a scholarship to East Tennessee in Johnson City along with his friend Ray McBride, a talented actor and musician who was later to link up with the Druid Theatre.
The dream soon unravelled. Injury blighted his first year at the college, and he began to spend more time in local bars than at the track, enjoying the party life and hanging out with writers, artists and musicians. By the end of his third year at East Tennessee, he was dropped – and deservedly. His heart was not in it anymore.
Back home, he took up a job with a Dublin-based magazine called Irish Bystander, selling ads, collecting accounts and writing the odd feature. It proved a useful training ground in every aspect of magazine publishing.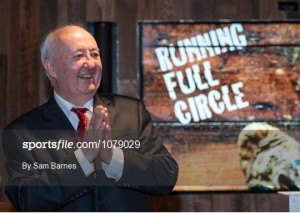 Frank had largely abandoned the sport of his youth but in 1979, when the World Cross-Country came to Ireland in 1979, his interest was revived. On a wet afternoon in Limerick, he watched John Treacy retain his world title and met Con Houihan, whose columns in the Evening Press had created a new audience for quality sports journalism.
He decided there and then to establish a magazine devoted to athletics and the burgeoning fitness market. In the first few months, while he was attempting to the new magazine established, he was also working for the Sunday Tribune newspaper. Something had to give and, one fine day, he came home with big news for his wife Marian: he had quit his permanent job. The fortunes of their growing family would now rest in the specialist little magazine he had established. Many peaks and hollows followed, most notably Frank's battle with alcohol and depression.
It's all there in the book – the triumphs and the tears, the ups and the downs. Running Full Circle is published by Ballpoint Press and available through Athletics Ireland or your local bookseller.
* Also recently published is Punching Above Their Weight an absorbing re-telling of Ireland's Olympic boxing history penned by Sean McGoldrick of Raheny Shamrock Athletic Club. Another one for the Christmas list!