When Caroline Crowley of Crusaders finished third in the recent National Inter-clubs Cross-Country Championships at Santry,  no-one was more surprised than herself.
"I was absolutely shocked. I'd read the previews and knew it was quality field. I thought I'd finish 15th or 16th. I had never even raced against these girls," says the 27-year-old Dubliner, who comes from Killiney.
After a numb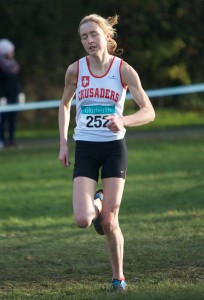 er of year playing Gaelic football and tennis, she had only started running three years earlier. "I knew about athletics when I was studying law in Trinity and my dad Vincent loved the sport and was always trying to get me to join the club there. I didn't – nearly because he wanted me to so much," she says.
Running wasn't entirely new to her. With her mother and father, both solicitors, and her six siblings, she ran the GOAL Mile Every Christmas and the annual Calcutta 10km, a charity 10km organised by the Law Society, without much training behind her. "It was painful!"

A friend from  GAA and Trinity suggested that they run the St Patrick's Day 5km and it was there that she met members of Crusaders athletics club. "A couple of months later, I started training with them, first it was four times a week and then five and then six. I was loving it – but I had gone from zero to five or six days training. It was too fast and I got injured."
After struggling to get back to fitness, Crowley  finally got to the bottom of a long-standing dietary problem when she discovered she was gluten intolerant. "I wasn't absorbing iron and protein from my food and when I started running, I was fainting after races and eventually got a stress fracture."
However nothing could compare to the devastating blow when first her mother and then her father died suddenly last year. "There are seven children – the youngest was 17 at the time – and we are very close, with four of us still living in the family home. An aunt and a grandmother also died. Things are getting easier now, but it  was a terrible time."

"So really I only started training properly at the start of this year. I began a strength and conditioning programme to make me strong enough to run and made a slow and gradual return to fitness."
Over the summer, she took part in her first track races at the Dublin Graded Leagues."I ran four 1500m races and a few 800ms and my times were very average. But I loved it and didn't mind coming in at the back of the field."
It all began to come together at the Autumn Open Cross-Country in the Phoenix Park, where she won the women's 5km race. She then won the Dublin cross-country title in impressive style. Her strong run at the Inter-clubs still came as a surprise.
When Crowley turns out at the European Cross-country Championships wearing the green of Ireland it will be only her second serious senior race. She's not daunted. "If someone had told me a few months ago that I'd be running for Ireland at the European Championships, I'd have laughed. I can't wait."
From the Herald 2 December 2015