I'll be giving a talk on Constance Markievicz at Hinterland in Kells – and then another at the Pearse Museum on Thu July 11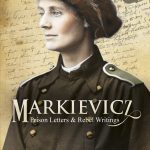 (7.30pm). All welcome to either – or both!
Here's the blurb for Hinterland – which takes place 27-30 June with RTE's Myles Dungan one of the organisers.
Countess Markievicz: The Life and the Letters
Friday 28 June 2019, 1pm
Venue: The Courthouse – Meath County Council Stage
She was the first woman elected to the House of Commons as an MP (though she never took her seat) and the first female member of an Irish cabinet (and if you don't think that was significant, the second one was appointed in…1979!) She was a leading member of the Irish Citizen's Army, spent more time in jail than Eamon de Valera and Michael Collins put together, and has been dividing historians ever since. In two volumes of history, Markievicz: A Most Outrageous Rebel and Markievicz: Prison Letters and Rebel Writings, journalist Lindie Naughton recovers the Countess from the realms of polemic, and offers a rounded portrait of one of the most celebrated women in modern Irish history.