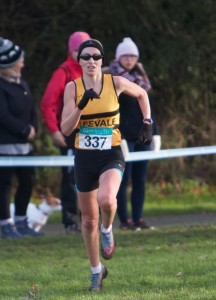 On September 27 this year, Lizzie Lee finished the Berlin Marathon in a time of 2:32:51. It was a personal best by over five minutes and comfortably inside the Rio '16 qualification time of 2 mins 42 secs.
She took two weeks off and not for one second thought about the forthcoming cross-country season.
"The word cross-country never entered my head although I love cross-country. I love it when the track girls are panting in the conditions. It's hard and mucky and the harder and muckier it is the better I like it!", says Lee, who was part of the women's team that beat French to the gold at the 2012 Europeans in Budapest on count-back.
That team was led by Fionnuala McCormack who won the race and was followed by Linda Byrne in eighth place; earlier in the year, Byrne had run the marathon at the London Olympics.
As far as Lee is concerned, it's s no coincidence that the team for Hyeres next Sunday includes four women who have qualified for Rio '16 in the marathon and the steeplechase. "You need to be strong to run these events and you also need to be strong for cross-country."
For the four women, Rio '16 may be top priority but the cross-country season is providing a nice break from the slog of winter training. "I never thought I'd be able for cross-country so soon after after Berlin. But then Kevin Akrom got in touch and said we want you."
Lee had also met Sonia O'Sullivan in Cork who pointed out that from the start of the new year she would have five hard months of training ahead of her. Until then, she may as well have some fun.
She's delighted to back on the Irish team for the first time in "two years and eight months" after the birth of her daughter Lucy less than a year ago and she's been researching the French course. "Cross-country courses vary a lot. We've been told to bring the 9mm spikes for France. It shouldn't be mucky – it's on grass and trail with a few man-made mounds, so it will be fast enough."
For Lee, making the team is the icing on the cake after "an amazing" year. Back in February, she showed good early form by running the Barcelona Half Marathon in 74 mins 5 secs despite pulling a muscle at ten miles She followed that by running ta personal best 33 mins 13 secs when winning the Dunshaughlin 10km in June and another personal best 73 mins 27 secs when taking the National Half Marathon title in August on a course that ran through Dublin and into the Phoenix Park. "It's not a fast course like Barcelona but it was a good win for me and we also finished first team."
Lee is reluctant to make any predictions about Sunday's race. "I think Fionnuala is in better form than she thinks. Although I knew I'd never beat her at the Inter-clubs in Santry, she pulled away from me a lot sooner than I expected."
The fact that there's no pressure on her may also help. "Fionnuala doesn't like it when all the focus is on here. She prefers it when there's someone like me on a team who is prepared to give a lead and push themselves forward."
Helping were the management skills of Theresa McDaid. "With Theresa, there have been clear communications with all of us since last September and her team talk in Budapest was brilliant. She's very good."
Like all the team members, Lee hopes to establish her position from early in the race. "The start is very fast and wherever you are after two minutes is likely to be where you are at the finish."
After it's all over, it will be back to Cork and a few easy week before the preparations for Rio begin. "I'm lucky that I don't have to run another marathon like some of the lads. I 'm hoping I'll get to the World Half Marathon in Cardiff next March."
Looking after her training is Donie Walsh. "Since I started in athletics, Donie has coached me and I just do what he tells me. I don't even ask about the sessions until I turn up. " Walsh has slowly put surely built up a formidable distance squad in Leevale, with Michelle Finn and Ryan Creech, also heading for Hyeres, among his charges.
It makes training tough but enjoyable."He's just brilliant!"