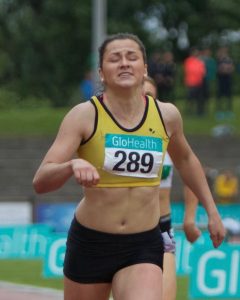 Emma Mitchell finished seventh in the women's 5000m at the World University Games in Taipei today. Her time of  16:00.02 put her less than 15 seconds behind the winner Hanna Klein of Germany who finished in 15:45.28. Shona Heaslip ran a personal best time of 16:09.62  to finish 11th.
Only Irish athlete left is Matt Bergin who goes in tomorrow's men's 5000m final. In  the heats, Bergin took one of the five automatic qualifying spots when he finished third in the second of two heats. His time of 14:25.10 puts him third on the list of qualifiers for the  final.
Bergin, a 24-year-old physiotherapist from Bedford in England, has a 5000m best of 13:54.31 dating back to 2015. After he was controversially left off the UK team for the European U23 Championships in 2015, he declared for Ireland. He's in good shape after running 8:01.58 for 3000m last month.
On Saturday, Phil Healy finished seventh in the women's 200m with a time of 23.81 secs yesterday. Healy had qualified for  the 200m final after winning her heat in 23.87 secs and then finishing second in her semi-final in 23.80 secs yesterday. She had the eighth fastest time of the finalists. Marcus Lawler didn't line out in the men's 200m heats.
Also on Saturday, Rio Olympian Michele Finn finished13th in the women's steeplechase.
On Thursday, Paul Byrne made it through to the semi -finals of the men's 400m hurdles as a fastest loser. He finished seventh in Friday's  final. The heats of the women's 5000m, scheduled for Thursday, were cancelled, which means both Shona Heaslip and Emma Mitchell will run in Sunday's final.
On the opening day of competition last Wednesday, Emma Mitchell finished ninth in the women's 10,000m. Niamh Whelan qualified for the semi-finals of the women's 100m as a fastest loser after running two rounds. A day later, she finished seventh in her semi-final. Marcus Lawler went out in the second round of the men's 100m.

World University Games,Taipei
Wednesday Aug 23
Men's 100m – Marcus Lawler Rd 1 Ht 2 (of 10), 3rd, 10.63 secs. 19.53 Rd 2, Ht 4, 6th 10.70.
Women's 100m – Niamh Whelan Rd 1 Ht 6, 3rd, 11.71 (Q); Rd 2, Ht 4, 4th, 11.74 (q)
Men's 1500 Ht 3, 9 Kevin Kelly 3:53.77.
Women's 10,000m final 9 Emma Mitchell 34.51.62.
Thursday Aug 24
Men's 400m H – Ht 3, 4 Paul Byrne 51.06(q)
Women 100m – SF 1, 7 Niamh Whelan 11.81
Friday Aug 25
Women's 100m H – Ht 5, 3 Sarah Lavin 13.54 (Q)
Women's 200m – Ht 6, 1 Phil Healy 23.87 (Q); SF 1, 2 Healy 23.80 (Q); final
Mens' 200m heats Marcus Lawler dns
Men's 400m hurdles SF2 – 7 Paul Byrne 51.31
Saturday Aug 26
Men's 20m walk – 13 Cian McManamon 1:35.06.
Women's SC – 14 Michelle Finn 10:40.06.
Women's 200 final – 7 Phil Healy 23.81.
Men's 5000m SF 2 – 3 Matthew Bergin 14:25.10.
Sunday Aug 27
Women's 5000m final – 7 Emma Mitchell 16:00.02, 11 Shona Heaslip 16:09.62 (PB)
Monday Aug 28
13.00 Men's 5000m final
Save
Save
Save
Save
Save
Save
Save
Save
Save
Save
Save
Save
Save
Save