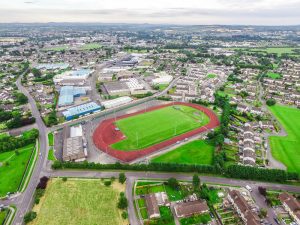 Vulture funds: while these latter-day Scrooges make the lives of over-reaching speculators a misery, they stay at one remove from ordinary folk. Or so you might think.
Imagine this scenario: you are a sports club and want to lay down a new pitch or track; or maybe build a club house for the use of your members and the community.
This will cost, say, €500,000. You apply for a grant and are delighted to hear that if you can raise half that sum, Lottery funding will supply the rest. You hold raffles and fashion nights and road races; you might even set up a club lottery to bring in the funds. It still isn't enough. So you go to the bank and ask for a loan.
Soon you have a spanking new facility. What you may not have fully realised is that your problems have only begun. Where will you get the money to maintain this facility, which is a lot more draining on the finances than a Portacabin and a field? To pay the bills, you'll have to keep it open all day and most evenings. You'll have to apply for every grant going, which means days if not weeks of form-filling, emails and phone calls. Since you are all volunteers, you'll have to find staff and you'll have to pay them.
Soon, with all the drains on your resources, you may find that you can 't repay that loan you took out to build the facility in the first place.
Such is the scenario hitting a number of sports clubs around the country. The recession that hit ten years ago hasn't helped. Everyone has noticed the number of high-profile golf clubs going bankrupt or quietly folding, but many other clubs are also suffering.
"The government gave money to clubs to build the facilities, but they don't offer the support that's needed after the facility is built," says Marjan Boers, who has managed Claremont Stadium in Navan for the past seven years.
Claremont, home to Navan Athletics Club and Parkvilla Football Club since 1981, was put into receivership last March and is now up for sale.
The root of the problem is a loan taken out from the ICC, later taken over by Bank Of Scotland which became Bank of Scotland Ireland. When this dissolved, its loans were taken over by Ennis Property Finance, an "entity" with links to Goldman Sachs, which appointed Pepper Finance to manage the debt. In other words, a vulture fund, though by all accounts, not the worst of them.
Negotiations had taken place after the take-over and the management of the stadium was making monthly payments on the debt. It wasn't enough.
Now Claremont is for sale at a modest price of €500,000 for the 2.51 hectare site. This includes the eight-lane track and football pitch and the original building dating back to 1981 which includes a number of rooms and an indoor hall large enough to fit a basketball court or four badminton courts. The facility is something of a sporting and community hub for Navan and provides accommodation for Meath Sports Partnership, Special Olympics, Navan Career Start and the Louth Meath Education and Training Board.
It has become far more than simply a sports facility, although from an athletics point of view, it's one of Athletics Ireland's centres of excellence, and a vital facility for Meath's 18 athletics clubs.
The track, with a full-sized football pitch in the middle, dates back to 2000. When it opened, it was the fulfilment of a dream for the late Rita Brady and the original group from Navan Athletics Club who, with Parkvilla Football Club, had the vision to buy the site and build the initial clubhouse in 1981.
Since 2010, the stadium has been in receipt of funding from Pobal under the Community Services Programme which pays for the staff. For this reason, management of the facility was taken over by Claremont Management Company, a private limited company. Supervising its activities is a board of eight which consists of a minimum of two members from both Navan AC and Parkvilla AC as well as representatives of other groups using the facility.
During the recession, the stadium hit a trough financially because numbers using the facility had dropped off. However in the past few years, numbers are climbing again. Most significantly the numbers of adult runners has increased, helped by the local Parkrun and the hugely popular beginners' sessions run by Navan AC. The local Simon Cumbers/Paddy Hyland 5km attracted a record 866 entries last May.
Thanks to a staff of seven with a further five on a community employment scheme, the stadium is open from 9am to 10pm on weekdays and from 9am to 4pm at weekends.
Although the tenant clubs are understandably worried about its future, quite who would want to buy the stadium is open to question.
Situated in the middle of housing estates, the property is zoned F1 – "To provide for an improve open space for active an passive recreational amenities" – under the Navan Development Plan 2009 – 2015 Variation No 2 dated March 2017. No local councillor worth his votes would attempt to have it rezoned, say, for housing.
On top of that, Meath Council Council hold the 999-year leasehold. So the facility is of limited interest to speculators. It's not going to make them money – and the buildings in particular are badly in need of an upgrade.
Based on a sum of money they knew they could afford, the Claremont Stadium management has put in an offer to buy the stadium. While it's well off the asking price, the hope is that that no-one will come forward with anything  better. A viewing for prospective buyers planned for last Tuesday was cancelled.
In other scenarios, Sport Ireland or some other branch of government would recognise the vital role the stadium plays in the local community and would pay off the debt.
Whatever happens, the story of Claremont Stadium remains a salutary lesson for sports clubs all over the country. There's also the broader question of wasted money to consider, as well as  the distinct lack of an overall plan when it comes to providing sport facilities.
"Tracks are popping up all over the place. The government loves giving out money for new facilities. But it doesn't support the facilities that already exist," says Marjan Boers.
Save
Save
Save
Save
Save