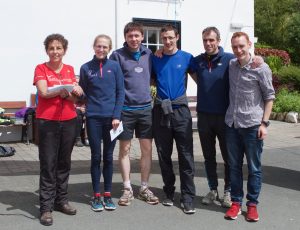 TT Racers, a group of runners coached by Terry McConnon who train in Trinity College at lunchtime, were emphatic winners of the inaugural The Relay in the Wicklow Mountains today.
A total of 31 teams  of five (one at least a woman) had signed up for this new 70km race organised by the Parnell club in Rathdrum,  and 28 turned up and finished on the day. Many of them were Wicklow Way Relay regulars , including TT Racers, winners this year, and hardy annuals Trim AC (Team MAPLE). Newcomers included  teams from Celbridge AC's Fit for Life section and Aer Lingus.
From  the start at Avondale Estate  in Rathdrum to Claravale, the TT Racers were in front, with Tom Lupton's time of 46 mins 20 seconds giving them a solid lead on two Parnell teams and Up North, who had opted to put their woman team member on the first leg.  Laura Shaughnessy for TT Racers stretched their lead on the second leg to Oldbridge, although Up North were making up time. On the shortest leg of the race from Oldbridge to Pier Gates, Caoimhin Mac Maolain clocked the fastest time of the day. Next up was a slog from Pier Gates to Laragah, with Don Travers for Up North clocking the fastest time of the day for this, although TT Racer's Rory O'Connor was almost as fast and maintained his team's lead.
Just one leg remained from Laragh  over Mullacor to Drumgoff and, on this, there was no stopping Irish international mountain runner Ian Conroy for TT Racers. His time of  59 mins 5 secs brought TT Racers home in 4 hours 24 minutes  25 seconds and won them the €1,000 winner's cheque (sponsored by Ordnance Survey Ireland).
Second fastest on the leg was Jonny Steed a former winner of the Wicklow Way 52km Ultra, who also broke the hour for the leg and brought Up North home second ahead of Parnell Dynamos. Solo winner was Louis Byrne who finished in 8:21:36.
As with all hill runs, there were tales of runners lost and trails missed and well deserved praise for an event that was impeccably organised with a clever course that didn't involve too much travel between legs. The Relay will return on the second Saturday of June 2018,  giving everyone a chance to do it all again – and with, we suspect, many more besides!  Pics at www.lindie.zenfolio.com
The Relay.ie; 70km; five legs in Wicklow Mountains; Rathdrum to Pier Gates and then back to Drumgoff. Full official result at www.therelay.ie
1 TT Racers 4 hrs 24 mins 25 secs (Tom Lupton 46.20 Laura Shaughnessy 54.50, Caoimhin Mac Maolain 43.20, Rory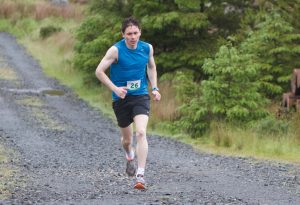 O'Connor 60.50, Ian Conroy 59.05), 2 Up North 4:40.14 (Elisabeth Wheeler 57.17, Conor Reid 58.42, Clive Bailey 44.02, Don Travers 60.27, Jonny Steed 59.48), 3 Parnell Dynamos 4:43.48 (Clive Quinn 47.00, Alan Dalton 59.00, Aisling Kirwan 50.40, Anthony Breen 70.00, Tom Moore 67.08), 4 Parnell 2 4:55.49 (Robert Murphy 51.55, Sonya McConnan 60.40, Tony Collins 45.39, Richard Church 68.54, Kevin English 68.41), 5 Ballyroan Abbeyleix and District 5:03.37 (Thomas Dunne 61.00, Cian McDonald 58.58, Kate McDonald 49.4, Liam Dunne 64.10, Martin McDonald 69.47), 6 Glendalough A/C (Rene Borg 56.06, Amidou Dembele 60.14, Claire O'Callaghan 50.11, Peter Bell 66.29, Barry Murphy 72.10),
7 The Goosebankers 5:11.07, =8 Billy's Angels 5:17.52/Tinahealy Tri 5:17.52, 10 Baby Faced Assassins 5:24.19, 11 Models and Farmers 5:26.50, 12 IMRA Suspects 5:30.55, 13 Scrambled Legs and Aching 5:32.30, 14 The Trail Blazers 5:32.42, 15 Glendalough A/B 5:42.18, 16 Jet Setters 5:42.33, 17 Aughrim Runners 5:43.45, 18 Trail Mates 5:53.01, 19 First Timers 6:09.32, 20 MAPLE 6:20.24, 21 Haute Route Runners 6:23.41, 22 Ballyteigue Bandits 6:25.13, 23 Wicklow Waysters 6:52.52, 24 Fit for Life Goes Offroad 6:56.55, 25 Aer Lingus 7:56.50, 26 Wicklow Blues 7:47.27, 27  Sky High 7:50.50, 28 The Monday Club 7:51.50.