Thomas Barr of Ferrybank showed that he's over his recent injury when he clocked a time of 49.39 secs for third in the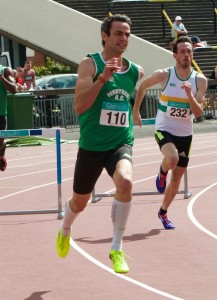 400m hurdles at the  Athletics Geneva meet in Switzerland. This time is just outside the World Championships qualifying standard of 49.35 secs.
Clonliffe's Brian Gregan won  the 400m A heat with a time of 45.75 secs, while Sinead Denny of DSD clocked 53.54 secs to win the women's 400m. The time puts Denny top of the current rankings.
Luke Lennon Ford  ran 49.18 secs in the 400m heats and also 21.67 secs in the 200m. In the 1500m Daire Birmingham of Raheny ran 3:50.21 for fourth place. In the women's 200m, Phil Healy ran 23.65 secs in her heat – the fastest women's 200m time this year. Not too far behind was UCD's Sarah Lavin with 23.74 secs in a different race.
Lavin also ran in her specialist hurdles clocking a time of 13.47 secs for second in her heat.
On Sunday at a meet in Regensburg, Germany, Marcus Lawler  of SLOT moved into third place on the all-time Irish  list with a time of  10.30 secs when he finished second in the 100m behind Britain's Andrew Roberstson who ran 10.23 secs. Fifth in the race was Eanna Madden in 10.65. .  Lawler's time was also an Irish U23 record. He followed it up with a time of 20.79 secs  for third in the 200m; Madden was ninth in 21.68. Niamh Whelan of Ferrybank was third in the women's third heat in 11.75 secs and seventh in the 200m in 24.63 secs.
UCD's Mark English finished fourth with a time of 1:46.02 in an 800m race at Hengelo on Sunday; he is chasing the World Championships standard of 1:45.90. In the USA,  Stephen Scullion ran 28 mins 58 secs for 10,000m at the Portland Track Festival.
On Friday in Belfort,  Kerry O'Flaherty of Newcastle and District ran her first steeplechase in some time, recording a time of 10 mins 5.03 secs for 11th place.
Selected results (Irish interest)
Men – 400m Serie 3: 2 Luke Lennon Ford 47.18. 1500m Serie 1: 4 Daire Birmingham (Raheny Shamrock) 3:50.21. 400 hurdles Serie 1: Mamadou Kasse Hann (Fra) 48.40, 2 Kariem Hussein (Sui) 49.02, 3 Thomas Bar (Ferrybank) 49.39, 4 Sebastian Rodger (GBR) 49.58. Serie 3: 4 Paul Byrne 52.04.
Women – 200m: Serie 2 – 6 Phil Healy (Bandon) 23.65.  Serie 3 – 3 Sarah Lavin (UCD) 23.74. 400m: Serie 3: Sinead Denny (DSD) 53.54.  100m hurdles: Serie 2 – 2 Sarah Lavin (UCD) 13.47.
CIARA MAGEEAN of UCD won the 800m in an untroubled time of 2:07.40 at the Northern Ireland and Ulster Championships in Belfast.
Leon Reid of Birchfield Harriers, who  won national indoors titles last February, made it a sprint double. He won the 100m in 10.59 secs beating Paralympian Jason Smyth of Derry Track Club TC into second place in n 10.76 secs. In the 200m, Reid ran 30.81 in the heats and then 21.12 in the final. MDSD's Mark Kavanagh was second with 22.10.
Back in action in the 200m was Amy Foster of City of Lisburn. Her time of 24.13 secs saw her finishing well clear of the chasers led by Stephanie Creaner of DCH who ran 25.19 secs.
Catherine McManus of DCH clocked 54.36 secs for a narrow victory in the women's 400m, beating Davicia Patterson of Beechmount Harriers who ran 54.50 secs. Ballymena's Craig Newall won the men's 400m in 47.31 secs.
In the women's 1500m, Emma Mitchell of Queen's had a good win over the in-form Anne Marie McGlynn of Letterkenny AC. The pair were timed at 4:24.18 and 4:29.09. Danny Mooney of Letterkenny won the men's 1500m in 3:44.40.
Ben Reynolds of North Down was a clear winner of the senior men's 110m hurdles in 13.99 secs, with Gerard O'Donnell of Carrick-on-Shannon second in 14.93 secs.
Winning the senior women's 100m hurdles was Mollie Courtney of Cheltenham in 13.61 secs. Megan Marrs of City of Lisburn was second in 13.68 and DCH's Catherine McManus third in 13.87. Anna McCauley of City of Lisburn won the W18 100m hurdles with a time of 14.13, while Darragh Minister won the M18 and 19 boys 110m hurdles in 14.88 secs. Both athletes are multi-eventers.
Jason Harvey of Crusaders won the senior men's 400m hurdles in 51.42, with Timmy Crowe of Clonliffe second in 54.62 secs. With Christine McMahon opting to run the 200m rather than her specialist event, Tir Chonaill's Kate McGowan wont the women's 400m hurdles in 62.57 secs.
James Edgar of Lisburn, still U20m, won the 5000m in 14:54.81. Glaslough's Conor Duffy was second in 14:58.37. 
Dublin Marathon winner and Paralympian Patrick Monaghan of St Coca's won the wheelchair 1500m in 3:20.26. Second was Jim Corbett of Torque RC in 3:21.13.
RAHENY'S  Kieran Kelly ran a time of 1:49.12 in a close-fought 800m at the GV Ryan IMC Meet in Irishtown today. Race winner in 1:48.78 was British visitor Markhim Lonsdale.
Ellie Baker, another British visitor won the women's race in 2:07.44 with Amy O'Donoghue of Emerald second in 2:08.04 and UCD's Alanna Lally third in 2:08.12. Running a European junior qualifying time of 2:09.23 was Sarah Healy of Blackrock, who finished fifth.
Carla Sweeney of Rathfarnham WSAF won the women's 1500m in 4:27.99. In the men's 3000m, Donore's Eric Keogh came home first in 8:22.66, with Conor Dooney of Raheny second in 8:23.19. Matt Behan of host club Crusaders won the110m hurdles in 14.79 secs despite a stiff headwind. He also ran a wind assisted 14.67 secs in a second race.
IAN BAILEY OF Newcastle AC led the Irish men's team home at the IAU World Ultra-Trail Championships in Tuscany, Italy. Bailey came home  54th  after taking 5 hrs 23 mins 6 secs  to complete the grueling 50km course with 2,980m of climb.  Paul Tierney from Cork was 78th with a time of 5:37.41, Barry Hartnett  of Mooreabbey Milers 91st in 5:52.57 and Justin Maxwell of  East Coast AC  131st in 6:48:03. Last year, Harnett, in 138th place, was Ireland's only finisher.
BARF vetern Jackie Toal was best of the Irish women, finished 65th in 6:27:06. She was followed home by Eilis Connery of Rathfarnham WSAF and Belpark Tri Club 86th in  7:10:10 and Karina Jonina 98th in 7:52:45. Conditions were warm and humid. Race winners were  Spain's Luis Alberto Hernando – winner of the inaugural championships in 2016 –  in 4:23:31  and Adeline Roche from France in 5:00:44.