Spanish visitors Luis Amado Perez and Miguel Llorens led home over 500 boats at today's Liffey Descent, held in perfect conditions, with a good flow of water and a following wind.
The Spanish pair, who were runners-up three years ago,  won the men's K2 title finishing the 17-mile course from Straffan to Islandsbridge is in a superb time of 1 hour 46 secs. Second were British pair  Keith Moule and Nicky Cressler in 1:46.49 while third were Sean Rice from South Africa and Tom Sharpe from the UK in 1:48. 29. Best of the Irish were Salmon Leap pair Barry Watkins and Jon Simmons, fourth in 1:50.17.
First overall and first of the masters in K2 were Gary Mawer and Simon van Lonkhuyzen in 1:50.57.
There was an Irish victory in the mixed K2 class won by siblings Jenny and Peter Egan of Salmon Leap, who finished tenth overall in 1:55.04, despite losing about two minutes when their boat got caught up in riverside undergrowth along the way.
Second in a highly competitive category were Deaglan "Digger" O Drisceoil and Aisling Smith in 1:56. 15.
Tom Brennan took the K1 title with a time of 1:54.43, with Sean McCarthy second in 1:55.40 and Ronan Foley third and first junior in 1:57.11. First master was Dermot Hudson in 1:58.24.
In other categories, Craig Cummins was first in the wildwater boat class winning in 2:14.13; Fergus Copper was second and Kevin Quinn first junior.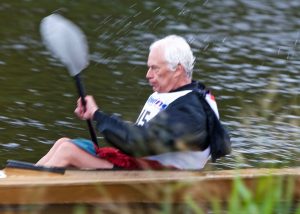 Winning the Touring T2 class were Conor Morrissey and Gerry Collins, who, back in 1972, was Ireland's first ever Olympics slalom paddler. First in a general purpose boat was Simon Grennell in 2:26.52, with Simon Kenny the first junior in 2:28.24. Winning the open canoe doubles were Brian McNulty and Dave Bradburn.
Receiving a special aware after he competed his 50th Liffey Descent was Scotsman Iain Maclean, who first paddled the Liffey in his early teens – and swears this one was his last!
Save
Save
Save
Save
Save
Save