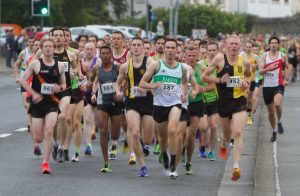 Irish national marathon champion Laura Graham of Mourne Runners finished 14th woman at today's Berlin Marathon today in 2 hrs 37 mins 5 secs.
Although her time knocked a massive two and a half minutes off her personal best,  it was an agonising five seconds off the Commonwealth Games consideration time.
Just one place behind Graham in 2:37.55 was Gladys Ganiel of North Belfast Harriers who was also running a personal best and finished first W40 in one of the world's most competitive marathons. Graham and Ganiel now move into first and second places on the current Irish women's rankings.
In the men's race, Rio Olympian Kevin Seaward of St Malachy's finished 19th in 2:15.50. His time was outside the 2:14.52 he ran in Berlin two years ago, but enough to put him on the Commonwealth Games consideration list.
In an Irish over 40 double, Clonliffe's Gary O'Hanlon finished first M40 in a personal best  time of 2:19.25. Race winners were Kenyan's Eluid Kirchoge in 2:03.32 and Gladys Cherono in 2:20.23.  A large contingent of Irish athletes had travelled to Berlin.  Finishing in under 2 hours 30 minutes were Alan O'Shea of Bantry AC with 2:27.29, Raheny's Cillian O'Leary  with 2:28.26 and Alan O'Brien of Eagle AC with a personal best 2:28.53; all were in the M35 age group.
Irish record holder Patrick Monahan of Le Cheile AC finished 13th with a time of 1:46.24 in the wheelchair race.
Kilkenny veteran Brian Maher shook off the challenge of Raheny's Conor Dooney to win the Rathfarnham 5km in 14 mins 40 secs. Dooney finished four seconds adrift, with Ethiopian visitor Bereket Gebreslase, who had won the SSE Airtricity Dublin Half Marathon a day earlier, taking third place.
First woman was Ciara Durkan of Skerries AC in 16 mins 46 secs. Biggest cheer of the day went to the legendary Brendan Earley of Civil Service Harriers, who will celebrate his 90th birthday in November and is still going strong.
In Co Galway, not far from his native Co Clare, Rathfarnham's Sean Hehir was a comfortable winner of the Loughrea 10km in 31 mins 59 secs. Second and first M40 was Matt Bidwell of Galway City Harriers in 34 mins 29 secs. First woman was Eimear O'Leary.
In Waterford, Ferrybank's Andrew Connick was the winner of the Vadrafjord 5-Mile in 25 mins 33 secs. Ruth Fitzgerald was first woman.
Riocht's Laura Crowe led home over 6,100 finishers at the annual Evening Echo Women's 4-Mile Mini Marathon. Crowe's time of 21 mins 20 secs put her eight seconds clear of  Leevale's Michele Finn. Sally Forristal of St Joseph's  won the Tipperary Women's 10km Mini Marathon in 38 mins 49 secs.
Dunleer's Karen Costello of Dunleer won the women's 3km race at the annual Star of the Sea open cross-country at Greenanstown, Co Meath. Mullingar's Caitriona Kennedy finished second and Nicola Bull of host club Star of the Sea third. Eva Cummins of Boyne AC was first junior.
In the men's 6km race, Hiko Tonosa of DSD opened up a gap with two laps to go and went on to win with 40 seconds to spare.Liffey Valley's Peter Arthur, winner for the past two years, was second with Raheny's Simon Ryan third. Jarlath Jordan of Tara AC was first junior. Winning the U17 boys' race was Seamie Dalton of Tara AC.
Clubs from Cork, Kerry, Dublin, Tullamore, Limerick and all the south east counties turned out for the 40th anniversary St Senan's Open Cross Country in Kilmacow. Adele Walsh of St Senan's and Tom O'Keefe of Kilkenny won the senior races. St Senans AC won the cup for the best overall juvenile club.
Rathfarnham 5km (758 finishers; www.myrunresults.com)
1 Brian Maher (KCH, M40) 14.40, 2 Conor Dooney (Raheny Shamrock) 14.44, 3 Bereket Gebreslase (Eth) 14.51, 4 Thomas Moran (Dunshaughlin AC) 15.12, 5 Shane Healy (MSB, M45) 15.15, 6 Paul Stephenson (Rathfarnham WSAF) 15.17. M40: 2 Paul Buckley (Ferbane AC) 15.43, 3 Brian Geraghty (Sli Cualann) 15.52. M45: 2 Paul Blaney (Beechmount Hrs) 16.52, 3 Kevin Thompson (Skerries AC) 17.02. M50: 1 Brendan Ward 16.48, 2 Edwin Keville (Rathfarnham WSAF) 17.04, 3 Dominic Horan (Sli Cualann) 17.19. M55: 1 Gerry O'Connell (MIE) 17.27, 2 John Baldwin (Kilcoole AC) 17.53, 3 Pat McCavana (GEN) 18.06. M60: 1 Des Flanagan 18.58, 2 Desie Shorten (Sli Cualann) 19.25, 3 Terry Kavanagh (Sli Cualann) 19.32. M85: Brendan Earley (Civil Service Hrs) Junior: 1 Derek Crammond (Parnell AC) 15.54, 2 David Brophy (Raheny Shamrock) 15.55, 3 Aaron Quigley (Nenagh Oly) 16.23. Teams (16) – 1 Rathfarnham WSAF 29, 2 Sportsworld 56, 3 Thurles Crokes 73.
Women: 1 Ciara Durkan (Skerries AC) 16.46, 2 Ide Nic Dhomhnaill (Donore Hrs) 16.55, 3 Sorcha Nic Dhomhnaill (Donore Hrs) 17.00, 4 Siobhra O Flaherty (St LOT, jun) 17.22, 5 Eleanor Alexander (Clonioffe) 17.36, 6 Niamh Boland (Crusaders) 17.42. W40: 1 Paula Grant (Portlaosie) 18.11, 2 Niamh Corby (Crusaders) 18.56, 3 Audrey Gahan (Donore Hrs) 19.42. W45: 1 Annette Kelly (Raheny Shamrock) 17.47, 2 Breda Smyth (Lucan Hrs) 21.12, 3 Claire Lauder 21.49. W50: 1 Grainne Butler (Civil Service Hrs) 19.15, 2 Josephine Killeen 30.52, 3 Carol Dempsey 21.24. W55: 1 Sheelagh Jones (DSD) 21.36, 2 Eileen Fallon 24.53, 3 Deirdre Earley 25.10. W60: 1 Maxine Jones (DSD) 21.20, 2 Mags McCreary (Civil Service Hrs) 22.56, 3 Frances Gordon 24.04. W65: Sue Leonard (Marlay Parkrun) 35.24. W75: Ann Woodlock (Donore Hrs) 29.09. Junior: 2 Sorcha Moloney (Ballyroadn Abbeyleix) 18.08, 3 Laura Whitelaw (Mullingar Hrs) 20.45. Teams (12) – 1 Donore Harriers 27, 2 Crusaders 35. 3 Rathfarnham WSAF 62. .
Evening Echo Women's Mini Marathon 4-Mile, Cork (6,105 entries; www.myrunresults.com)
1 Laura Crowe (Riocht 21.20,2 Michelle Finn (Leevale) 21.28, 3 Michelle Kenny (Leevale, W35) 22.27, 4 Rosemary Ryan ( Dooneen, W40) 22.3, 5 Sinead Kevany (Midleton AC, W40) 23.14, 6 Niamh Roe (Leevale) 23.26. W50: Joan Ennis (Fermoy) 25.20. W60: Carmel Parnell (Leevale) 25.26. Jun: Rhona Pierce 24.29.
Tipperary Women's 10km Mini Marathon (672 finishers; www.premiertimingsystems.ie)
1 Sally Forristal (St Joseph's AC) 38.49, 2 Linda Grogan (Dundrum AC) 39.31, 3 Aine Roche (Clonmel AC) 41.14.
Grey Lakes 10k, Loughrea (106 finishers; www.redtagtimeing.com)
Men: 1 Sean Hehir (Rathfarnham WSAF) 31.59. 2 Matt Bidwell (GCH, M40) 34.29, 3 Cathal O'Reilly (Loughrea AC) 37.49. M50: Gerry Coy (Nth Down) 42.35. Women: 1 Eimear O'Leary 43.39, 2 Claire Bruce (Les Croupiers, W35) 44.24, 3 Eimear Bray (Corofin, W35) 48.12.
Vadrafjord 5 Mile, Waterford (www.totaltiming.ie)
1 Andrew Connick (Ferrybank) 25.33, 2 Brian Murphy (Carrick-on-Suir) 26.08 3 Warren Roche (Ferrybank) 27.27. M40: John Guiry 30.21. Women: 1 Ruth Fitzgerald 30.30, 2 Kate Veel (West Waterford) 31.17, 3 Ciara McSweeney 35.11.
40th St Senan's Open Cross-Country, Kilmacow
Women –
Senior – 1 Adele Walsh St Senans, 2 Michelle McDonald St Senans, 3 Catriona Muldowney KCH. W35: 1 Jennifer Goggin Walsh Ballymore Cobh, 2 Barbara Rossiter KCH, 3 Maria Griffin St Josephs
Teams – 1 St Senans, 2 St Joseph's.
W18 – 1 Orla O'Connor Waterford AC, 2 Ruth Heery Waterford AC
3 Anna O'Connor Waterford AC. Team- Waterford AC.
W16 – 1 Una O'Brien Tramore, 2 Tara Ramasawmy St Senans, 3 Siobhan Whelan Clonmel. Teams – 1 Thomastown, 2 West Waterford, 3 Waterford AC
W14 – 1 Hannah Keogh Gowran, 2 Fiona Dillon Thomastown, 3 Caoimhe Prendergast West Waterford. Teams -1 West Waterford, 2 St Joseph's, 3. St Senans and Gowran
Men –
Senior – 1 Tom O'Keefe KCH, 2 Patrick Hogan Ferrybank, 3 Hugo Blair Waterford. Team – KCH.
Junior – 1 Bjorn Downes Moreabbey Milers Limerick, 2 Shane O'Riordan West Waterford.
Vets – 1 Ger Moloney St Pauls Wexford, 2 Mossey Keogh West Waterford, 3 Derek Keogh Gowran.
M18 – 1 Luke Brennan Waterford AC, 2 Aaron Donnelly DSD, 3 Fergus O'Brien Waterford AC.
M16 – 1 Matteo Mary Waterford AC, 2 Conor Mullally West Waterford, 
3. Ben Keane Waterford AC.
M14 – 1 Aiden Burke Waterford, 2 Myles Hewlett United Striders
3 Ethan Butler St Senan's. Teams -1 Waterford AC, 2 St Senan's,
3 United Striders
Save
Save
Save
Save
Save
Save
Save
Save