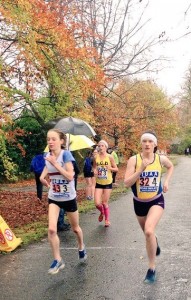 UCD's women had a pillar-to-post victory in the annual Irish Universities Road Relays hosted by NUI Maynooth on Saturday. Ciara Everard's time of  5 mins 53 secs for the opening mile gave UCD a  17-second cushion which they never lost. Michelle Finn of UL chased Ciara Mageean hard on the second leg, but although she had a marginally faster time, the gap remained the same. On the next two legs, Ellie Hartnett and Alanna Lally stretched the UCD lead so that they came home  with well over a minute to spare in 33 mins 51 secs.
The men's race over five legs was tighter. DCU's Cillian Kirwan had four seconds to spare on UL's Kevin Chesser on the opening leg; a fast second leg from Niall Tuohy put UL in the lead by ten seconds. Keith Fallon put DCU back in marginal control on the third leg,  with only only eleven seconds separating DCU, UCD, UCC and UL in that order. By leg four DCU was pulling away again, thanks to Pierre Murchan's superb leg and it was left to Cormac Kelly to bring the team home in 44 mins 56 secs. That gave them 29 seconds to spare on UL, with UCD close third.
IN SPAIN, Kerry O'Flaherty of Newcastle AC finished 17th in the Atapuerca Cross-Country in 27 mins 30 secs. Less than a minute behind her in 33rd place was Rose Ann Galligan  in 28 mins 11 secs. Perfect practice for Santry next week. Race winner was Ethiopia's Oljira Belaynet in 24 mins 52 secs.
SARAH COLLINS representing Providence finished second in the  NCAA North qualifiers held in Boston. In the men's Race Kevin Dooney (Yale/Raheny Sharmock) was 8th and Aaron Hanlon (Providence) 21st.  In the NCAA Mid Atlantic qualifiers, Siofra Cleirigh Buttner (Villanova/DSD) was 17th in the women's race, while in the South Region, Sean Tobin finished 7th in the men's race. Ella Fennelly (Notre Dame/DSD) qualified with her team from the NCAA Great Lakes Regional in Madison.
ON THE ROADS,  Emmett Jennings of DSD won the  Race in the Dark 10km in Dublin's Docklands,  with the rest of the 10km results impossible to figure out. The 5km seemed to run smoothly enough with Garrett Dunne in 16:55 and Anna Sadowska in 18:14 the winners
Irish Universities Road Relay Championships, NUI Maynooth www.iuaa.org
Women (26 full teams) – 1 UCD 33:51.00 (Ciara Everard 5:53, Ciara Mageean 10:50, Ellie Hartnett 11:19, Alanna Lally 5:49), 2 UL 35.05 (Niamh Donnelly 6.12, Michelle Finn 10.438, Aoibhe Richardson 11:59, Sinead Gaffney 6.06), 3 DCU 35.21 (Mary Mulhare 6:16, Maria O'Sullivan 11:32, Ciara Wilson 11:55, Niamh Markham 5:38), 4 UCC 36.28, 5 TCD 36.57, 6 CIT 37.08.
Men (30 teams)- 1 DCU 44:56 (Cillian Kirwan 5:06, Kevin Kelly 10:11, Keith Fallon 15:06, Pierre Murchan 9:53, Cormac Kelly 4:40), 2 UL 45.25 (Kevin Chesser 5:10, Niall Touhy 9:57, Niall McCormack 15:27, Tom Hennessy 10:06, James Ledingham 4:45), 3 UCD 48:38 (Fionn Buttner 5:19, Damien Landers 10.00, Thomas Moran 15:08, jack Corbett 10:21, Jamie Cullen 4.50), 4 UCC 46.16, 5 AIT 46.30, 6 DCU B 46.47.
Sunday November 15
50th Hollymount International Races:
Women 6k  ( 59 finishers): 1 Catherina McKiernan (Annalee ) 21:41, 2 Regina Casey (GCH) 22:07, 3 Liz Egan (Liverpool John Moores Univ) AC) 23:37, 4 Edel Reilly (Mayo) 23:43. 5 Mary Gleeson (Mayo) 23:46, 6 Kathy Gleeson (Mayo ) W40 24:21, 7 Pauline Moran (Mayo AC, W50) 26:04, 8: Chris Gallagher (Mayo AC,  W40) 26:35; 9 Ann Marie Miskell (Tuam AC) 26:39, 10 Sandra Caulfield (Swinford AC) 26:45. Teams 1 Mayo AC 'A', 2 Mayo AC 'B'
Men 10k  (144 finishers): 1 Matt Bidwell (GCH) 32:25, 2 Jason Broderick (Craughwell AC) 33:22, 3 Louis Rogers (Loftus &Whitby AC) 34:08, 4 Gerry Ryan (Craughwell AC) M50 34:30, 5 Feidhlim Kelly (Raheny Shamrock AC) 35:18, 6 Alan Ashton (Liverpool Harriers) M40 35:47, 7 Noel Berkeley (DSD) 35:59, Jonathan Caulfield (Swinford AC) 36:34, 9 Damien Larkin (Craughwell AC) 36:37, 10 Anto Devaney (Mayo AC) 37:13. Teams: 1 Craughwell AC, 2 Mayo AC 'A'