Fionnuala McCormack and Mick Clohisey were the  star turns at the Glo Health National Interclub Cross-Country  in Santry on a new pre-Christmas date which  saw cross-country return to its former glory days.
In the women's 8km,   Kilcoole's McCormack took over in front on the second lap and after that the battle was on for the minor placings.  Lizzie Lee of Leevale, like McCormack a marathon qualifier for Rio '16, held on to second place, closely followed by Dublin champion Caroline Crowley of Crusaders and a mixed cast that at one time or another included  Ciara Mageean of UCD, Leevale's Michelle Finn, Sara Treacy of Dunboyne, Skerries' Ciara Durkan and Kerry Flaherty of Newcastle AC who came through like a train  on the final lap.
Lee finished second and Crowley who had been persuaded to come home from warm weather training for the races, was third.  Next came Flaherty, Durkan, and Finn, followed by Riocht pair Laura Crowe and Shona Heaslip. Sara Treacy was ninth. Dropping out near the finish was Mageean; earlier Ann Marie McGlynn was forced to pull out after not much more than a lap when a shoe came off. Finishing first of the teams was a delighted Leevale; Riocht were  the winning B team but also second overall. DSD was second A team and third overall, while Raheny Shamrock  was 3rd A team and fourth overall. For Britton it was a third interclub title; she also has six intercounty titles to her credit.
On the opening lap the men's race looked like a reprise of the Dublins, with Raheny team mates Mick Clohisey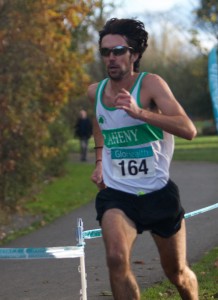 and Freddy Sittuk running elbow to elbow.  On the first lap, Dave Flynn of Clonliffe and Leevale's Ciaran O Lionard who had returned from the USA to run, were in the leading group.
But while Clohisey, the Dublin champion,  maintained his pace up front, Sittuk fell back. With two laps to go, MSB's John Coghlan, clearly recovered from a nagging summer injury, took over in second place, with last year's intercounty champion Paul Pollock moving into third.  Behind them were Ryan Creech of Leevale, followed by DSD's Joe Sweeney who moved from tenth to fifth a place in the race over the last two laps. Not bad for a man who has spent the last two years sidelined with injury.
Sittuk was sixth, followed by Clonliffe's Sergiu Ciobanu and David Flynn. Brian Maher of Kilkenny finished ninth. When it came to the teams just a single point put Clonliffe ahead of Leevale. Raheny Shamrock was third. The top six men and women in each race will make the team for the European Cross-Country.
No surprises in the junior races won in style by  last year's junior intercounty champions Hope Saunders of  Clonliffe Harriers and Kevin Mulcaire of Ennis TC.
Pics at www.lindie.zenfolio.com
SARAH COLLINS , the Irish athlete rom Basel in Switzerland, finished 20th in the women's 6km race at the NCAA Cross-Country Championships in Loiusville Kentucky.  Collins, who had finished 2nd in her qualifiers,was with the lead pack until 4km and held on for a top 25 place. She was also leading Providence to 4th place. Siofra Cleirigh Buttner of Villanova finished 113rd. In the men's race, Kevin Dooney of Yale was 61st,  just ahead of Sean Tobin  from Mississippi 68th. Andrew Coscoran  of Florida State was 242nd.
Teams for Europeans –
Senior: Men – Clohisey, Coghlan, Pollock, Creech, Sweeny, Ciobanu. Women – McCormack, Lee, Crowley, O'Flaherty, Durkan, Finn.
U23- Men: Thomas Moran (Dunshaughlin), Brandon Hargreaves (DSD), Hugh Armstrong (Ballina), Keith Fallon (GCH),  Sean Tobin (Clonmel), Aaron Hanlon (Clonliffe Harriers). Women: Shona Heaslip (An Riocht), Emma Mitchell (Banbridge)
Junior: Men – Mulcaire, Peter Lynch (KCH), Jack O'Leary (Mullingar Hrs) , Cathal Doyle (Clonliffe),  James Edgar (City of Lisburn), Pierre Murchan (Celtic). Women: Saunders, Aoibhe Richardson (KCH), Isabel Carron (Skerries), Deirdre Healy (Ratoath), Nadia Power (Templeogue), Sophie Murphy (DSD).
Saturday November 21
Clontarf Half Marathon (www.redtagtiming.com)
Men: 1 Gary O'Hanlon (Clonliffe, M40) 72.00, 2 Alan Butler 76.44, 3 Ian Conroy (Raheny Shamrock) 78.39. Women: 1 Martsje Helle (Nth Belfast Hrs) 89.04, 2 Donna Evans (Finn Valley 89.47, 3 Lucy Brennan (Sligo AC, W55) 90.41.
Sunday November 22
The Stook 10-Mile, Co Kilkenny (www.totaltiming.ie)
Men: 1 Danny Smith (Ballynonty) 57.34, 2 Gary Condon (Sli Cualann) 58.14, 3 Joe Cawley (Sli Cualann) 58.50. Women: 1 Maire Griffith (St Abban's) 60.40, 2 Louis Oprea 72.04, 3 Loretto Duggan (Kilmryy Ibr) 71.14