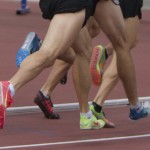 Sarah Buggy of St Abban's won the British U23 triple jump title in Bedford today with a mighty leap of 13.25m – her first over 13 metres, an Irish U23 record and the second best ever by an Irish jumper. The Euro qualification mark  is 13.95m.
In Princeton, New Jersey, Siofra Cleirigh Buttner of DSD won the women's 800m in a personal best 2:02.37, which is inside the European B qualification mark of 2:02.90. Buttner's time was over a second quicker than the 2:03.52 she ran, also at Princeton, in April and  just .02 of a second behind Rose Ann Galligan's 2:02.35 which tops the current Irish rankings.
At the Brussels Grand Prix, Sinead Denny of DSD won the women's 400m in 53.44 secs – not far off her season's best of 43.26 secs. In third place was Phil Healy in 53.82 secs, while in the pre-programme 400m, Ciara McCallion of Clonliffe  finished 2nd in 54.75 secs, while Lauren Hansson was 5th in 55.21 secs.  In the first men's 400m heat, Craig Lynch of Shercock ran a personal best 46. 90 secs for victory. Clonliffe's Brian Gregan went in the second heat where he finished fourth in 47.27 secs. Christine McMahon and Jessie Barr appear not to have finished the women's 400m hurdles. Winning  the 200m B race was Eanna Madden in 21.16; British sprinter Adam Gemili won the A race in 20.37 secs.
UCD'S Ciara Mageean won the 800m in an personal best of 2:02.84 despite unrelenting rain at  the NI and Ulster Athletics Championships at the Mary Peters Track. A gutsy Kelly Neely of City of Lisburn took second in in 2:06.11. Mageean will run the 1500m at the European Championships in preparation for Rio.Donore's John Travers  won the men's 800m in 1:56.84.
In the 110m hurdles, Ben Reynolds  of North Down  took his fourth title in a time of 14.15.  Reynolds is aiming for the European qualification time of  13.65 secs. Adam McMullen  of Crusaders AC  comfortably won the long jump  with a  7.50m effort and also took the 100m title in 10.83 secs. Over 400m, DSD's David Gillick ran 47.50 secs in his heat but withdrew from the final. Winner was QUB's Andrew Mellon in  47.88 secs, with Brandon Arrey second in  48.34 secs and  Niall Tuohy third in 49.78).
In the throws, Finn Valley's John Kelly won the shot with a heave of  15.86m.
MSB'S JOHN COGHLAN was the winner of the Castleknock 5km, beating Peter Somba, who had won the Dunshaughlin 10k the night before, into second place.  Making a welcome return to racing was Caroline Crowley of Crusaders who finished fourth overall and first woman ahead of her coach Catherina McKiernan.
PROVIDING A RARE OPPORTUNITY to run a 5km in the Phoenix Park was Friday night's Pride Run, where Colin Delaney and Ciara O'Neill were the winners. The race attracted a healthy number of teams with Dublin Front Runners winning both the men and women's titles.
Sunday June 19
Castleknock 5k, Co Dublin (556 finishers; www.myrunresults.com)
Men: 1 John Coghlan (MSB) 15.36, 2 Peter Somba 15.38, 3 Simon Ryan (Raheny Shamrock) 16.16, 3 Kenny McAndrew (M40) 17.32, 5 Caroline Crowley (Crusades) 17.33, 6 Catherina McKiernan (W45) 17.33. M50: Hamish Oliphant 23.30. M60: Pat Collins (Liffey Valley) 20.40. M70: Paddy Beauchamp 23.54. Jun: Paul Morgan (MSB) 18.12
Women: 3 Sharon Tighe (Tallaght, W45) 21.00. W50: Josephine Kileen 21.49. W60: Rose Mary Hayes 33.58. W70: Mary Martin 28.18. Jun: Caoimhe Toland 22.34.
Streets of Sligo 5k (228 finishers; www.myrunresults.com)
Men: 1 Jake O'Regan (St John's) 15.05, 2 JP Carty ( Sligo AC) 15.54, 3 Liam Feely ( Nth Leitrim) 16.01. Women: 1 Sara Dohan ( Sth Sligo) 17.28, 2 Audrey Colreavy (Sligo AC) 18.48, 3 Lucan Brennan (W50) 19.00.
Friday June 17
Dublin Pride 5k, Phoenix Park, Dublin (427 finishers; www.myrunresults.com)
1 Colin Delaney (Raheny Shamrock) 17.11, 2 Owen Fletcher (Dunboyne AC) 17.32, 3 Paul Hanaphy (Dunboyne) 17.54, 4 Lorena Dunne ( W Fry) 18.35. Women: 2 Ciara O'Neill 20.23, 3 Linda Power ( Teal House AC) 18.35. Teams – Men (12): 1 Dublin Front Runners 47, 2 Google 192, 3 Citipride 322. Women (9): Dublin Front Runners 50, 2 William Fry 94, 3 PWC Running on Eir 157.
Drogheda and District Midsummer 5k, Co Louth (509 finishers; www.myrunreuslts.com)
Men: 1 Colin Maher (Ballyfin) 15.27, 2 SimonRyan (Raheny Shamrock) 16.15, 3 Conor Healy (Clonliffe) 16.27. M40: Pat Fitzpatrick (Dunleer) 17.33. M50: Mark Leacy 18.27. M60: Stan Woods (Ardee and Dist) 19.54. M70: Gerry Carroll 26.04. Jun: Sonny Doyle (Drogheda and Dist) 19.43. Teams (13) – 1 Drogheda and Dist 15, 2 Balbriggan and Dist 31, 3 North East Runners 54.
Women: 1 Michelle Kenny (Leevale) 18.19, 2 Niamh Devlin (DSD) 18.43, 3 Rosa Anna Hoey (NER) 19.05. W40: Michelle Hughes (Drogheda and Dist) 20.37. W50: Anita Bolton (NER) 21.50. W60: Nuala Reilly (Drogheda and Dist) 21.59. Jun: Abigail Tegart (Drogheda and Dist) 23.11 Teams (14) – 1 North East Runners 21, 2 Drogheda and Dist 27, 3 Star of the Sea 59.