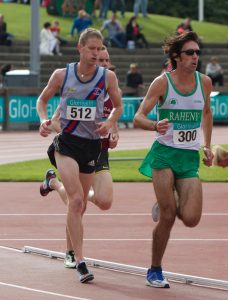 An absorbing men's 10,000m won by Brandon Hargreaves of DSD was just one of the highlights of today's opening day of the Glo Health National Track and Field Championships.
Rio-bound marathon man Mick Clohisey of Raheny Shamrock had made the early running helped by his Raheny training partner Freddy Sittuk, but was tracked all the way by Hargreaves and defending champion Mark Christie of Mullingar Harriers. When the bell went for the final lap, Christie and Hargreaves moved into the lead, with Christie only passed by the DSD man in the final 20m of a thrilling race. Hargreaves won in 29:45.01, with Christie clocked at 29:45.50 and Clohisey at 29:50.42.
In the women's 5000m, Deirdre Byrne of Sli Cualann went out hard aiming to run a second European Championships B time of under 15 mins 40 secs. With no one pushing her and a gusting wind, that proved beyond her reach but she still had a comfortable win in 16:07.56. Winning the battle for second place was professional Irish dancer Shona Heaslip of Riocht in 16:41.67, while third was Anna Reddin of Crusaders in 16:46.10.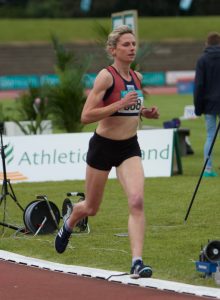 In the women's javelin, Anita White of DSD was another aiming for European qualification, but the wind pushed four of her throws wide to the right. She still won her ninth national title with a throw of 47.89m in the second round.
Winning the women's 200m in 23.94 secs was Niamh Whelan of Ferryband. Eanna Madden of Carrick on Shannon won the men's 200m in 21.35 secs.
Safely qualifying from heats were Thomas Barr in the men's 400m hurdles, Mark English 800m,  Craig Lynch, David Gillick and Brian Gregan 400m; Ciara Mageean and Sara Treacy 1500m, Siofra Cleirigh Buttner women's 800m, Sinead Denny and Phil Healy women's 400m, and John Travers in the men's 1500m. Not starting in the women's 400m hurdles heats was Jessie Barr; she injured her Achilles tendon during her warm-up.
Pics at www.lindie.zenfolio.com
Results
Women – 200m: 1 Niamh Whelan (Ferrybank) 23.94, 2. Catherine McManus (DCH) 24.23, Leah Moore (Clonliffe Hrs) 24.77. 5,000m: 1 Deirdre Byrne (Sli Cualann) 16:07.56, 2 Shona Heaslip (Riocht) 16:41.62, 3 Anna Reddin (Crusaders) 16:46.17. 5,000m Walk: 1 Emma Prendiville (Farranfore MV) 25:15.57, 2 Veronica Burke  (Ballinasloe & Dist) 25:38.42, 3 Sinead O'Connor (Celbridge AC) 27:16.28. Triple jump:1 Saragh Buggy (St Abban's) 12.96, 2 Ausra Jerumbauskyte (Clonliffe Hrs) 12.00, 3 Laura Saulters (Nth Down) 11.79. Javelin: 1 Anita White (DSD) 47.89, 2 Orlaith O'Brien (Waterford AC) 43.95, 3 Grace Casey (Eire Og Corra Choill) 41.79. Discus: 1 Claire Fitzgerald (Tralee Hrs) 53.38, 2 Kayleigh Cronin (Farranfore Maine Valley) 44.76, 3 Niamh Fogarty (Nth Westmeath) 44.45. 4x100m: 1 Ferrybank 47.20, 2 Fingallians 49.24, 3 Naas 50.17.
Men – 200m: 1 Eanna Madden (Carrick-on-Shannon) 21.37, 2.Kieran Elliot (Nth Sligo) 21.88, 3 Eamonn Fahey (Donore Hrs) 21.95. 10,000m: 1 Brandon Hargreaves (DSD) 29:45.01, 2 Mark Christie (Mullingar Hrs) 29:45.50, 3. Mick Clohisey (Raheny Shamrock) 29:50.42.
3,000m steeplechase: 1 Rory Chesser (Ennis TC) 9:07.83, 2 David Flynn (Clonliffe Hrs) 9:08.17, 3 Emmet Jennings (DSD) 9:13.52. Triple Jump: 1 Denis Finnegan (Riocht) 14.80, 2 Andrii Mahin (Clonliffe Hrs) 14.39, 3 Niall Counihan (Dooneen) 13.88. Hammer: 1 Padraig White (Dunboyne) 61.19, 2 Simon Galligan (Clonliffe Hrs) 59.51, 3 Thomas Furlong (DMP) 57.74. Javelin: 1 Rory Gunning (Clonliffe Hrs) 61.15, 2 Stephen Rice (Sli Cualann) 60.72, 3 Sean McBride (Lifford Strabane) 58.63. 56 lb Wt for Height: 1 Sean Breathnach 4.40, 2 Peter Ryan (Nenagh Olympic) 4.20, 3 John Dwyer (Templemore) 3.80.  4x100m: 1 Emerald AC 43.13, 2 Tullamore Hrs 43.36, 3 Menapians 43.42.