Freddy Sittu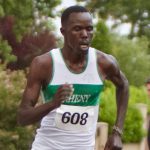 k  of Raheny and Ciara Hickey from Bros Pearse made it a Dublin double at the Michael Fearon /Kevin Marron 5km,  organised by Glenmore AC from their headquarters on the Cooley Peninsula in Co Louth on Friday evening.
Sittuk outlasted Ben Branagh of St Malachy's in the chase for the line to win in 14 mins 42 secs.Hickey, a former Dublin masters cross-country champion, was the class of the field in the women's race. There was a phenomenal run from Rose Lambe of Carrick Aces, who was not only second master overall, but first  W55, beating many women half her age. Sittuk went on to win today's Duleek 10km,  beating Ballyfin's Colin Maher and Clonliffe's Gary O'Hanlon who was first M40. First woman was Nicola Bull  of Star of the Sea.
STAR OF THE Celtic Games held in Santry was Jade Williams  who set a new games record of 61.09m when winning the women's hammer. here were also wins for Anna Macauley in the U18 girls' 100m hurdles, Laura Nicholson in the steeplechase, Miriam Daly 400 in a time of 56.36, Lauren Roy 100m, Alana Ryan 200m, Sophie Meredith long jump Katie Moynihan javelin, Dean Kelly high jump and the 4x100m relay.
In the boys' competition, James Kelly won the shot with an impressive 18.12m effort. There were also wins for Shane Monagle won the 100m hurdles, Ruarcan O Gibne the steeplechase, Tony Odubote the 400m , Jack Mitchell the 400m hurdles, Sean Mockler hammer (60.92), Jerry Kerry high jump and the 4x400m quartet.
At U16 level, Adam Sheridan won the shot with 14.47, Ciara Sheehy the discus with 33.66 and Cian McPhilips the 800m. Ireland were the overall winers beating Scotland and Wales.
IRELAND picked up three more medals on the final weekend of the European Masters Athletics Championships in Aahus, Denmark. In yesterday's 800m finals, Kelly Neely of City of Lisburn finished second in the W35 800m.  Winner was Aneta Kaczmarek  of Poland in 2:09.86; Neely ran 2:12.58 for second. Silver also went to Anne Gilshinan  of Menapians AC  in the W50 race. She finished in 2:25.87 behind Dutch athlete Nicole Weijling-Dissel  whose time of 2:17.77  was a European record. Today, the Irish quartet of John O'Loughlin, Malachy Campbell, Patrick Crossan and  Shane Sheridan took bronze in the M50 4 x 400m with a time of  3:53.23. German was first and France second. Ireland also finished third W45 team in the half marathon.
Ireland finished 25th on the medals table  with 17 medals in total; gold for Ciaran Doherty in a thrilling M40 steeplechase and Jackie Carthy in the W45 cross-county, as well as five silvers and ten bronzes.
DONORE'S ANNE CURLEY  finished third at today's Gloucester City Marathon in 3:10.09. Curley was also first W45.
European Masters, Aarhus – 17 Irish medals
2 Gold – Ciaran Doherty (Letterkenny AC) M40 SC; Jackie Carthy (Kilmore) W45 C-C
5 Silver – Kelly Neely (City of Lisburn) W35 800m; Anne Gilshinan (Menapians AC)W50 800m, Niamh Fitzgerald (Lucan Hrs) W40 1500m, Declan Power (Clonliffe Hrs) M45 10,000m, Dorothy McLennan (Sportsworld ) W80 100m.
10 Bronze – Snezana Bechtina (Clonliffe Hrs) W35 200m and 400m; John McMullin (Mullingar Hrs) M70 20km road walk and 5km track walk; Jackie Carthy (Kilmore) W45 5000m; Evelyn McNelis (Naas AC) W70 C-C, Shane Sheridan (DSD) M55 100m, Dorothy McLennan (Sportsworld W80 200m; M50 4x400m; W45 half marathon team.
Sunday August 6
Duleek 10km (293 finishers; www.myrunresults. com)
Men: 1 Freddy Sittuk (Raheny Shamrock) 31.12, 2 Colin Maher (Ballyfin AC) 31.18, 3 Gary O'Hanlon (Clonliffe Hrs, M40) 32.04, 4 Brian McCluskey (NER, M40) 33.15, 5 Stephen kelly (Drogheda and Dist, M40) 33.49 6 Sean Doran (Clonliffe Hrs) 34.17. M50: Pat O'Grady (Drogheda and Dist) 36.31. M60: John Cullen 42.28.
Women: 1 Nicola Bull (Star of the Sea) 39.32, 2 Andrea McGuinness (Bohermeen, W40) 40.57, 3 Olivia Martin (Bohermeen, W40) 41.08,4 Lena Sinclair (Liffey Valley, W40) 41.47, 5 Yasmin Canning (Drogheda and Dist, W40) 42.49, 6 Lynne Duffy (Sli Cualann) 43.44.
Friday August 4
Michael Fearon /Kevin Marron 5km, Glenmore AC, Cooley Peninsula, Co Louth. (466 finishers; www.myrunresults.com)
Men: 1 Freddy Sittuk (Raheny Shamrock) 14.42, 2 Ben Branagh (St Malachy's)14.43, 3 Darragh Greene (Dunleer) 15.03, 4 Gabe Haughey 15.04.
M40:1 Maurice McMahon 16.02, 2 Ed Kelly (Dromore AC)17.08. M45: 1 Shane Healy (MSB) 15.38, 2 Gary Henderson (Armagh AC)16.17. M50: 1 David O'Connell (Bohermeen AC)17.43, 2 Cathal McGreevy ( Newry AC)18.37. M55: 1 David Clarke (NBH) 17.06, 2 Gerry O' Connell 17.40. M60: 1 Brendan Connolly 19.52 , 2 Andrew Rogers 20.09. M65: 1 Jim Newberry (NBH) 20.22, 2 Pat Rocks ( Newry City Runners) 20.40.
Juniors – M17: Jack O Farrell (Burren AC)16.32. M19: Sam O Neill ( Drogheda & District)16.49. Francis O Reilly Plaque (first club member) Martin Toner 19.43. Teams – 1 North Belfast Harriers 57 pts; 2 Dromore AC 95.
Women: 1 Ciara Hickey (Bros Pearse) 16.59, 2 Amy Bulman (Willowfield Harriers) 17.51, 3 Catherine O' Connor ( East Down) 17.57, 4 Donna Mone (Monaghan Town) 18.26. W40: 1 Cathy McCourt 18.30, 2 Yasmin Canning (Drogheda & District) 19.36. W45: 1 Una Campbell (Newry City Runners) 20.51, 2 Fiona McQuade (Glenmore AC) 21.4. M50: 1 Debbie Matchett (Ballydrain Harriers) 19.36, 2  Geraldine Branagh 20.22 W55: 1 Rosie Lambe (Carrick Aces) 18.35, 2 Patricia Brown (Newry City Runners)22.17. W60: 1 Patricia Mulholland 21.11, 2 Nuala Reilly  (Drogheda & District) 21.16. Juniors – W17 Lauren Cox (NBH) 20.22. W19 Justine Fearon (RCF France) 19.50. Teams – 1 Drogheda & District 95, 2 Dromore AC 96 .
Save
Save
Save
Save
Save
Save
Save
Save
Save
Save
Save
Save
Save
Save
Save
Save
Save
Save
Save