Thomas Barr   was forced to withdraw from Monday's 400m hurdles semi-final at the World Track and Field Championships in London due to a vomiting bug.
Siofra Cleirigh Buttner of DSD, the only Irish track athlete left in the competition, went out in the heats of the 800m on Thursday.
Of the walkers, a hamstring tear forced Brendan Boyce out of Sunday's 50km walk.  Robert Heffernan  finished 8th in the 50mk walk while Alex Wright was disqualified from the 20km walk.
Thomas  Barr had safely made it through to the semi-finals of the 400m hurdles after finishing fourth in a closely-run heat.  He had moved up a place when race winner Kyron McMaster of British Virgin Islands was disqualified for stepping outside his lane. He would still have qualified as a fastest loser. A further two were disqualified from the fourth heat.
Brian Gregan's World Championships ended when he finished 6th in his  semi-final in 45.42 secs; a brave effort.
In the marathon, Raheny's Mick Clohisey had a brilliant run to finish 22nd in 2:16.21.  Sean Hehir of Rathfarnham was having a bad day but battled on to finish 63rd in 2:27.33; at the 15km mark he was 80th. Worth mentioning Callum Hawkins  super-brave 4th place in 2:10.17; if the Scots can do it (they also have Laura Muir), surely we can? Leevale's Claire McCarthy finished 33rd in the women's race in 2:38.28 – a fraction slower than the personal best time she ran in Berlin last September.  Finishing 20th for Australia was Mayo woman Sinead Diver in 2:33.26 – two minutes slower  than the time of 2:31.37 she ran in Nagoya last March. Diver is 40 and McCarthy 41.
Good man Brian Gregan! Third in heat 4 of the 400m, which books his place in the semi-finals. Time was 45.37 secs. In the 800m, an injured Mark English, running in a slow heat, finished 5th in 1:48.01.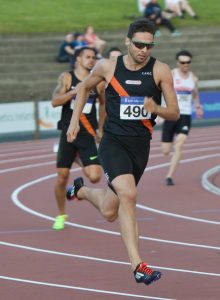 Huge disappointment for Ciara Mageean on the opening evening of the championships. She finished 13th in the first of three 1500m heats  and will progress no further.
Irish rankings – Brian Gregan 19th 400m; Thomas Barr 24th 400m hurdles, Mark English 34th 800m, Ciara Mageean 34th 1,500m, Siofra Cléirigh Buttner 40th 800m,  Mick Clohisey 22nd marathon, Clare McCarthy 33rd marathon, Sean Hehir 63rd marathon, Robert Heffernan 8th 50km walk. Late withdrawals: Paul Pollock marathon (dns), Brendan Boyce 50km walk (dns); Thomas Barr 400m hurdles SF (sick). Disq: Alex Wright 20km walk.
World Athletics Championships, London – selective schedule
Friday August 4
Women's 1500m Ht 1, 13  Ciara Mageean 4:10.60.
Sat Aug 5
Men's 400m  Ht 4, 3 Brian Gregan 45.37 secs.
Men's 800m Ht 5,  5 Mark English 1:48.01
Sun Aug 6
Men's marathon – 22 Mick Clohisey 2:16.21, 63 Sean Hehir 2:27.33.Paul Pollock dns
Men's 400m hurdles Ht 2, 4 Thomas Barr 49.79 secs.
Women's marathon – 33 Claire McCarthy 2:38.28. Also: 20 Sinead Diver (Australia) 2:33.36.
Men's 400m SF2 – 6 Brian Gregan 45.42 secs.
Thu Aug 10
Women's 800m Ht 5  – 6  Siofra Cleirigh Buttner 2:06.54
Sun Aug 13
50km walk – 8 Robert Heffernan
Men's 20km walk – Alex Wright disq.
Save
Save
Save
Save
Save
Save
Save
Save
Save
Save
Save
Save
Save
Save
Save
Save
Save
Save
Save
Save
Save
Save
Save
Save
Save
Save
Save
Save
Save
Save
Save