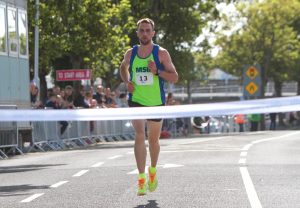 John Coghlan of MSB continued his current winning streak when he came home first in today's Bay 10km held in sunny conditions in Dun Laoghaire.
On the hilly course, Coghlan recorded a  time of  30 mins 50 secs, beating last year's champion Freddy Sittuk of Raheny into second place. For Sittuk, who is training for the Dublin Marathon, it was a third race in four days. A distant third was former triathlete Colm Turner of Limerick AC.  First junior was Ross O'Toole of DSD in his first race for some time. Ross is a grandson of  the late, great Paddy Craddock of Blackrock AC.
In the women's race, just nine seconds separated the top three with Michelle Cox of Newbridge AC coming home first ahead of Aoife O'Leary from Sportsworld and Zoe Quinn of Dublin Bay RC. A remarkable sixth overall and first W55 was Carmel Parnell of Leevale AC. The former masters world champion several times over, who is now competing in the over 60 age group, has had a few months out with injury problems.
DLR Bay 10km, Dun Laoghaire (1,258 finishers; www.myrunresults.com)
Men: 1 John Coghlan (MSB) 30.50, 2 Freddy Sittuk (Raheny Shamrock) 31.21, 3 Colm Turner (Limerick AC) 33.23, 4 Rob Cross (Crusaders, M40) 33.43, 5 Brian Kelly (Crusaders) 33.50, 6 Brian Leahy (Raheny Shamrock, M40) 33.59. M45: 1 David Grange (Raheny Shamrock) 37.44, 2 Eddie McGrath (Liffey Valley) 38.57, 3 Barry Smith 39.28. M55: 1 Billy Byrne (DLPR) 41.56, 2 Paul De Freine 42.33, 3 David Byrne 44.44. M65: Patrick Joy 1:57.01. Junior: Ross O'Toole (DSD) 38.42.
Women: 1 Michelle Cox (Newbridge ac) 39.15, 2 Aoife O'Leary (Sportsworld) 39.21, 3 Zoe Quinn (Dublin Bay 39.24, 4
Sarah Baryga 39.50, 5 Rachel Riordan (DSD) 41.42, 6 Carmel Parnell (Leevale, W55) 42.00. W45: Stephanie Johnson 44.48, 2 Sheila Duffy (DLPR) 46.07, 3 Angela Margetson 46.22. W50: Brenda Donoghue 70.02. W55: 2 Mary Collins 49.07, 3 Clare Morgan (Blackrock) 53.43. Junior: Lysann Rucker 48.43.
Save