With the European Clubs Championships in Santry at the end of June, the World Student Games in July and the World Championships in August, Ireland's top athletes face a busy few months.
Among them is Brian Gregan of Clonliffe, the country's fastest 400m runner.  "I'm off to Belgium this weekend and I'll be away most weekend for the next few months," he says. 
His big target is qualification for the World Championships in Moscow. "'The A standard of 45.28 is higher than it was for the London Olympics. It will be tough but I think I can do it if I can get the right conditions and a good lane draw." Gregan, more than most, knows how luck can play its part.  He qualified for the European Indoor Championships last March as the fastest man in European, sailed through both heats and semi-finals, and then was bumped out of the race in the final.
Although the big man from Tallaght is a full time athlete these days having finished his studies in DCU, he keeps himself busy. A well written piece on his Facebook about a visit he made to a school promoting athletics has won him a job with Sky Sports. "They'll be paying me to go into schools and promote sport."
Gregan is particularly looking forward to the European Team Championships in Santry at the end of June. "The 400m will be stacked – Borlee from Belgium, Niit from Estonia, Nemecek from Czech Republic. If we get a good day, we could see the first sub-44 second 400m on Irish soil."
Ciara Everard of UCD also runs her first major race of the outdoor season this weekend in Sardinia. Like Gregan, she's a full time athlete after completing her physiotherapy degree. Earlier this year, she set a new Irish indoor record for 800m of 2:02.54 and finished sixth at the European Indoors in Gothenburg.
"My big target is the World Student Games in Kazan. I've already qualified for the 800m there after running 2:04.3, but I'm also hoping to make the World Championships B standard of 2:01.50."
Kenyan athlete Freddy Keron Sttuk, in his second visit to Ireland, was first home at the Strawberry Half Marathon in Enniscorthy. Sittuk, who finished fifth in the 2012 Belfast Marathon and then took in a number of loca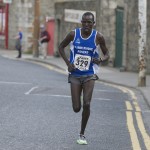 l races, returned to Belfast to finish third a few weeks ago and was wearing the colours of Sliabh Bhui Rovers last Sunday.  He won the race in 69 minutes 8 seconds, followed closely by Sandis Bralitis of West Waterford back fighting fit after a two-year battle with Achilles tendon problem. First woman was Jackie Carthy from Kilmore, whose time of 81 mins 47 secs put her well clear of Amy Masner of Parnell, who is coached by marathon legend Mary Hickey of Arklow.
John Coghlan (MSB) beat Colin Costelloe (Star of the Sea) to win the Blanch 5km in 15 mins 7 secs. A day earlier, Coghlan had just edged out Conor Bradley of City of Derry in the 1500m at the IMC meet in Greystones. Finishing down the field in that race was Galway ultra man Gary Thornton. Clonliffe's Aaron Hanlon won the 5000m  in 15 mins 1.18 secs, with Andrew Connick of Ferrybank second and Roger Barrett from Ballina a surprise third. Race of the day was the women's 1500m, with Becky Alexander just making the line ahead of her Clonliffe clubmate Becky Woods.
At the European Clubs Championships in the Algarve,  Siofra Cleirigh Buttner running for DSD, knocked two seconds off her personal best when finishing fourth in the 500m. In the 400m, Sinead Denny recorded a massive PB of 54.32 for Sinead Denny. Maria McCambridge was fourth in the 5000m and fifth in the 3000m. Steffi Creaner, running for Birchfield,  was 4th in the 200m in 24.77 and ran 12.43 in the 100m. A weakened DSD team, sixth last year, finished eighth this time.
Clonliffe men and women's track and field teams both topped the table at the first round of the National League in Santry. For the men, winners were Tomas Rauktys in both shot and discus, Ryan Whelan  with a javelin PB of 53.81m, Dave Donegan pole vault, Ryan Cleary 3,000 race walk, Ian Guiden 1500m, Dave Fitzmaurice  5,000m;  Manuel Calvo-Curry hammer and  the 4 x 100m team.
The women's team  with 105 points finished clear of Ferrybank 103 and Raheny 98.5.  Winners were Ciara McCallion 400m, Eleanor Alexander  1500m and Denise Byrne in the javelin, with second places for Roisin Leahy  3000m, Michelle English  800m  and both relay teams.
A small Irish team of six took six gold medals at the European Masters' Non-Stadia Championships in Upice, Czech Republic. In the 10km road race Craughwell's Gerry Ryan was first M45 and, with Raheny pair Mick Traynor 2nd and Damien Martin 6th, took took gold. The same team won the cross-country relays and finished second in the half marathon. Also in the half marathon Pat O'Shea was third M60, while in the 30km walk, Sean McMullen was 2nd M60.
A team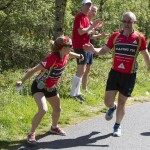 from Raheny Shamrock lead from the start of the Wicklow Way Relay from Kilmashogue to Shillelagh  and ended up comfortable winners ahead of Rathfarnham WSAF in 7 hours 6 minutes. A Munster team of adventure races,  including  Tim O'Donoghue, who ran a record 76 minutes for the 21km leg,  finishing third. On the same day, Eoin Keith set a brilliant new record of  12 hrs 25 mins 7 secs for the entire route to Clonegal. It was a first sub-12 hour time for the 127km course.