Although summer is slow in arriving, the track and field season, is already well underway , with the Dublin Graded League attracting record numbers to its first two meets, athletes travelling abroad in search of times and the first National League round taking place on Sunday.
Defending women's champions Dundrum South Dublinhave the luxury of skipping this – they'll be at the European Clubs Championships over the weekend, representing both club and country.
Last year, DSD finished sixth in the A division, beating teams from France and the Netherlands and keeping Ireland in the top division. The club heads for the Algrave in Portugal with a team including high jumper Deirdre Ryan (Update: Ryan is out with injury), distance runner Maria McCambridge and middle distance athlete Claire Tarplee, backed by Siofra Cleirigh Buttner in her first competition at this level.
Also likely to pick up points are sprinters Claire Bergin and Sinead Denny, and javelin thrower Anita Fitzgibbon, with all-rounders Claire McGlynn and Grainne Moggan filling a number of all-important gaps. Favourites to win are the defending champions Luch Moscow.
Defending men's champion Clonliffe have decided not to send a team this year. With vital members originally from countries such as Poland, Latvia and Moldova, the club falls foul of a rule that allows only two 'non nationals' per team.
Meanwhile a victory by Michael Mulhare of Portlaoise in the 3000m proved the highlight of the special meet held to launch the new Danny McDaid track in Letterkenny. Mulhare's time of 8:18.92 put him ahead of Donore's John Travers, Galway's Gary Thornton and Mark Kenneally  of  Clonliffe.
Best of the Irish in the men's mile was Derry's Conor Bradley in 4:04.22, just a fraction  ahead of Eoin Everard from Kilkenny. Fionnuala Britton ran in a mixed 3000m, breaking nine minutes, while Laura Crowe of Riocht ran 2:04.30 to win the 800m.
At last week's Dublin Graded meet in Santry, UCD's Ciara Everard won the 1500m in a new personal best time of 4 mins 25 secs – 11 seconds off her previous best.
Abroad, Paul Robinson ran 3:37.99 for 1500m in Eagle Rock California – the fastest 1500m by and Irishman this season so far, while in Loughborough, Rose-Anne Galligan was second in the 800m in 2:03.19.
* Irishtown Stadium is now closed for competition while necessary repairs to the track take place (already started if last night is anything to go by). It means that members of Dublin southside clubs face long treks to Tallaght, Santry and Greystones to train. Meanwhile the old track at Belfield is being used as a builder's dumping ground. Heartbreaking.
Clonliffe's Sergiu Ciobanu was the class of the field at the Terenure 5-Mile, winning  by some margin from his Clonliffe team mate Gary O'Hanlon in a time of 24 mins 37 secs. Third was young Kilkenn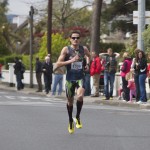 y athlete Thomas Hayes.
The women's race was dominated by Maria McCambridge, still aiming to qualify for the World Championships later this summer. She's still recovering from a DNF at the Rotterdam Marathon. and was happy to come close to her target time of 27 minutes. Second woman was Orla Drumm of Crusaders, while third was DSD's Sarah Mulligan.
A brilliantly organised race from Sportsworld , with over 1,200 finishing and big plans for the 30th anniversary next year. Watch this space!
*Also on the roads, Brian Maher of Kilkenny breezed to an easy win at the Stoneyford 10km in 32 mins14 secs, while Leevale's Lizzie Lee was eighth overall and first woman at the Emer Casey 10km in Youghal. At the Maynooth 10km, UCD's David Campbell made a low -key return to racing, winning in 32 mins 4 secs.
*Promising the usual fun day out in Enniscorthy is the annual Strawberry Half Marathon which takes place on Sunday (10.0) – a month earlier than in previous years. Online entry closes at midday on Friday and all who finish get a quality t-shirt, a medal, tea and sandwiches and the chance of winning one of the numerous prizes on offer. Winners get a generous €300 plus a further €200 if they break the course records of 68.03 for men and 76.38 for women. Also on offer is a 5-mile run (11.0) and a 15km walk on the scenic car-free roads around the town. See www.strawberryhalfmarathon.com or call Jane Porter at 087 6799490.
*Ben Thistlewood lead home over 700 at the Cheetah Run in Fota Park, Cork, where the monkeys as well as the cheetahs roared on the runners and the ostriches and zebras decided to run along beside them! See http://youtu.be/GVf8fcZ-PLk
*BHAA running resumes next Tuesday with the popular Government Service 5-Mile road race in Dunboyne (8.0). On offer is a relatively quiet spin around roads (taking in three counties) followed by the usual hot cuppa and lots of goodies. See www.bhaa.ie. In Cork, the top 20 finishers in the 29th annual John Buckley Sports 5km get a coveted t-shirt. There's the usual huge array of prizes plus a draw for a Raleigh bicycle. Entry is just €5 for BHAA members and €8 for guests.