It proved a long afternoon for Irish pole vaulter Tori Pena at last Saturday's European Team Championships in Santry.
With all four seasons pummelling the athletes (and spectators), the pole vault took well over two hours to complete with the cross-bar constantly at risk of blowing over in gale-force gusts.
"Yes there were a lot of delays. But it's often like that in the pole vault, especially when you have girls of very different standards competing," said Pena.
Pena bided her time until the bar was raised to 4.15m. She soared over that height and then over 4.30m at her first attempt. Defying the conditions, she made three attempts at 4.40m, knowing that second place was in the bag.
"Was it my best performance for Ireland? Well I'm done better heights, but I did what I had to do today and came in lower that usual for me. Today was all about picking up points for the team."
Ireland ended up a creditable seventh overall with some brave runs on the track and Brian Gregan the star, not only winning the 400m but helping the 4×400 team to victory.   In the technical events, Ireland was less strong, with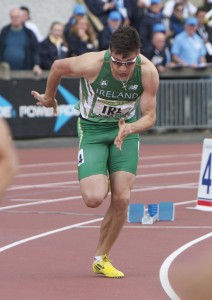 Pena's performance the high point.
"I would love to help build up all the field events here. It doesn't happen overnight – the pole vault in particular is a very complicated event and it's hard to do outdoors in Ireland because of the weather."
Matters are improving and on Sunday, while Pena was "coaching" Brian McMahon in the men's pole vault, she was approached by two young athletes from the Lusk club already besotted by the event.
This is Pena's third year wearing the green of Ireland and she has become one of the team's most faithful members. 'Whenever we ask, Tori is there," says Irish team manager Patsy McGonagle. "She's class."
Good news is that Pena would be only too happy to help develop Irish pole vaulting through mentoring and clinics. "My coach Greg Hall, who has coached two Olympic gold medals already does clinics. We'd love to do that here," she says.
Other Irish field eventers who already help young athletes include javelin thrower Anita Fitzgibbon and Olympic high jumper Deirdre Ryan.
There's more to athletics than marathon running folks!
*If your appetite for top class international athletics was whetted by the European Team competition, there's plenty more to come. A number of top Irish athletes including sprinters Jason Smyth and Amy Foster, pole vaulter Tori Pena and hurdler Ben Reynolds were in action at the re-opening of the Mary Peters Track in Belfast last night and next Tuesday sees the 62nd Cork City Sports at the CIT in Bishopstown.
Highlights will include a strong women's 800m, where Laura Crowe, Rose-Anne Galligan and, with luck, the injured Ciara Everard lead a strong Irish entry. They take on a quartet of Americans led by Phoebie Wright and good athletes from Australia and New Zealand.
Irish interest in the women's 100m is also strong with Amy Foster, Ailis McSweeney, Phil Healy, Niamh Whelan and Kelly Proper entered. The field includes world junior champion, Jodie Williams from England.
*Also scheduled for this week are the Aviva Tailteann Games in Tullamore on Saturday followed by the Woodie's DIY Irish Junior and U23 Championships, also Tullamore, on Sunday.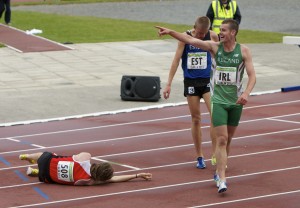 *One of the big personalities of the Irish team in Santry turned out to be Tomas Cotter from Dunleer, who clearly enjoyed every moment of his 3000m steeplechase. Cheering his every step was the busload of 50 supporters who had travelled specially from Co Louth to see their boy.
"It was a first time for a lot of people from my club Dunleer and Blackrock, the club I came from as a junior, to see me run. It was incredible – an amazing experience," said the 22-year old who was making his international debut for Ireland.
Cotter is home for the summer and aims to run a few 1500m races and to improve his hurdling technique perhaps with the help of Sean Cahill, coach to one Derval O'Rourke.
*Mark Kenneally of Clonliffe and Leevale's Lizzie Lee set the roads on fire at the annual Dunshaughlin 10km. Marathon man Kenneally showed that he is right back in form when he led home almost 700 finishers in 29 mins 46 secs.Lee's time of 34 mins 08 secs was not only  the fastest ever by a woman in this race but a big personal best.
*At the Night of Flanders 100km in Belgium, Keith Whyte of Ennis Track Club finished second in a new Irish of 7 hrs 3 mins 53 secs. That time knocked over a minute off Thomas Maguire's 2006 mark of 7 hrs 5 mins 6 secs. His brilliant new record will help Whyte erase the memory of the European 100km Championships last month where he was forced to drop out with a groin strain.
*Mullingar's Mark Christie made a winning comeback at the Docklands 10km. Christie's time of 29.59 put him a minute clear of Bandon's Alan O'Shea with Freddy Keron Sittuk a close third. Raheny's much-improved Kate Cronin was first woman in 35.59.
*Highlight of the weekend's road racing is Saturday's annual Irish Runner 5-Mile in the Phoenix Park (10am), with close to 4,000 expected. The run is part of the Dublin Marathon Series that has helped so many get fitter and faster over the past few years.