Over 650 athletes from twelve European nations are expected in Dublin over the next few days for the European Athletics Team Championships taking place in Santry on Saturday and Sunday.
The Santry event is the second division of this championships – or "1st League" – and at stake are places in the premier league. Competition in the premier division takes place in Gateshead, England, also this weekend.
For the Irish team, the challenge is to avoid the drop to the third division or "2nd league". This is no easy task, especially following the withdrawal of Olympians Deirdre Ryan and Fionnuala Britton, who could be relied on to pick up points in the past, along with Derval O'Rourke and Mark English in recent days.
Opening the competition on Saturday (12.15pm) are the hammer throwing men. On the track, the unmissable race of the day is the men's 400m (2.20pm) where Brian Gregan is a clear favourite to win with  Pavel Maslak of the Czech Republic who has a 45.40 to his credit this season not running and Belgium's  Kevin Borlee also out. Biggest threat looks to be Bonevacia Liemarvin of the Netherlands who ran a personal best 45.80 recently.
This is followed by the women's 800m, where Rose-Ann Galligan, who is getting ever closer to the two-minute barrier, lines out for the home team. Leading the opposition is Sweden's Abeba Aregawi who has set national records of 1:59.20 for 800m and 3:56.60 for 1500m in the past few weeks.
Later in the afternoon, Belgium's Pieter-Jan Hannes, currently ranked third in Europe with a time of 3:35.97 is favourite to win the 1500m, with Eoin Everard the home contender. Hannes has also run 7:54.06 for 3000m this season.
Derval O'Rourke was to  take centre stage on Sunday afternoon (2.30)  in the 100m hurdles; she is now replaced by Sarah Lavin, with Belgium's Anne Zagre with a season's best of 13.01, top ranked of the visitors.
Other races to watch out for over the weekend include the 100m, with Churandy Martina of the Netherlands, who has run 10.16 for the 100m this season, likely to line out along with teenage sensation Denis Dimitrov of Bulgaria, as well as our own Jason Smyth. Martina is also ranked second in Europe for 200m with a time of 20.23.
*Tickets on the gate for just €10 (children free) on both days. Timetable at www.dublinathletics2013.ie
Good news for anyone hoping to run the Irish Runner 5-Mile road race in Dublin's Phoenix Park on Saturday week June 29 (10.0). Because of a problem with the online registration system, the entry deadline is extended to Saturday next June 22.
The race is the first of this year's Dublin Race Series – the perfect build-up for anyone training for the Dublin Marathon, or simply wanting to up their mileage over the summer. Register for the Irish Runner 5 now at www.dublinmarathon.ie ; entry fee is €23.
* All who enter the Dublin Race Series will have their names included in a draw for a brand new Renault electric car.
* A record 311 turned out for the ninth Tommy Lynam Midsummer 5km in St Anne's Park Raheny, incorporating the Dublin Novice Road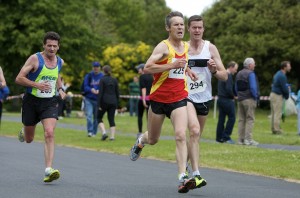 Championships. With club running on an all-time high, large groups were in evidence from Tallaght, Civil Service, Donore Harriers, Sportsworld, Clonliffe Harriers and host club Raheny Shamrock.
Clear winner in 15 mins 21 secs was Clonliffe's Colm Rooney  – a first  victory in quite a while for the former Irish 1500m champion. Raheny veteran Mick Traynor was 20 seconds adrift for second place, with his clubmate Brian Leahy third. Annette Kealy, also Raheny, was first woman ahead of Clonliffe's Emma Cooper. The race was run in conjunction with Childline/ISPCC who provided green "superman" capes to all finishers. Pics at www.lindie.zenfolio.com.
*Last call for Saturday's Michael Manning 10km in Dunshaughlin (7.30pm) – a race with a well-deserved reputation for excellence. On offer is a fast, flat course, heaped tables of  sandwiches, cakes and goodies to replace lost calories post-race,  a long list of prizes, a race video  and live music. The perfect night out! Entry is just €15 or €20 on the night; register at www.dunshaughlinac.com/10k.asp.
*Freddy Keron Sittuk continued his Irish tour with victory in the Heart of Laois 10km in Abbeyleix. His time of 31.14 put him 14 seconds clear of Clonliffe's Gary O'Hanlon. Dymphna Ryan of Dundrum, Co Tipperary, was first woman. In Trim, Colin Costello of Star of the Sea led home 476 finishers at the Braveheart Trail 5km along the banks of the river Boyne. Mary Hanley of Na Fianna was first woman. Biggest event over the weekend was the Hell and Back mudfest from Kilruddery Estate to the Sugar Loaf and back, which attracted well over 1,500 starters. First was Jason Kehoe  in 58 mins 59 secs. Next one is on Sunday November 3 – entry a mere €37!
* A total of 115 turned out for the inaugural Parkrun 5km in Griffeen Park, Lucan, where Karl Fitzgerald had the honour of bringing them home. Second was Matt Shields of North Belfast Harriers, the man behind Parkrun in Ireland; it was his 77th Parkrun.  Scottish visitor Hannah Oldroyd was first woman ahead of Lucan's Fred Comiskey.