* Preview of Morton Games removed; we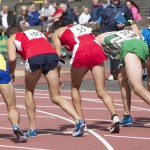 ll out of date by now!
PS: Where was Gregan? Injured – since world university games; a bursa problem with the foot.
Marathon addiction shows no sign of abating after 18 of the 23 starters completed the 10 Marathons in 10 Days Challenge set by Bridge Milers Olympic Harriers in Sixmilebridge, Co Clare (as far as we know; full result  not yet up). It followed the Five Marathons in Five Days held in 2011, the brainchild of  local residents Tom Enright and Pat O'Keeffe.
Up front, Rik Vercoe, Stu Wilkie, Thomas Bubendorfer and Brian Ankers all ran consistently under four hours, despite the hottest weather on this island for some years and big problems keeping the runners well watered, even in the weekday races which took place in the evenings.
First woman was Anne Mary Larkin, while 60-something wheelchair superman Jerry Forde from Blarney was in a class of his own. Raheny's 200 marathon man Dave Brady  was forced to withdraw with food poisoning after completing six days of the challenge; he blames drinking warm water from hot plastic bottles.
* Raheny's Fiona Roche produced a great time of 22 mins 17 secs run to finish eighth overall and first woman at the Dunleer 4-Mile. Coming home first was Mark Hoey of Star of the Sea in 19 mins 55 secs. A notable finisher was many times Irish international Rosie Lambe, who was fourth woman and first over 50. In Dublin, Raheny's Brian Leahy won the Clontarf Half Marathon in 74mins 55 secs, leading home over 1,200 finishers in broiling hot conditions, while in Tipperary, Sergiu Ciobanu of Clonliffe won the Rathgormack 5-Mile.
*At last week's Dublin Graded Meet in Santry, John Travers of Donore produced the performance of the night when he broke 14 minutes in the 5000m for the first time, winning in 13 mins 56.99 secs. A total of 54 lined out in the three 5000m.
* Newry's Aisling Crossey moved down to 400m to beat Ciara McCallion of Clonliffe in 56.44 secs. In the field, Dunboyne's Padraig White threw 62.41 in the hammer, while Ian Rogers  of Clonliffe won the pole vault, clearing 4.55.
* Sprinter Zak Irwin from Sligo Grammar and hammer thrower Alice Akers from Scarriff GS captain the Irish teams at Saturday's SIAB Schools Track and Field International in Santry (11am).
Irwin, with times of 10.88 seconds and 21.68 set this year, will line up against top English and Welsh sprinters in the boys' 100m and 200m. In the girl's hammer, Akers' biggest threat comes from Emma Bowie of Scotland. One to watch is Alanna Lally of Pres Athenry who moves up to 800m from her specialist 400m.
* With Airtricity now firmly on board as sponsor, the Dublin Marathon Race Series continues in Swords next Sunday with the Fingal 10km (10am).  Good news is that the hills from last year's course are gone; the race features a fast start from the main street and takes in loops to the north and south of the town with a slight climb on the last mile. Details at www.dublinmarathon.ie.