Emma Mitchell of QUB ran a new Northern Irish record time of 32 mins 51.78 secs to finish seventh in the women's elite race at the Highgate Night of 10,000m PBs in London. That time is comfortably inside the qualifying mark of  33 mins 6 secs for next year's Commonwealth Games, as well as the 35 mins for the World University Games next August.
Letterkenny's Anne Marie McGlynn,  now aged 37, clocked a massive personal best and new Irish W35 record of 33:16.73 for 14th place, while Danielle Fegan of Armagh ran a time of 35:27.66 to finish second in the B race.  Beth Potter of Shaftesbury Barnet was the elite race winner in 32:04.63, with Steph Twell of Aldershot Farnham and District second in 32:16.23.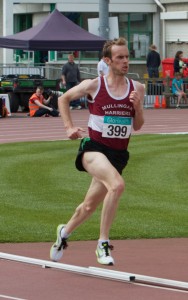 Mark Christie of Mullingar Harriers finished best of the Irish men  with his personal best time of 29:26.61 seeing him finish 15th in the men's elite race. Behind him came Raheny's Kevin Dooney 18th in 29:35; Tullamore's Liam Brady 22nd with a time of 29:47.16 and Clonmel's  Kevin Mausell 23rd with 29:50.69. Race winner was Andy Vernon in 28:21.15; second was Dewi Griffiths in 28:31.88, with seven runners under 29 minutes.
In  other races, John Eves of DSD  clocked a  time of 30:30.65, Colin Maher 30:55.85, Eoghan Totten of Newcastle and District 31:01.18, Paul O'Donnell  of DSD 31:03.46, Ennis TC's Karl Fitzmaurice 31:16.78, Killian Mooney of DSD 31:29.21, City of Derry's Aaron Doherty 31:32.23 and Fergal Smithwick of Newcastle 31:57.70.
MICHAELA WALSH of Swinford set a new Irish junior hammer record of 61.84m at the Halle Throws Meet where she won the U20 women's competition and comfortably qualified for both the European U20 (57.50m)and U23 Championships (60m) later this summer. She also competed in the U23 shot putt competition, with her best effort of 15.46m another national junior record. Also entered were Brendan O'Donnell in the U20 men's hammer and Grace Casey in the U20 javelin.
AT THE EUROPEAN RACE WALKING CUP in Podebrady, Czech Republic, the Irish senior men took 20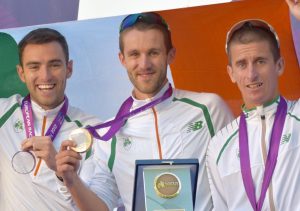 km team bronze behind Spain and Germany. Leevale's  Alex Wright was sixth 6th in 1:21:48, Robert Heffernan of Togher13th in 1:22:40 and Cian McManamon from Westport 26th in 1:24:03. Finn Valley's Brendan Boyce finished fourth in the 50km race with a time of 3:49:49. In the junior women's 10km, Waterford's  Orla O'Connor finished 21st in 51:39 and Niamh O'Connor from Celbridge 27th in 53:29.
MARCUS LAWLER ran 10.53 secs at  the Loughborough meet in England; Kevin Kelly ran 3:44.21 for 800m; Garbhan McKenna  15.32 secs in the 100m hurdles andJason Harvey clocked 51.63 secs in the 400m hurdles. Of the Irish women, Gina Akpe Moses ran 11.84 secs in the 100m; Sarah McCarthy ran 12.03 secs and jumped 6.11m in the long jump. Catherine McManus ran 24.31 secs in the 200m and Nadia Power 4:23.33 in the 1500m.  Kevin Batt was second at the Sydney Half Marathon in 67.10.  Luke Lennon-Ford ran 47.52 for 400m at Ellwangen, Germany on May 20. Claire Tarplee ran 4:16.23 for 1500m in Tubingen on the same day.
Catch-up: Paul Robinson of St Coca's showed that he is right back in form when he ran 3:39.28  to  finish 14th in the 1500m at the USATF Distance Classic at Eagle Rock in California on May 18. Eoin Everard of Kilkenny recorded a time of 3:41.57 to finished 23rd.  Race winner was Matt Centrowitz of Nike Oregon Project in 3:33.41; second was Mo Farah, also Nike Oregon Project, in 3:34.19. Acting as a pacemaker in the steeplechase was Tomas Cotter of Dunleer. Also: Trim athlete Harry Purcell's time of 47.47 secs run at the Big East in Villanova on May 13 puts him top of the Irish rankings and is a B qualifying mark for the European U23 Championships. A is 47.10; B is 47.85.
Results
Sunday May 21
Dublin City Council Street of Dublin 5km, Docklands. (980 finishers; full result via Facebook).
Men: 1 Karl Fahy 16.07, 2 Brian O'Kelly 16.30, 3 James Kelly 16.45, 4 Joseph O'Donoghue 16.47, 5 Damien Martin 16.52, 6 Martin Askins 17.03.
Women: 1 Tara Kennedy 18.57, 2 Clare Sullivan 19.14, 3 Siobhan Devaney 20.08, 4 Adrienne Atkins 20.21, 5 Ciara Peelo 20.24, 6 Aideen Brady 20.26.
An Tobar Ardmore 5-Mile, Co Waterford (Intersport Elverrys/Asics Summer Series)
Men: 1 Kevin O'Leary (East Cork AC) 26.59, 2 Anthony Flynn (West Waterford) 27.39, 3
Mark Rowe (West Waterford) AC 27.45
Signs of Zodiac prizes: Aquarius Peter Curran, Pisces Joe Kelly, Aries Michael Dunford (West Waterford ),
Taurus John O'Sullivan (Balance Fitness), Gemini Cathal O'Connell (UCC), Cancer Michael Dolphin (Leevale AC)
Leo Enda Donnelly (West Waterford), Virgo Jimmy Connors (West Waterford), Libra Walter Drohan (West Waterford), Scorpio Ray Hahessy (West Waterford), Sagittarius Ken Devine (UCC), Capricorn Sean Stilwell (West Waterford)
Women: 1 Kate Veale (West Waterford) 32.15, 2 Sandra Prendergast (West Waterford) 33.05, 3 Sinead Brannigan (Waterford) 33.18
Signs of Zodiac prizes: Aquarius Maria White West Waterford , Pisces Mary Cahill West Waterford , Aries Sophie Tobin, Taurus Catriona Lee West Waterford, Gemini Rachel Phelan, Cancer Aine Murphy UCC, Leo Claire Kennedy West Waterford, Virgo Michelle Cunningham West Waterford , Libra Brigid Coffey Tried and Tested, Scorpio Patricia Daly Youghal AC, Sagittarius Gillian Cotter UCC, Capricorn Julie Kenneally Youghal AC