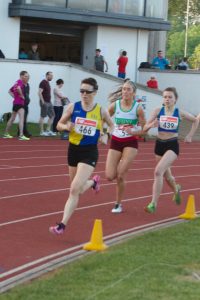 Andrew Connick of Ferrybank was the winner of the 10,000m, which opened the third Dublin Graded Meet held at Irishtown in beautiful early summer conditions.
Connick  clocked a time of 31 mins 53 secs to beat  St LOT's Brian Kirwan in 32 mins 20.1 secs. Dylan Keegan of Templeogue AC, who had won the 5000m at the previous meet, was third in 32 mins 26.2 secs.
Over 800m, the addition of a grade C to the women's competition saw an increase in entries to 46, with Mary Horgan of Crusaders winning the A race in 2.14.45. DCH pair Niamh Donnelly  and Claire Brennan were second and third. Masters international Denise Toner from Clones won the B race in 2.18.74, while in the C race, Aimee McGrath from Newbridge just held off Ellen Cheung from Blackrock for victory.
Winners of the two men's A 800m races were Raheny's Eoin Strutt in 1.55.75 and  Cathal Doyle of Clonliffe in a personal best 1.56.53. In a closely fought B race, Shaun Conaghan of Clonliffe just held off  Civil Service's Neil O'Rourke  to win in 2.03.32.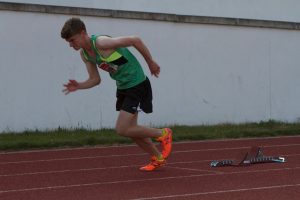 Leah Bergin from Clonliffe ran 57.93 secs in the fastest women's 400m of the evening; Rathfarnham's Lee Byrne was the fastest of the men  clocking 51.30 secs.
Making a return to competition in the discus was Tralee's Clare Fitzgerald who threw 51.40m; Marco Pons of DMP was best of the men with 49.72. Grace Casey from Eire Og  proved best in the women's javelin with 48.05m, while Michael Jordan from Naas lead the men with 48.45m. Full results at Dublin Athletics.
ON THE ROADS, Peter Somba and Laura Shaughnessy were the winners at the well supported Bob Heffernan 5km in Enfield. The Ballycotton Summer Road Race Series started off with the Ballyandreen 5-Mile, won by Bantry's Alan O'Shea. Sinead Kevany of Midleton AC was first woman.
Results –
Thursday May 25
Ballyandreen '5' Race 1 Ballycotton Summer Road Races Series.
Men: 1 Alan O'SheaBantry AC) 25.03, 2 Tim O'Donogue (East Cork) 25.16, 3 Sean McGrath (East Cork) 25.23, 4 James McCarthy (East Cork) 25.50, 5 Vivian Foley (Eagle AC, M45) 27.20, 6 Kevin O'Leay (East Cork) 27.29.
M40: 1 Kieran McKeown (Watergrasshill AC) 27.53, 2 Bryan Crowley (Watergrasshill AC) 28.41, 3 Mossie Keogh (W Waterfrpd) 29.03. M45:2 John Hennessy (East Cork) 28.46, 3 John O'Callaghan (Eagle) 28.56. M50: 1 Anthony Archer (St Finbarr's) 30.31, 2 Thomas Fox (Eagle AC) 30.54, 3 Eric Meade (East Cork) 31.42. M55:  James Kelleher 31.09. M60: Neilus Aherne (Midleton AC) 31.21.
Women: 1 Sinead Kevany (Midleton AC, W40) 30.10, 2 Helen Leonard (Leevale, W45) 31.33, 3 Rosaleen McKeown (Leevale, W40) 32.14, 4 Helen Gilroy (Midleton AC, W50) 33.12, 5Deirdre Ansbro (Youghal AC, W35) 34.01, 6 Claire O'Hanlon (Ballintotis FFL, W40) 34.08.
Tuesday May 23
Bob Heffernan 5km Enfield (sportstiming.ie)
Men: 1 Peter Somba (Dunboyne) 15.08, 2 Stephen Conroy 15.44, 3 Ross Hurley 15.46, 4 William Rooney 15.46, 5 Conor Burke 15.47, 6 John Treacy 15.51. M40: Chris Muldoon 15.55.M45: Tony Reilly 15.56. M50: Phelim Glynn 16.14.
Women: 1 Laura Shaughnessy (DSD) 16.31, 2 Michelle Cox 17.42, 3 Linda Byrne (DSD) 17.43, 4 Sinead Whitelaw 18.09, 5 Ruth O'Loughlin 18.31, 6 Aisling Swaine 18.31. Jun: Danielle Donegan 18.41. W40: Andrea McGuinness 19.06. W45: Emilia Dan (Dunboyne) 19.03. W50: Mary Watters (Navan AC) 21.28. W60: Nuala Reilly (Drogheda and Dist) 22.18.
Foxford 5k, (160 entries; www.myrunresults.com)
Men: 1 Richard Gorman (Sligo AC) 15.52, 2 Shaun McLaughlin (Westport AC) 15.57, 3 Michael Santry (Moy Valley AC) 16.17.  Women: 1 Sarah Syron (Mayo AC) 19.17, 2 Ciara McDermott 19.39, 3 Ann Marie Staunton 20.48.