Kevin Baker of Arup and Tara Malone, guest, were the winners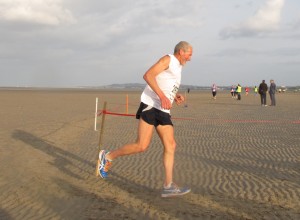 of the ESB BHAA Beach 5km held at Sandymount strand on a perfect May evening.  Big crowd from the banks – especially Societe Generale. Special well done to Orla Gormley of Aer Lingus who finished first W50 in her first race in a year after getting a steel plate put in her foot.
JOHN COGHLAN of MSB won the inaugural Basil Clifford Mile held in conjunction with the third Dublin Graded Meet of the season at Santry.  Coghlan led from the start winning comfortably in 4:10.96.  Clonliffe junior Cathal Doyle was second and C.J. Asayas  of AIT AC third.  Winning the women's mile was Aisling Carroll of Fingallians in a PB 5:18.0; Elizabeth Carr of Mullingar was second in 5:29.0.
Winning the 5000m was Raheny's Mick  Clohisey; his time of 14:30.02 saw him finish over 45 seconds clear of DSD's Emmett Jennings. Meghan Ryan of DSD was first woman in 17:31.10.
Best of the women in the 400m was Clonliffe's Snezana Bechtina who ran a PB 56.02 secs, beating UCD's Aislinn Crossey, who clocked 58.21 secs. Another PB came in the women's discus won by Anne Marie Torsney of Fingallians with a throw of 44.13m.
Wednesday May 20
ESB BHAA Beach 5km, Sandymount. www.bhaa.ie
Men – 1 Kevin Baker (Arup) 16.30, 2 Thomas Sherlock (B of Ire) 16.43,3 Ernie Ramsey (Window Blinds) 16.58, 4 Sean Doran (C&E Products) 17.16, 5 Ronan Hartnett (Gardai, M35) 17.19, 6 Colm Murray (CMB, M45) 17.22. M40: Paddy Moran (B of Ire) 18.13. M50: Aidan O'Gara (Eircom) 18.38. M55: Tom Cuddy ( DCC) 18.51. M60: Bernard Quinn (IPS) 21.28. M65: Matt Cooley (DG Motors) 23.30. M70: Maurice Timmons (AIB) 25.44.
Women: 1 Tara Malone (W35) 19.52, 2 Alma Hanevy (Pharmacist, W35) 20.23, 3 Vanessa Sallier (Mercer, W40) 20.39, 4 Deirdre Ni Chearbhaill (AIB, W35) 20.54, 5 Aoife Quigley (St John of Gods) 21.15, 6 Orla Gormley (Aer Lingus, W50) 21.16. W45: Aine Cornally ( B of Ire) 21.51. W55: Sheelagh Jones (Teachers) 21.39. W60: Mary Jennings (Teacher) 23.32. W65: Evelyn McNelis (Teacher) 25.17. W75: Ann Woodlock (A Collins & Co) 29.29.
Tuesday May 19
Bob Heffernan 5km, Enfield (423 finishers; www.precisiontiming.net)
Men: 1 Peter Brandon Somba 14.59, 2 Wishu Gebreselassie (DSD) 15.14, 3 Lezan Kimutai (Athenry, M40) 15.21, 4 Brian Kirwan ( StLOT) 15.27, 5 Eoin Callaghan 9Star of the Sea) 15.32, 6 Stepehn Hunter (St Michael's) 15.42.
Women: 1 Ciara Durkan (Skerries) 16.28, 2 Charlotte Kearney (Donadea) 17.21, 3 Kate O'Neill (MSB) 17.28, 4 Paula Grant (Portlaoise) 17.56, 5 Sinead Eacrett (St Michael's, W40) 18.01, 6 Michelle Cox (Newbridge) 18.06.