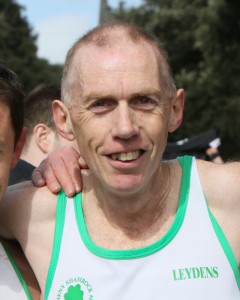 With a haul of four gold, three silver and one team bronze, the small Irish team that travelled to the European Masters Non-Stadia Championships in Grossetto, Italy could lay claim to being the most successful ever.
Leading the medal haul was Pat O'Shea won won both the M65 10km and half marathon titles.  In the M50 age group, Craughwell's Gerry Ryan and Mick Traynor of Raheny Shamrocks finished first and second in the 10km, while Traynor won the half marathon. In the M60 age group, Paul Eliott of North Belfast Harriers finished second in the 10km. Making up the M50 team which finished third in the 10km were Mick Fennell of Civil Service 37th and Dunboyne's Mick Cornyn 41st.
Over the half marathon distance, Michael Bowler was  second over 65 behind Pat O'Shea, with the Irish team fourth.
Others in actions were John McMullen 6th in the M60 10km walk, Stuart Kennedy 21st M45 in the 10km, Clonliffe's Pat Bonass 14th M70 in the 10km.
Results  –
10km – M50: 1 Gerry Ryan 32.32, 2 Mick Traynor 32.46, 37 Mick Fennell 41.17, 41 Michael Cornyn 41.25.  Team – 3rd. M45: 21 Stuart Kennedy  36.45.  M60: 2 Paul Eliott 36.50. M65: 1 Pat O'Shea 38.49, 2 Michael Bowler 46.43. M70: 14 Pat Bonass 47.41.
Half Marathon – M50: 1 Mick Traynor  75.41, 25 Mick Fennell 1:37.22. M65: 1 Pat O'Shea 1:29.41.
10km walk – M60: 6  John McMullen 59.52.
Cross-Country 3x4km relay –   15 (6th M45) Ireland 1  (Kennedy, Elliott, O'Shea) 42:24; 19 (3rd M50)  Ireland 2 (Ryan, Fennell, Traynor) 42.52.