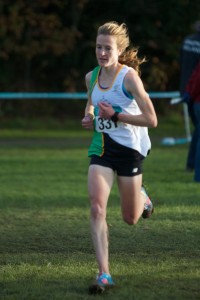 Fionnuala McCormack has finished a fighting third at the Antrim International Cross-Country in Greenmount. In chilly, slippery conditions, McCormack pushed the pace early, but was passed by a trio of Africans.
Midway through the race, she pulled herself up to third place ,with Britain's Kate Avery, who had beaten her in Edinburgh a week earlier, one place behind. Kenya's Alice Aprot Owunakee won the race, with the Ethiopian Mimi Belete who runs in Bahrain colours second and McCormack third.  Kate Avery held on for fourth;  European U23 champion Louise Carton of Belgium was seventh.
Of the other Irish, steeplechaser Kerry O'Flaherty  of Newcastle finished 11th with her training partner, Rose Anne Galligan not far behind in 13th and Riocht's Shona Heaslip a close 14th.  Heaslip's coach, the ageless Niamh O'Sullivan, finished 26th; three places ahead of her was Sarah Miles of DSD, a former Irish junior champion running her first race at this level in some time. Newcastle and District were clear winners of the team title.
Ethiopian Aweke Ayalew, another recruit to Team Bahrain,  won a closely fought men's race from Thomas Ayeko of Uganda and the Kenyan Timothy Cheruiyot. European junior champion Yemaneberhan Crippa of Italy was 13th. Best of the Irish was mountain running international Cillian Mooney  who finished 16th and led DSD to team victory, with solid runs also from Robert Corbally 27th and Emmet Jennings 28th. Newcastle finished second, with Seamus Lynch  a fighting 21st; the squad including former British cross-country international Deon McNeilly who, a week earlier, had competed in the National Cyclo-Cross Championships.  Not bad for an M50!
Clonliffe took the team title in the M20 race, with three athletes in the top ten – Brian Flanagan 7th, Cathal Doyle 8th and Sean Carrigg 10th. DSD was second and also finished beat of the teams in the M17 age group,  led by Luke Mc Gabhann 10th. In this age group, Clonliffe was fourth  behind two strong Northern Irish schools – St Michael's Enniskillen and St Colman's Newry.
Olivia Nelson won the W17 race, where City of Lisburn beat DSD for the team honours, while Metro St Brigid's finished first of the W15 teams, with Aisling Mohan fourth in the race.
Results – from www.athleticsni.org/Results
Women's 5.8km (92 finishers) : 1  Alice Aprot Owunakee (Ken) 18.05, 2 Mimi Belete (Eth/Brn) 18.09, 3 Fionnuala MCormack (Kilcoole) 18.13…7 Louise Carton (Bel) 18.55. Other Irish: 11 Kerry O'Flaherty (Newbridge & Dist)  19.36, 13 Rose Anne Galligan (Newbridge) 20.05, 14 Shona Heaslip (Riocht) 20.08, 16 Catherine Whoriskey (City of Derry) 20.51.  Teams – 1 Newcastle and Dist 48, 2 Nth Down 75, 3 Foyle Valley.
Men (134 finishers) : 1 Aweke Ayalew (Eth/Brn) 21.25, 2 Thomas Ayeko (Uga) 21.25, 3 Timothy Cheruiyot (Ken) 21.27…13 Yemaneberhan Crippa (Ita) 23.06. Irish: 16 Cillian Mooney (DSD) 24.02, 17 Declan Reed (City of Derry, M40) 24.05, 18 Mark McKinstrey (NBH) 24.15, 19 Brian McMahon (Clonliffe) 24.25. Teams – 1 DSD 71, 2 Newcastle and Dist 86, 3 Foyle Valley 106.