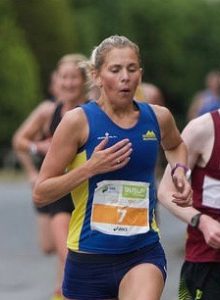 Irish national marathon champion Laura Graham of Mourne Runners has won the Belfast Marathon – a home victory for the first time in 19 years. Graham, supported enthusiastically all around the course,  also repeated her feat of last year by running the London and then Belfast Marathons with only seven days rest in between.
The time was marginally quicker than the 2:41.54 Graham ran to win the national title at Dublin last October and an improvement on her 2:42.38 in London last weekend.  Last year, Graham finished second in  Belfast behind Berhan Gebremichael  from Ethiopia clocking a time of 2:48.56. A week earlier, she had finished the London Marathon in 2:48.03.
The men's race saw a Kenyan clean sweep with Bernard Riotich first home in 2:16.02 followed by Emanuel Kiprotich and Hillary Chirchir. First local was Jarlath McKenna who is based in the UK and runs for Bristol and West. He finished in 2:30.30.  Second and third in the women's race were Els Rens in  2:46:21 and Salome Kimutai in  2:54:01.
Setting a new world record time for running a marathon in a full suit was Rathfarnham's Barry Minnock. Paced by Gary O'Hanlon, Barry crossed the line in 2:54.01 – and then had a little lie down. Apparently, it was a tad hot out there!
RAHENY'S IAN CONROY finished second M35 at the European Masters Mountain Running Championships at Monte Scatano  in Spain over the weekend.  Conroy finished foruth overall in a time of 54 mins 55 secs for the 14.3km course with 550m of  climb.  With Jason Kehoe of Rathfarnham 13th and Brian O Murchu 45, the Irish M35 team finished second behind Spain.  Winning the M55 class was Gerard Maloney  while finished second W40 was Becky Quinn. Interestingly each entrant to the championships had to pay €1 towards a dope test.
PAUL CARROLL and Heather Foley were the winners of the Liam Ball Spring Triathlon in Derry. Carroll's time of 1:0041 put him over a minute clear of Triangle's  James Walton in 1:01.43. Foley of Sligo TC finished in 1:06.24 with Siobhan Gallagher of 247 TV second in 1:10.09.
VETERAN MARCUS PINKER of Cork O won long course title at the Irish Orienteering Championships held over three days in Co Galway. Pinker completed the physically tough 13.3km course, which had 365m of climb and 24 control points in 98 mins 05 secs. Over three minutes behind in 101.53 was CNOC's Conor Short; brother Ruairi Short  was third in 109.20  and Kevin O'Boyle, also CNOC, fourth in 112.02.   Of the 20 starters, only 14 finished.
Winning the women's long course title over a 8.28km course with 185m of climb and 18 control points was Niamh O'Boyle of CNOC in 82 mins 29 secs. Ciara Largey of Ferm O was second in 83:37 and Toni O'Donovan of Cork O third in 93:21.
A day earlier, Largey had beaten O'Boyle in the middle distance race, while Darren Bourke of Cork O won the men's distance race. His time of 31 mins 33 secs  saw him finish 19 seconds clear of Conor Short, with Pinker third.
In other age groups, Ruairi Long of Ajax won the M19 long and medium races, while former world masters mountain racing champion Robin Bryson won the M55 medium title, beating many times Irish champion Aongus O Cleirigh of Ajax. In the long race, Brian Corbett beat his Cork O team mate Colm O'Halloran, with O Cleirigh third and Bryson fourth. Full result for all age groups at www.orienteering.ie