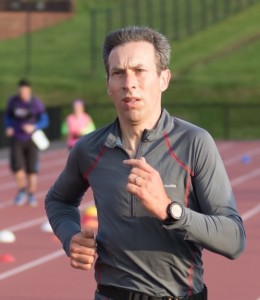 Ultra runner Eoin Keith has completed his run from Mizen Head in Kerry to Malin Head in Donegal in a time of 75 hours 47 minutes – or 3 days 3 hours 47 minutes.
That knocks an incredible 11 hours 49 minutes off the time of 3 days 15 hours 36 minutes set by English ultra runner Mimi Anderson in 2012. Anderson, who is currently nursing an injury, was among the first to congratulate Keith on his incredible achievement.
The record attempt had begun on Saturday morning at 8am and by 6.39pm that evening, Keith had notched up his first 100km  in 10 hrs 39 mins 6 secs on the hilliest part of the course. By Sunday morning at 2.26am, he had run 200m and before 9pm that evening, had another 100m in the bag.
Understandably the pace was slowing and two-hour sleep breaks ate into the overall time.  Just after midday on Monday, the 400km mark was passed, and on Tuesday morning just before 5am Keith reached Derry city and the 500km mark. He was now into the final stretch of his journey and the record was assured.
"I'm feeling pretty good – and very, very very happy!" he said after tipping the pole that marks the northern-most point on the island of Ireland. Helping him all along the way was his wife Helen, and friends Richard Nunan and Taryn McCoy, with others dropping in and out along the route.
He had picked the date to give him to recover before the World 24-Hour Championships taking place in Belfast in early July. The route he picked was slightly shorter than the 345 kilometres run by Mimi Anderson and others, but was slightly hillier, which suited Keith, a mountain runner by background. Going from south to north meant the hilliest part of the route was early on when he would be fresh; plus, with luck, the prevailing winds, which in Ireland generally come from the south, would help him along his way.
Previous records include a time of  5 days 22 hours 30mins  for 644km/400.2 miles from Malin to Mizen on March 18-24 , 1982 by race walker John Dowling. That was improved to  4 days 12 hours for a distance of 375 miles/603.5km from Mizen to Malin by Richard Brown of  Great Britain in April 1988. In August 2001, Jane and Graham Porter completed a route of 365 miles in 7 days 9 hours 36, running for about 12 hours each day. Their feat  inspired many Irish ultra runners including Galway man Richard Donovan who has run the route in both directions. He ran a time of 5 days 8 hours 15 minutes reaching Mizen from Malin on 9 July 2005. Last year, Alex O'Shea from Cork made an attempt on the route but was forced to abandon.
Since 2011, three British women have brought it down to under four days. From 5-10 July in 2011, Jennifer Salter from Wales completed a route of 555km/345 miles in 4 days 23 mins 3 mins. Sharon Gayter then ran a time of 4 days 1 hour 39 mins from 25-29 March in 2012, with Mimi Anderson then knocking over  ten hours off that with her time of 3 days 15 hours 36 minutes  (Malin to Mizen) from 22-25 September also in 2012.
Eoin Keith's splits –
Start Saturday April 29 8am.
100km  Sat 18:39.06;   10hrs 39 mins 6 secs
200km  Sun 7:26.10l;  12:47.04
300km  Sun 20:49.25;  12:23.15
400km Mon 12:19.27; 15:30.02
500km Tue 4:56.32; 16:37.05
Finish Tue 11:47.00; 6:50.28
Total: 75 hours 47 mins/3 days 3 hours 47 mins