One athlete sure to be celebrating the end of the year is Caitriona Jennings of Rathfarnham WSAF.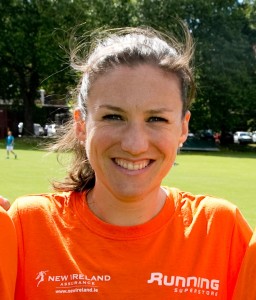 A few weeks ago, Jennings finished fourth in the inaugural World 50k Championships held in Doha Qatar. It was her first appearance in an Irish vest since running the marathon at the London Olympics, where she picked up an injury that forced her to stop running entirely for a number of years.
While away from running, she took up rowing, a sport at which her sister Sinead has excelled. Her aim was to qualify for Rio along with her sister.
Although she produced some good results, it was not to be. "I totally underestimated how technical a sport rowing is. I don't regret going to rowing. and I'm pleased that I can say that I gave it a good shot. I'm also taking what I learned from it back to my running. For instance, my bone density has improved thanks to the strength training I did for rowing. I'm much more in tune with my body and training a lot smarter."
She stopping her rowing training in November 2014 and began jogging again, but with a new perspective. "Before I had been stressing myself too much. I was obsessed with miles. But I realised that there was a correlation between when I was busy at work and when I got injured. Now I just ease off."
Her job as a tax manager with PwC involved long hours at certain times of the year. "I'd be working until 9-10 at night. It affects your eating and your sleeping and you won't be able to do a good training session during the day."
She has had moments when she wishes she could train full-time, but she can see the downside. "When you're training full time, and you have a bad session, it can get to you. You have nothing else to think about. I took four months off after London and was doing crosswords and things to stimulate my brain. By the end of it, I was dying to get back to work!"
Her new approach meant that she was really enjoying her running again.  "I love running. Rowing was a chore, although it did have its good moments."  After a few months of training, she decided she'd like to return to competition. "My first race was the Lisburn Half Marathon. My time wasn't great but it gave me the kickstart I needed. The Belfast Half Marathon was an improvement; not amazing, but I really enjoyed it."
Around this time, Athletics Ireland was debating sending a team to the World 50km. "I knew the longer stuff suited me and with six weeks to go, they called and told me I was selected."  With her coach Terry McConnon, she began more specific training for a event that's 8km longer than the marathon.
The course in Doha proved tough. "It was ten times round a 5km loop, with one third of it on tiles and also some flat cobbles as well as tarmac. But it was the same for everyone."
It was also hot. "They started it at 6pm, when the temperature was a bit cooler at 25 degrees, although the humidity was still 70%. I was drinking from the start on every lap, but it was impossible to replenish the fluids you lost."
Next up is possibly a return to the marathon. "I'll probably have another crack at it having had such a positive experience in Doha, but I'm not going to overdo it on the miles."
She has the benefit of training with "a really nice" group in Trinity led by Terry McConnon. "Everyone in it  is very supportive and encouraging. Anyone who works in the city centre is welcome."
In the future she wouldn't rule out ultra running."I'd like to run the 50km in Doha again next year when I'll have the advantage of knowing the course and can prepare better."
In the meantime, she's looking forward to a few fun runs over the Christmas and, after getting engaged earlier this year, finally fixing a date for her wedding.
Herald 16 December 2015