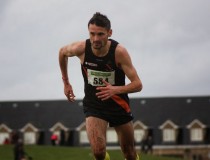 Gladys Ganiel of North Belfast Harriers won the Leiden Half Marathon in Belgium this morning. With selection for the Rio '16 marathon squad taking place tomorrow, Ganiel had hoped to prove her fitness by running a fast time. Unfortunately, warm, muggy conditions and cobbles on quarter of the course meant times generally were  slow and her winning time was 78 mins 28 secs – well off her best of 75 mins 8 secs.
In the men's race,  Clonliffe's Sergiu Ciobanu who was also aiming to prove his fitness to the selectors,  finished third in 67 mins 14 secs. His best is 64 mins 48 secs. Race winner was Khalid Choukoud  in  63 mins 30 secs. His best is  61 secs 53 secs.
The names of the three men and women (plus two reserves) for  the marathon in Rio will be announced tomorrow evening (8pm) on the Athletics Ireland website. Currently, the top three men are Kevin Seaward, Mick Clohisey and Sergiu Ciobanu; Lizzie Lee, Fionnuala McCormack and Breege Connolly are the top three women.
The big question is whether the panel will go further down the list. Paul Pollock, who was by some way fastest of the Irish at the World Half Marathon, is fourth on the men's list, while Connolly's qualifying time dates back to London 2015. Interestingly, Connolly is also fourth on the current half marathon list  behind McCormack, Claire Gibbons McCarthy and Lizzie Lee.
At the Highgate Night of 10,000m, where temperatures were also high, Mick Clohisey ran 29 mins 35 secs and Lizzie Lee 33 mins 32.7 secs in her track debut – just one day before her 36th birthday today.
Fionnuala McCormack finished fifth in the Great Manchester Run 10km this morning with a time of  32 mins 23 secs. Winner was Tirunesh Dibaba in 31 mins 16 secs. Letterkenny's Ciaran Doherty  finished 18th and 2nd M40 in 31.34.
Dan Tanui from Kenya won the Virgin Media Night Run 10k in Dublin. His time of 29 mins 23 secs put him comfortably clear of  fellow Kenyan Peter Somba in 30 mins 1 secs, with Eric Koech, also Kenya, third in 31 mins 16 secs. Fourth was Sligo's Emmett Dunleavy in 32 mins 8 secs. First woman was Deirdre Byrne of Sli Culanna who finished 14th overall in 34 mins 47 secs. Orla Drumm of Crusaders was second in 35 mins 16 secs and Kate Purcell third in 37 mins 57 secs. There were 5,169 finishers.  Full results www.virginmedia.ie
Track & Field results  (Wed May 18-Sun May 22)
Wednesday May 18
Nijmegan 800m, 8 ,Eoin Everard (KCH) 1:49.34.
Friday May 20
HOKA ONE ONE Middle Distance Classic Los Angeles – Ciaran O Lionaird (Leevale) 1500m: 9th in his round; 3:53.77; 41st overall.
800m: 2 Declan Murray 1:48.04
3000m steeplechase:  Tom Cotter, 4rB, 8:37.12
Golden Spike Ostrava – Claire Tarplee (St Coca's)  5th, 1500m4:10.65. Christine McMahon 57.85 secs, 400m hurdles.
Saturday  May 21
Highgate Harriers Night of the 10,000m PBs, London – Women: 1 Jessica Andrews (AFD) 31.58.0, 2 Linet Masai (Knya) 32:02.5…13 Lizzie Lee (Leevale) 33: 32.7 secs.  Men: 1 Ross Millington (Stockport) 28:28.2…6 Mick Clohisey (Raheny Shamrock) 29: 24.4, 12 Mark Hanrahan (Leevale) 29:40.1,  17 Kevin Mulcaire (Ennis Track, U20) 31:12.7.
Hamburg – Michelle Finn (Leevale) 3,000m steeplechase ?
European Masters Road (Non Stadia) Championships, Monte Gordo, Portugal

Fri – 10km – M50: 2 Mick Traynor 34.11, 5 Pat Malone 34.51, 7 Phelim Glynn 35.02. M55:3 Tommy Payne 35.48, 10 Tom O'Connor 37.48, 30 Michael Cornyn 45.05. M60: 4 Paul Elliott 36.33. M65: 7 John Murphy 40.49, 9 Pat O'Shea 42.24, 11 Martin McEvilly 42.34, 18 John Harty 46.19, 19 Barrington Morris 46.44. M70: 5 Francis Reilly 43.16, 13 Pat Healy 47.59, 14 Michael Bowler 48.03, 17 Pat Bonass 49.40. M75: 7 Sean Cooney 49.32. Women – W70: 3 Eveyln McNelis 54.17.
10km (team) – M50:Mick Traynor, Phelim Glynn, Pat Malone, 1st. M55 team: 4th. 
10k walk – Sean McMullin 1st M70; Pat Murphy 2nd.
Sat  – 3 x4km cross-country -M50 team 1st (Pat Malone,Phelim Glynn, Damien Martin). M70 (Frank Reilly, M Bowlerm Pat healy)2nd. M45 (Mick Traynor, Stuart Kennedy, Cathal McLaughlin) 3rd; M65 (J Murphy, Martin McEvilly, Pat O'Shea) 3rd. M55 (Tom O'Connor, Tommy Payne, Michael Cornyn) 4th.
Sun – Half Marathon– M50:  3 Paul Moran

Sunday May 22
Loughborough international – Women: 100m: 1 Phil Healy 11.53, 4 Joan Healy 11.64 (PB). 200m A(+2.9w): Phil Healy 23.78. 1500m: 8 Rose Ann Galligan 4:26.17. 4×400: 4 Ireland 3: 35.3. Men: 400m – B: 6 Richard Morrissey 48.35. C: 2 Craig Lynch 47.96. E: 1 Brandon Arrey 48.08.