ROWING:  Cork-based Sanita Puspure booked her place at  the Rio Olympics when she finished second place in the women's single sculls  at the final qualifying regatta in Lucerne. Puspure, a veteran of the London Olympics, showed her class when she powered her way into the placings after lying fifth at  the half way point. New Zealand's Emma Twigg won the race in 7 mins 24.76 secs.
Puspure joins the lightweight men's pair of Paul and Gary O'Donovan and  women's double scullers Sinead Lynch and Claire Lambe on the Irish team for Rio. .
CANOEING: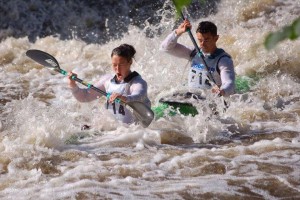 After the disappointment of not qualifying for the Rio Olympics, Jenny Egan set a new Irish record of 1 min 51.166 secs for the K1 500m at the opening round of sprint canoeing's World Cup in Duisberg, German.
Egan finished fifth in her semi-final. She also made the semi-final of the 200m with a time of 41.92.9 secs in the heats. In the 5000m, which traditionally ends the sprint programme, she finished eighth after a dash for the line among five paddlers.
Making the final of the men's K1 500m was Barry Watkins who finished third in both his heat and semi-final with almost identical times of just over 1 mins 40 secs. In the final, he was seventh in 1:41.062. Tom Brennan made the semi-finals with a time of 1:42.626 secs in his heat. Also competing was Peter Egan who was ninth in his K1 200m heat and 24th in the 5000m.
SWIMMING: Ireland's 400m medley relay team  set a new Irish record in  the final at the European Championships taking almost a second off the time they had swum in the morning's heats, which was also a record.
The quartet of Olympic Games qualifiers Shane Ryan and Nicholas Quinn with Brendan Hyland and Curtis Coulter had clocked 3:38.40 in the morning heats to progress in 7th place. Faster performances from all four in the final saw them break that record in 3 minutes 37.48 seconds when they  finished 7th.
Ryan led off on backstroke, touching in 54.37 seconds, Nicholas Quinn was close to his best on the breaststroke leg in 1:01.01, Brendan Hyland clocked 53.35 on the butterfly while Curtis Coulter, on the freestyle anchor leg , swam 48.74.
Across diving and swimming, Ireland has had one of its best European Championships in recent years making four finals and six semi-finals with Fiona Doyle just missing out on a medal in the 100m breaststroke where she finished fourth.
Shane Ryan, Nicholas Quinn and Fiona Doyle now travel to a training camp in Barcelona, before competing at the Mare Nostrum swim meet on June 11/12. On the same weekend, Chris Bryan will attempt to qualify for the Rio Games in the 10kmOpen Water Olympic qualifier at Setubal in Portugal.
Attention at the European Championships now turns to masters' swimming with 140 Irish swimmers and one diver competing from Wednesday May 25 to Sunday May 29 in London. A total of 10,000 masters have entered the five-day competition in age categories ranging from over  25 to over 95.
SHOW-JUMPING: A triple-clear round from Bertram Allen and the stallion Hector Van d'Abdijhoeve, saw the pair finish fourth in a hugely competitive Longines Global Champions Tour Grand Prix at Madrid in Spain.
The five-star contest had a massive €320,000 prize fund, with Allen pocketing €32,000 after he missed out on a podium place by just half a second.
Tipperary's Denis Lynch riding All Star 5 missed out on a place in the second round after lowering a single rail. German maestro Marcus Ehning grabbed the winners prize of over €100,000 with the 13-year-old gelding Pret a Tout. Saudi Arabia's Abdullah Alsharbatly took runner-up spot with Tobalio .
The result moves Allen into seventh place on the Global Champions Tour leaderboard having already won almost €200,000 in prizemoney at this early stage of the season.
At the three-star Danish show in Odense, Meath's Alexander Butler scored a superb win in the Grand Prix qualifier. Butler guided the Michael Leddy's 12-year-old Monastery Stud More Pleasure to victory when they were the only pair to finish clear in under 61 seconds.
PITCH AND PUTT: Irish No 1 John Walsh from Cork will lead the Irish pitch and putt team at July's World Cup in Andorra. Also selected after a trial in Portmarnock, Co Dublin were Dubliner John Ross Crangle from Loughlinstown. and reigning Irish Open holder Eamon Gibney from Castletown, Co Meath.
Walsh and Gibney were also drawn against each other for the National Matchplay Championships (sponsored by Horizon Energy Group) at Seapoint, Termonfeckin, Co Louth on the June Bank Holiday weekend. Crangle takes on Dubliner George McGreal in the first round. In the first round of the women's competition, holder Chrissie Byrne from St Bridgets, Kildare takes on Francis Farrell from the Cement club, while Irish woman's No 1 Ger Ward of Portmarnock plays Lucan's Siobhan McDonnell.