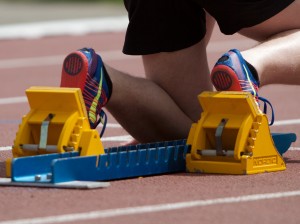 Thanks to a solid all-round performance from the team, the Irish are lying fifth on the points tables after the opening day of the European Team Championships League 1 in Heraklion, Greece.
Although there were no wins, there were a number of third placings  and while Thomas Barr may be disappointed with his second in the 400m hurdles, it really is all about  the points.
Amy Foster's time of 11.60 secs saw her finish third in the 100m behind pre-race favourite Dafne Schippers of the Netherlands, a clear winner in 11.12 seconds. Also finishing third were Leevale's Michelle Finn in the steeplechase with a time of 9 mins 50 secs  and Sara Treacy of Dunboyne clocking 9:10.18 in the 3000m behind Portugal's Sara Moreira who won in 9:01.67. Kevin Batt was a fighting fourth in the men's 5000m,  where the athletes ran an extra lap. Batt was second after 5000m, but fell back to fourth after the extra lap. The Irish have appealed.  No such confusion in the 400m, where Brian Gregan  was fourth with a time of 46.87.
Confusion had reigned in the 5000m, where the athletes ran an extra lap. Batt was second after 5000m, but fell back to fourth after the extra lap.
StLOT's Marcus Lawler finished third in the men's B 100m in 10.73 seconds and ninth overall.  In the 800m, Ciara Everard of UCD  was fourth in 2:03.32; Switzerland's  Selina Buchel won in 2:00.56.
Eoin Everard was sixth  in the 1500m behind the Kenyan Ilhan Tanui Ozbilen, who runs in Turkish colours, and stormed  home in 3:38.04.   In the the women's 400m hurdles B race, Ballymena's Christine McMahon finished third and seventh overall with a season's best time of 59 seconds exactly.
Dempsey McGuigan was fifth in the men's hammer with 64.95m. Claire Fitzgerald finished seventh in the discus with a third round best of 48.94.
Ireland finished sixth overall in the women's 4x100m with a time of 45.16 secs. The men's 4 x 100m, anchored by Marcus Lawler was third in its heat in 40.09 sec
Highlight  tomorrow should be the men's 800m (3.45 Irish time), where Mark English should claim the first Irish victory of the weekend. Live streaming at www.webtiv.ert.gr.
Points table (after 21 events): 1 Czech Republic 192, 2 Greece 174, 3 Portugal 153, 4 Belgium 144, 5 Ireland 143, 6 Netherlands 140, 7 Switzerland 137, 8 Romania 125, 9 Lithuania 115, 10 Turkey 113, 11 Estonia 99, 12 Latvia 95.