Alannah Lally of UCD finished a fighting fourth in the women's 800m at Day 3 of the Euro U23 team, Bydgoszcz, Poland on Saturday. In a tactical race, Siofra Cleirigh Butter ended up seventh.
Qualifying for the women's long jump final was Sarah McCarthy of Mid-Sutton with a brilliant 6.33m jump. In the 4 x 400 semi-finals, the Irish men's team  booked their place in tomorrow's final as fastest losers. The women's 4x400m will be a straight final.
On Friday, Matt Behan of Crusaders failed by the narrowest of margins to progress from the heats of the 110m hurdles finishing third in a personal best 14.14 secs in the opening heat. For second place, David Sklener of Czech Republic was given the same time. The fastest qualifiers came from heats 2 and 3. Fastest overall was Ludovic Payen of France who won heat 2 in 13.72 secs.
Big names competing included Norway's Karsten Warholm, who won the 400m hurdles and finished second in the 400m flat; Germany's Konstanze Klosterhalfen  winner of the  women's 1500m  and Olympic  women's javelin champion Sara Kolak from Croatia who added theEuropean U23 title to her collection before heading to the World Championships next month. Updates to the timetable and live streaming of the competition is available at www.european-athletics.org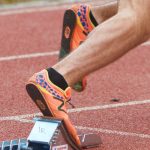 Euro U23 Track and Field Championships, Bydgoszcz, Poland (provisional)
Thu Jul 13
Men –  400m R1, Ht 1: 8 Brandon Arrey (Blarney Iniscarra)  53.00; Ht 3: 4 Harry Purcell (Trim) 48.044, 4:  Andrew Mellon (Crusaders) 47.38 (q). 1500m R1, H1: 14   Men's Kevin Kelly (St Coca's) 3:56.12; Ht 2: 13  Andrew Coscoran (Star of the Sea) 3:52.47. Shot Q A: 13 John Kelly (Finn Valley) 16.10. Hammer Q A: 8 Adam King (Iveragh) 63.86. B: 11 Owen Russell (St Andrew's) 62.28m.
Women –  100m R1, H2: 6 Sarah McCarthy (Mid Sutton) 12.19 secs.  800m R1, H2: 3 Alanna Lally (UCD) 2:05.54 (PB; Q).H 3: 2 Siofra Cleirigh-Buttner (DSD) 2:06.02 (Q) Pole vault Q, A: 10   Sarah McKeever (DSD ) 3.85m
Fri Jul 14
Men – 110mH R1, Ht1:  3 Matthew Behan (Crusaders) 14.14 (PB). 400m SF: 8 Andrew Mellon (Crusaders) 47.32.
Women – 200m R1, Ht 3, 5 Cliodhna Manning (KCH) 54.34. 400m H1, 7 Jenna Bromell (Emerald) 54.34. Ht 3, Sophie Becker (St Joseph's) 54.99.
Sat Jul 15
Women – 800m: 1 Reness Eykens (Bel) 2:04.73…4 Alanna Lally (UCD) 2:05.63, 7 Siofra Cleirigh Buttner (DSD) 2:06.40.  Gp B: 7 Sarah McCarthy (Mid-Sutton) 6.33m (Q)
Men – 4x400m SF 1: 4 Ireland 3:07.62 (q) – Craig Newell (Ballymena & Antrim), Harry Purcell (Trim), Karl Griffin (UCD), Andrew Mellon (Crusaders). 5000m: 12 Barry Keane (Waterford) 14:29.07
Sun Jul 16
Women – Long jump: 11 Sarah McCarthy (Mid-Sutton) 6.21. 4x400m: 6 Ireland 3:34.87 (Sophie Becker 53.3, Cliodhna Manning 53.0, Jenna Bromell 52.85, Siofra Cleirigh Buttner 53.75)l
Men – 4 x 400m: 7 Ireland 3:08.64 (Craig Newell 48.6, Harry Purcell 46.4, Karl Griffin 47.25, Andrew Mellon 46.55)
Save
Save
Save
Save
Save
Save
Save
Save
Save
Save