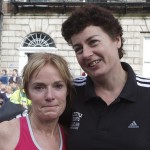 A time of 2:59.39 clocked at the Twin Cities Marathon on October 5 means that 59-year-old Christine Kennedy, originally from Galway, is the oldest woman ever to break three hours in the marathon.
With her 60th birthday coming up on December 29, her aim now is to become the first 60-year-old to break three hours for the marathon, which she hopes to do at the Boston Marathon next April. Last April Kennedy ran 2:57:44 in Boston; a year earlier, she ran 2:55:01. Kennedy, co-owner of two running stores, trains upwards of 85 miles a week and appears to be unstoppable.
At the Twin Cities Marathon, Kennedy finished 30th woman and first over 55 by 26 minutes, despite suffering from a cold.
Kennedy was late convert to running.  After watching Emily Dowling,  then a mother of two like herself, win the 1981 Dublin Marathon, Kennedy told her husband and family that she planned not just to complete the marathon but to win it some day. They thought she was joking.
"I was so hurt that I decided to start training. It took me five years to win the Dublin Marathon and I haven't looked back since," Kennedy said.
Although Kennedy won the National Cross-Country title in 1989, she has always been a marathon runner, clocking 3 hrs 31 mins for her first one in 1982. Less than three years after she started training, she broke 3 hours for the first time when she won the Galway Marathon in 2:56.19.
In 1984, she won her first Irish Marathon title with a time of 2:49.46 in Clonmel – it was only the fourth time women had been allowed to run the race. Two years later, in 1986, Kennedy  finished second in Dublin with a time of 2:49.34. A year later, she finished 24th in the marathon at the World Athletics Championships in Rome, clocking 2:45.47.
Kennedy's breakthrough year came in 1990, when she at last won Dublin in 2:41.27. " The first time I won it I was hero in my village of Corofin. They had bonfires blazing and it was just a spectacular surprise when I got back home."
A year later, she repeated that win in Dublin this time in 2 hrs 35 mins 56 secs, also taking the Irish title and hoping to impress the Olympic selectors. Her time was all the more remarkable because only a month earlier, she had run 2:35.05 at Berlin. That time was just five seconds off the qualification mark for the Barcelona Olympics and is still the ninth  fastest time by an Irish woman.
After stretches in France and England,  Kennedy and her family moved to California in the mid-1990s. She finished second in the 1993 Big Sur Marathon in 2:46.30 and later was to  win age-group titles in the race in 2005 and 2006.  That came after a long break from the sport between 2000 and 2005 because of  a herniated disc in her low back. She returned to racing with a 3:06.35 effort in the 2005 Big Sur Marathon.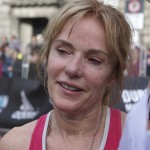 In  2009,  Kennedy ran the 30th anniversary Dublin Marathon,with her 30-year old daughter and her sisters Phyllis Browne and Mary Doyle.  Running in the colours of Galway City Harriers, the three sisters won the over 50 team award, although Christine, battling a recurring back injury, struggled to finish in 3:20.21.
Since then she has not looked back, setting new standards for older women in athletics. In 2011, with the World Masters Track and Field Championships taking place in nearby Sacramento, Kennedy defied broiling temperatures to win the W55 5,000m in 19:36.56 and the marathon in 3:00:48.
So how does she do it? Her training with coach, Tom McGlynn, includes track workouts like 12 x 400m in 85 seconds with 60 seconds recovery; tempo runs (6:30-6:50 pace) on trails and road and long runs of 20 to 22 miles. Add in a flexibility programme and cross-training as well as regular visits to a chiropractor, and there you have it.
Christine runs a lot of "Double Races," a combination 10km and 5km on the same day with a long rest between; something for Irish race organisers to think of? Her next race is the Big Sur Half-Marathon in Monterey on November 16.