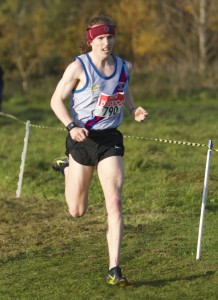 Breandan O Neill of Dundrum South Dublin ran a smart race to win the men's senior title at the Dublin Senior and Junior Cross-Country Championships in Santry.
On a perfect day for cross-country,  current national champion Mick Clohisey and his Raheny team mate Conor Dooney pushed the pace on the opening two laps. Behind them were Colm Rooney of Clonliffe and Raheny's Paolo Ciappa, with  O Neill and John Travers of Donore content to lead a second group about ten metres off the pace.
By the third lap, Clohisey and Dooney still led, but O Neill and Travers were looking dangerous and it was no surprise when they caught the leaders on the fourth lap. On the fifth, O Neill, who had run an equally smart race to win the Autumn Open Cross-Country a fortnight earlier,  made his move. Only Travers attempted to stick with him, as he quickly built up an unbeatable lead for his first Dublin title.
With strong runs from Alan McCormack, Emmett Jennings, John Eves, Robert Corbally and Gary Crossan, DSD took team gold – not bad for a team that had lost both Joe Sweeney and Wishu Gebresellassie in the week before the race.
In the women's race, Ciara Durkan of Skerries broke the challenge  of DSD's Sarah Mulligan about half way through the four-lap race. With the finish line in sight, Mulligan was pipped by the fast-finishing Orla Drumm of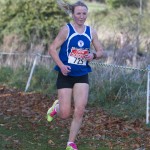 Crusaders; the two women were given the same time. Barbara Cleary of Donore, who had led on the opening lap, finished fourth.
Pierre Murchan of Celtic DCH won the junior men's race , beating Cillian Mooney of DSD, while Hope Saunders of Clonliffe was out on her own from early on in the junior/U19 women's race, beating DSD pair Sarah FitzPatrick and Nicole Kenny. DSD took the team titles in both these races, also winning seven  team titles in the Juvenile Uneven Ages Championships.
* Pics at www.lindie.zenfolio.com
MICHELLE FINN and Mark Hanrahan, both Leevale, won the Cork senior cross-country titles at Riverstick.
IN CONNACHT, Gary Thornton  of GCH (second behind Mick Clohisey at National Interclubs last March) and Corraan's Sara Doohan were the winners at Loughrea (thanks Jane Walsh and Tom Hunt). Conditions were very tough – unlike in Dublin – and there was a good turn-out of women.
GARY O'HANLON of Clonliffe finished fifth in the World Ultra 50kmin Doha Qatar, just five days after completing the Dublin Marathon.
DUBLIN MARATHON AFTERMATH: Interesting comments from this week's West Waterford club notes(edited): "There were mixed reviews for the new look Dublin marathon course …if the times are anything to go by, it was a tough  day for most. The first half of the race was hilly as it made its way through the Phoenix Park into a strong cross breeze. By the time the race switched direction with the stiff breeze  at our backs, it became very humid which was difficult to handle for many…. It seemed that a very high percentage of runners were between 10 and 20 minutes back on their predicted finishing time on the day." At just before 23 miles, St John's Ambulance had a busy day; they blamed the humidity and a lack of adequate training by many.
WILSON KIPSANG Wilson Kipsang of Kenya has won the men's title at the New York City Marathon. The former world-record holder has now won in Berlin, London and New York in just over 13 months. Ethiopia's Lelisa Desisa was second, and 2010  winner Gebre Gebremariam third. Mary Keitany of Kenya won the women's title, overtaking countrywoman Jemima Sumgong with about a half-mile to go. It was her first marathon since 2012 after the birth of her second child. The men's winning time was the slowest in 19 years due to strong headwinds.  Still, 50,432 finished, a record for any marathon, including the one millionth finisher (over all years).
Dublin Senior and Junior C-C Championships, Santry www.dublinathletics.com
Junior/U19 – Women (17 finishers): 1 Hope Saunders (Clonliffe, W19) 14.15, 2 Sarah FitzPatrick (DSD, W19) 14.38, 3 Nicole Kenny (DSD, W19) 14.46, 4 Sorcha Humphries (DSD, Jun) 14.55, 5 Cliona Murphy (Celtic DCH) 15.24, 6 A Cooney (Clonliffe) 15.36. Teams – 1 Dundrum South Dublin 17 (2,3,4,8),2 Clonliffe Hrs 28 (1,6,9,12), 3 Celtic DCH 39 (5,7,11,16)
Men (24): 1 Pierre Murchan (Celtic DCH) 15.59, 2 Killian Mooney (DSD) 16.18, 3 Rick Nally (DSD) 16.28, 4 Liam Fitzpatrick (DSD) 16.39, 5 Brian Flanagan (Clonliffe) 16.49, 6 Cillian Kirwan (Raheny Shamrock) 16.51. Teams – 1 DSD 17 (2,3,4,8), 2 Clonliffe 51 5,13,14,19); 3 Raheny Shamrock 51 (6,7,12,22).
Senior – Women (26): 1 Ciara Durkan (Skerries), 17.26 , 2 Orla Drumm (Crusaders) 17.32, 3 Sarah Mulligna (DSD) 17.32, 4 Barbara Cleary (Donore) 17.49, 5 Michelle McGee (DSD) 18.00.6 Maria O'Sullivan (Raheny) 18.15. Teams – 1 Crusaders 36 (2,7,13,14), 2 Donore Hrs 43 (4,8,12,19), 3 Raheny Sharmcok 58 (6,11,16,25).
Men (60): 1 Breandan O Neill (DSD) 28.05 , 2 John Travers (Donore) 28.10, 3 Mick Clohisey (Raheny Shamrock) 28.15, 4 Conor Dooney (Raheny Sharmock) 28.29, 5 Alan McCormack (DSD) 29.06, 6 Paolo Ciappa (Raheny Shamrock) 29.08. Teams – 1 Dundrum South Dublin 65 (1,5,10,12,13,24), 2 Raheny Shamrock 84 (3,4,6,17,26,28); 3 Rathfarnham WSAF 104 (8,14,18,20,21,23).
Cork Senior Cross-Country Championships, Riverstick, www.corkathletics.org
Junior – Women (15): Niamh Allen (UCC) 16.18,2 Louise Shanahan (Leevale) 16.45, 3 Maeve Ahern (Leevale). Teams – 1 Leevale 26, 2 West Cork 31. 3 Imokilly 34.  Men (17): 1 David Fox (Leevale) 21.15, 2 John Durcan (Togher) 21.24, 3 Jamie Buckley(Carrig na bhFear) 22.48. Teams – 1 Carraig na bhFear 2, 2 Togher 28, 3 Wets Cork 37.
Senior – Women (17):1 Michelle Finn (Leevale) 22:37.8, 2 Lizzie Lee (Leevale) 23:26.9, 3 Martina Kiely (St Finbarr's) 23:37.7. Teams – 1 Leevale15, 2 St Finbarr's 34, 3 East Cork 51. (44): 1 Mark Hanrahan (Leevale) 35:01.3, 2 BenThistlewood (Leevale) 35:19.9, 3 Cathal O'Donovan (St Finbarr's) 35:04.8. Teams – 1 Leevale 15, 2 East Cork 43, 3 St Finbarr's 48.
Laois Cross-Country Championships, Stradbally
Women – Senior: 1 Mary Mulhare (Portlaoise), 2 S Grant (Portlaoise), 3 P Grant (Portlaoise). Teams: 1 Portlaoise, 2 Ballyroan/Abbeyleix. Junior: 1 A Deegan (Ballyroan/Abbeyleix AC), 2 L Stack (Portlaoise). Men – Senior: 1 Dan Mulhare (Portlaoise), 2 Harry Lupton (Portlaoise), 3 S Lawlor (St Abban's), 4 D Lawlor (St Abban's). Teams: 1 St Abban's 37, 2 Portlaoise 56. Junior: 1 Danny Lawlor (St Abban's), 2 A Murphy (St Abban's), 3 J Tyrrell (St Abban's). Team: 1 St Abban's;
Offaly Cross-Country Championships, Charleville Demesne, Tullamore
Women's 5km: 1 Pauline Curley (Tullamore Harriers) 20:28, 2 N McLoughlin (Tullamore Harriers) 22:57, 3 F Cleary (Tullamore Harriers) 24.25. Team: Tullamore Harriers 10. Men's10km: 1 Liam Brady (Tullamore Harriers) 34:50, 2 Paul Mitchell (Tullamore Harriers) 37:08, 3 Paul Buckley (Ferbane) 37.11. Team: Tullamore Harriers 12.
HSE BHAA 4-Mile, Marina, Cork
Men: 1 D Molloy (Navy) 21:23, 2 M Morgan (Musgrave) 22:12, 3 M Coakley (Cork City Co.) 22:18, 4 W Walsh (Army) 22:29, 5 V O'Brien 22:37, 6 F O'Dwyer (IPS, M40) 22:55. Teams – A: 1 Navy 14, 2 Cork City Co. 55, 3 Musgrave 78. B: 1 IPS 105, 2 CIT 119, 3 Navy 120. C: 1 Army 136, 2 Bord Gáis 149, 3 Novartis 229. Women: 1 Carmel Parnell (Cork Shops, W55) 24:59, 2 S Kennedy-O'Shea (HSE) 26:31, 3 I Hartigan (UCC, W35) 26:47, 4 E Guinane (Dept of Ed, W35) 27:23, 5 M Lillis 28:00, 6 S Buckley (Tri'n'Run) 28:20. Teams – A: 1 Cork Shops 131, 2 HSE 176; B: 1 Novartis 215, 2 CIT 275.