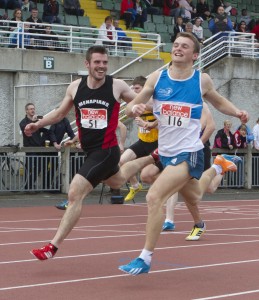 David McCarthy from West Waterford ran a time of 3 mins 46 secs to win a tactical 1500m at the AAI Games held in Santry.
From the start, McCarthy tucked in behind John Coghlan who made the early pace. Not too far behind this pair was Andrew Coscoran of Star of the Sea who will compete in next Saturday's Aviva Irish Schools Championships.
Only with about 250m to go did the pace quicken with McCarthy pushing to the front and then pulling away for a decisive victory. In the battle for second place, Coscoran just manged to sneak past Coghlan.
No such drama in the women's 1500m which was dominated from the start by DSD's Siofra Cleirigh Buttner, another schools athletics star heading for Tullamore next Saturday.
Raheny's Conor Dooney has been showing some form recently and he won the men's 3000m in  8 mins 19.1 secs after a a mid-race tussle with Tallaght's Thomas Fitzpatrick, who finished two seconds behind in second place.
The men's 200m was billed as a show-down between 400m specialist Brian Gregan of Clonliffe, St LOT's Marcus Lawler and  Steven Colvert of Crusaders and so it proved, with Lawler the winner in 21.13 secs – his second time of the season inside the qualifying mark for the World Juniors. Niamh Whelan of Ferrybank won the women's 200m in 23.9, and also finished second in the 100m behind Phil Healy, who won in 11.68.
Ben Reynolds  of North Down  won the  110m hurdles winning in 13.63 secs – just inside the qualification standard of 13.65 for the European  Championships. Unfortunately his time won't count because the wind was just otuside the legal limit at  +2.1. Ciara Lavin of UCD won the women's 100m hurdles.
Earlier in the day, Timmy Crowe ran a time of 51.76 secs to win the 400m hurdles. Over 800m, Rob Tully of Star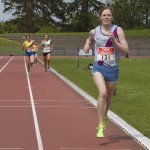 of the Sea won the men's race in 1:53.29, while Aislinn Crossey proved best of the  women, winning in 2:10.80.
In the field, Rory Gunning won the men's javelin with a throw of  56.72m. Clonliffe's Denise Murphy threw 39.47m to win the women's competition, beating Jenny Murphy and ex-Irish football international Jill Maloney, who has joined Clonliffe in recent weeks and was competing in her first competition. Maloney, a goalkeeper, made her Irish debut  against Eng­land in  the 2010 U19 Tri Nations Tour­na­ment as a 15-year-old.
In the pole vault, Clonliffe' Dave Donegan made three attempts at 4.70m with no success. Victory went to  his clubmate Ian Rogers  who soared over 4.60m. Claire Wilkinson was the only woman competing with a 3.80m vault.
*Full results at http://www.athleticsirelandenterprises.com/results_25052014/schedule.html
* Pics at www.lindie.zenfolio.com