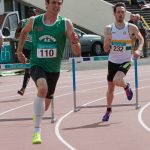 Thomas Barr , who finished a memorable fourth in the 400m hurdles at the Rio Olympics just over a fortnight ago, ended his season at the Zurich Diamond League on Thursday evening – and then headed for Stradbally and the Electric Picnic.
In a top level race in Zurich, Barr finished sixth in 49.34 secs, well off his Irish record of 47.97 secs run in Rio. Olympic champion Kerron Clement from the USA  won the race catching Puerto Rico's Javier Culson on the line and timed at 48.72. Culson, who was disqualified for a false start in Rio, clocked 48.79 secs and South Africa's Lj van Zyl 48.80 secs.
"That was some belter of a season! I'm spent mentally and physically," said Barr on Instagram yesterday. "The last few weeks have been the best weeks of my life without doubt… 4th place in my first Olympics and enjoyed the experience with great people.
"It's those highs, and the potential for more, that keep me going and will get me through the next season rain, hail or shine! I came from total and utter despair and frustration earlier in the season and, as stubborn and independent as I think I am, I couldn't have done it alone and I have a lot of people to thank for helping turn it around," he added, mentioning coaches Hayley and Drew Harrison "and Tommy", physio Emma Gallivan, his training group and his housemates in Limerick, and his family, especially sister Jessie who had acted as his "unofficial PA" while battling injury herself.
AARON SEXTON of North Down finished second in the M17 200m with a time of 21.72 secs at the Sianbury's UK Schools' Games in Loughborough.  Ballymena's Lauren Roy was 3rd in the W17 400m in 24.46 secs,  while Omagh's Sean Corry finished fourth in a tactical M17 1500m with a time of 4:23.73. In the M17 100m hurdles, Josh Armstrong of Lisburn was third in a wind-assisted 13.76 secs. A full team from Northern Ireland had travelled.