Hurdler Christine McMahon  ran a big personal best of 56.06 secs to finish second in the 400m hurdles in Heusden last night. Her time – agonisingly – was inside the Olympic qualifying standard of 56.20 secs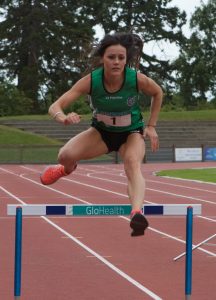 , but too late for the IAAF  selection deadline.
Also over the past week, Mark English ran a time of 1:47.23 in Liege, his best of the season so far. Topping the women's rankings is Siofra Cleirigh Buttner of DSD after running 2:01.98 at the BMC in Solihull on July 9.
ON THE FINAL DAY of the European Youth Athletics Championships in Tbilisi, Bohermeen's Kevin McGrath just missed out on a medal in the 800m, finishing fourth in 1:50.51.McGrath was on the shoulder of eventual winner  George Mills  from Team GB  but faded in the final 50 metres. In the decathlon, Daniel Ryan of Moycarkey Coolcroo was lying third at one stage of the boys' decathlon and remained in contention after seven events, but struggled in the hot conditions and finished 11th with 6752 points.
Sommer Lecky  of Finn Valley was 8th in the girls' high jump with a best of 1.70m, while Sli Cualann's Emma O'Brien  finished 12th in the girls 1500m final in 4:56.94.
Highlights of the championships from an Irish point of view were the silver medal for Gina Akpe-Moses of Blackrock Louth in the 100m and  the bronze  for  StLOT's Molly Scott in the 100m hurdles. Akpe-Moses ran a time of  11.80 secs and became the first Irish sprinter to win a European 100m medal at any level. Scott clocked a time of 13.51 secs in her race and joined a long line of successful Irish hurdlers, with her 13.32 secs in the semi-final  the second fastest time of the championships and and Irish youth record.
Alex Clarkin of Donore Harriers was another hurdler in record breaking form although his time of  14.14 secs in the final was enough only for eighth place. Earlier he had set a new personal best time of  13.96 seconds. Other highlights included a seventh and 13th place in the heptathlon for Kate O'Connor of St Gerard's Dundalk and Shannon Sheehy of Cushinstown and a seventh in 10.83 secs for David McDonald of Menapians in the boys' 100m final,
VICTORIES for Darragh McElhinney in the 1500m,  James Kelly shot, Liam Connaughton  javelin and Miriam Daly 300m hurdles were the highlights of a brave Irish effort at the SIAB Schools' International Track & Field meeting in Ashford, England.
McElhinney posted a time of 4 mins 07.15 secs, while Kelly's 17.07m effort in the shot gave him the award as best of the Irish boys.  Of the girls, Daly took the best performance award for not only winning the 300m hurdles in 42.42 secs, but also finishing third in the 80m hurdles in 11.60 secs, and helping Ireland to third place in the 4x300m relay in 2:44.50.
Others picking up valuable points included Clare Rafter 2nd 1500m, Niamh Gowing 2nd 300m hurdles, Shannon Crag 2nd high jump  and Amy Rose Farrell 3rd 3000m. In the relays, the boys finished second in both the 4 x 100m and the 4 x 400m while the girls were second in the 4 x 100m and third in the 4 x 400m. England took the overall team victory with 519.5 points, with Ireland second with 340.5 points. Wales was third with 246 points and Scotland fourth with 230 points.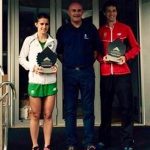 DSD's Sarah Mulligan made it a fourth win in a row for Irish women at the Snowdon International Mountain Race in Wales. Mulligan previously won in 2013, with Sarah McCormack winning in both 2014 and last year.  Of the men, James Kevan finished 8th while Brian MacMahon was 2nd in the uphill Super Cup.
ON THE ROADS, over 1,300 turned out for the Dublin Docklands 5k, with Ben Branagh of St Malachy's in Belfast coming home first in 14 mins 42 secs. Second was Clonliffe's David Flynn in 15.58. In the women's race, DSD's Laura Shaughnessy was first home in 16 mins 33 secs, holding off the challenge of Caroline Crowley from host club Crusaders, running her first race in some time.
Winner of the Roscommon 10-Mile in 56 mins 6 secs was Peter Somba of Dunboyne, who is heading back to his native Kenya in the next week or so. In a closely fought women's race, with only 30 seconds separating the top three, Longford's Adriana Melia was the winner ahead of Ann Lennon from Mayo AC and Sligo's Lucy Brennan.