Laura Reynolds of DCU finished 6th in  the 20km wWalk at the World University Games in Kazan, Russian this morning in a season's best 1 hr 33 mins 31 secs. The top three finishers were Russians. Niamh Whelan of  UL  finished fourth in her 200m semi-final  in a season's best time of 23.68 – just .04 of second of a place in the final.
In the women's 3000m steeplechase, Michelle Finn of Kentucky State finished seventh in  10:03.28
Yesterday Brian Gregan, also DCU,  came agonisingly close to a medal in the 400m, where just .34 of a second separated the top five. Winner was Russia's  Vladimir Krasnov  in 45.49; Gregan's time was 45.83.
Jessie Barr finished sixth in the 400m hurdles  final in 57.65, while her UL team mate Niamh Whelan (UL) made it through to tomorrow's 200m semi-finals, with a time of 24.15 secs. UUJ's Amy Foster was due to run the 200m, but pulled out after her fifth in the 100m the previous evening.
On Monday, Foster had run both semi-finals and finals of hre 100m, while Gregan won hsi 400m semi-final and Barr qualified for the 400m hurdles  final.
Ciara Everard of UCD, ran bravely to finish fifth in  the 800m semi-finals in 2:05.59.
In the morning session, Tomas Cotter of  Wichita State and Dunleer had put in a gusty performance to finish fifth in his 3000m steeplechase heat and make it through to Thursday's final as one of four fastest losers.
On Sunday, all three Irish athletes in action had made it through their opening rounds. First up in the 400m was Brian Gregan of DCU  whose time of 46.68 saw him win his heat comfortably in the second fastest time of the day.
UCD's Ciara Everard finished second in her 800m heat in 2:04.34 – an outdoor best time for her –  while Amy Foster of UUJ was second in the 100m heat in 11.60.
* Lots of records and some eye-catching performances over the two days of the Woodie's DIY National Juvenile Track and Field Championships in Tullamore.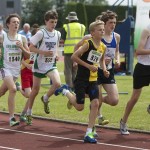 At U19 level, Aislinn Crossey of Newry, who burst on the scene when she finished second in the 800m behind Siofra Cleirigh Buttner at the Aviva  All Ireland Schools last May, ran  away with the 800m in a classy time of 2:07.7 – not far off her best of 2:06.43.
Also in this age group, Cliodhna Manning of Kilkenny City Harriers  ran 56.65 to win the  400m, beating Jade Leahy of DSD, while Keith Doherty of Tallaght won the 100m in 11.11 secs. A double winner  was GCH's Evan McGuire who took the M19 400m hurdles in a record 54.45 and, later won the  400m in a time of 49.07.
Making it a W16 treble was Elizabeth Morland of Cushinstown who won the long jump in a record  5.86m and also took both 80m hurdles and high jump titles. Morland competes in the European Youth Olympic Festival, starting July 14.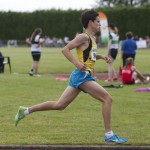 On the track, Harry Purcell of Trim won the M17 800m in 1:53.18, while another Meath athlete, Andrew Coscoran  of Star of the Sea had an equally comfortable victory in the 3000m, winning in 8:49.20.
Thrower of the day was Finn Valley's John Kelly who won the M17 shot put  with a 17.90 effort; perfect preparation for next week's World Youth Games.  On a good day for the Kelly family, younger brother James beat John's record when he won the M14 shot title with a best of 15.52. Continuing his excellent season was Stephen Rice of Greystones, winner of the M17 javelin with a throw of 59.25.
In the M14 javelin, the previous record went six times before Jack McWay of Newbridge finally came out on top with a throw of 43.49 in the final round – just 23cm ahead of Finn Valley's James Kelly.
Other record breakers included Fiona Tuite of Fingallians  13.77m in the W18 shot; Daniel Ryan  of Moycarky Coolcroo 11.31 in the M15 80m hurdles;  Paul Murphy  of Ferrybank 49.10 in the  M18 400m; David McDonald of Menapians  6.22 in the M15 long jump; Michaela Walsh of Swinford 36.42 in the W16 javelin  and Raheny's  Peter O'Brien in a class of his own in the M19 pole vault, soaring over 4.41m.
Shercock's Garbhan McKenna  produced a strong finish to beat Sam Healy of Leevale  in a competitive M18 110m hurdles, with both McKenna's time of 14.36 and Healy's 14.69 inside the old record.
Celtic's girls dominated the 2,000m steeplechase, with Alison Armstrong first W17 in 7:23.15, and  Cliona Carthy  best W18  in 7:24.75.
Ciara Deely of  Kilkenny City Harriers was one of the weekend's double winners, taking both the 75m hurdles and the high jump.
There were also a number of close finishes, with  Stephanie Cotter of West Muskerry just beating Aoife Mahoney of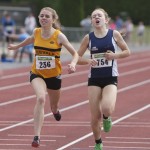 Liosa Tuathail to win the W15 800m in 2:10.58. Even closer was the W17 race, won by Louise Shanahan of Leevale in 2:17.99, with Lauren Hutchinson of Newry second in 2:18.10 In the W16  250m hurdles, Rachel Dunne of DSD just made it in 35.96 secs, beating  Amaris Borez of Greystones and Ava Murphy of St LOT.
A clear winner of the W17 discus with a throw of 36.15m was Anne Marie Torsney of Fingallians, who also finished second in the shot. Antoinette Stafford of Mepanians, another heading abroad in the next week or so,  won the long jump in this age group with a best of  5.59.
Kilkenny's Sarah Kate Lacey won the W18 100m in  12.68, while the steadily improving Mieke Kiernan of Raheny  threw a mighty 48.99 to win the W18 hammer by 14 metres.
*Competition resumes on July 20/21, with relays on the Saturday and the remainder of the individual events on Sunday.
* At the European Mountain Running Championships , the senior Irish women's team led by Raheny's Kate Cronin in 25th place came 10th. The race was won by the great Andrea Mayr of Austria, many times world champion. Ian Conroy, also Raheny was best of the senior Irish men in 35th place, with the team 14th. In the junior races, best result was a 25th for DSD's Killian Mooney.
* Darren McBrearty of Letterkenny won a competitive 800m at the GV Ryan/Louis Vandendries IMC  meet with five athletes breaking 1 mins 50 secs.  In the chase for the line, he made it just ahead of Cardiff  visitor Joseph Maynard and Eoin Everard from Kilkenny with a time of 1:48.71. John Travers of Donore won the 1500m in  3:47.61, while Lagan Valley's Katie Kirk won the women's 800m in 2:07.56
Saturday July 6
European Mountain Running Championships, Borovets, Bulgaria. www.imra.ie.
Women – Junior (3.5 km, 530m; 37 finishers):
1 Melanie Albrecht (GER) 25:49; 2 Cesminaz Yilmaz (TUR) 26:29; 3 Lea Einfalt (SLO) 27:06. Irish – 33 Sara Moore (Omagh Hrs) 33:49; 34 Ellen Moran (Westport) 34:51; 36 Emily Grennan (Tullamore Harriers) 35:50. Teams (9 finishers) – 1 Russia (4,9,11) 24; 2 GBR (6,8,12) 26; 3 Turkey (2,15,17) 34… 9. Ireland (33,34,36) 103.
Senior (8.6 km, 1027m; 64 finishers):
1 Andrea Mayr (AUT) 51:49; 2 Valentina Belotti (ITA) 52:54; 3.Mateja Kosovelj (SLO) 53:08. Irish: 25. Kate Cronin (Raheny Shamrock) 58:40; 35 Claire McCarthy (Leevale) 61:05; 41 Gladys Ganiel (Nh Belfast Hrs) 62:11; 48 Sarah Mulligan (DSD) 64:47. Teams (15) – 1 Italy (2,4,5) 11; 2 Switzerland (8,9,19) 36; 3 GBR (6,21,25) 52… 10. Ireland (25,35,41) 102
Men – Junior (8.6 km, 1027m climb; 41 finishers):
1 Ramazan Karagoz (TUR) 48:51; 2 Sehmus Sarihan (TUR) 49:54; 3 Michele Vaia (ITA) 50:29. Irish : 25. Killian Mooney (DSD) 55:20; 37 Mitchell Byrne (Templeogue) 59:16; 39 Kyle Larkin (Emerald) 61:25; 40 Shane Maguire (Monaghan Town Runners) 62:47. Teams (9) –
1 Turkey (1,2,18) 21; 2 Italy (3,8,11) 22; 3 Romania (4,15,17) 36… 9 Ireland (25,37,39) 101.
Senior(11.8 km, 1152m; 75 finishers):
1 Bernard Dematteis (ITA) 56:30; 2 Alex Baldaccini (ITA) 57:35; 3 Ahmet Arslan (TUR) 57:47,. Irish: 35. Ian Conroy (Raheny Shamrock) 62:58; 42 Colm Mullen (Sli Cualann) 64:01; 46 Eoin Flynn (Rathfarnham WSAF) 64:31; 58 Brian MacMahon (Clonliffe) 69:59. Teams (19) – 1 Italy (1,2,4) 7; 2 GBR (5,8,18) 31; 3 Turkey (3,11,37) 51…14. Ireland (35,42,46) 123.
George V Ryan/Louis Vandendries T-F, Irishtown, Dublin (www.crusadersac.org)
Men – 100m: A- 1 Paul Whelan (Clonliffe) 11.03, 2 Kenny Elliott 11.13, 3 Michael Hynes (Raheny) 11.13.B- =1 Sean Bolger (Tallaght)/Jonathan Carleton 11.55. C – David Hayes (SLOT) 12.09. 200m: 1 Patrick Whelan (UT) 22.06, 2 Mark Kavanagh (DSD) 22.33, 3 Kenny Elliott (Nth Down) 22.60. 400m: 1 Eoin Mulhall (Crusaders) 48.14, 2 Conor McLaughlin( Strabane) 49.27, 3 Kieran Kelly (Raheny) 49.47. 800m: A – 1 Darren McBrearty (Letterkenny) 1:48.71, 2 Joseph Maynard (Cardiff) 1:48.94, 3 Eoin Everard (KCH) 1:49.30, 4 Ruairi Finnegan 9Letterkenny) 1:49.87, 5 Danny Mooney (Letterkenny) 1:49.87. B – Conall Kirk (Lagan V) 1:51.63. C- Dermott McDermott (Sligo)1:56.03. D – Ryan McDermott ( Annadale) 1:56.78. 1500m: 1 John Travers (Donore) 3:47.61, 2 James O'Hare (Annadale) 3:48.33, 3 Richard Owens (UCD) 3:52.33. B – Eoin Strutt (Raheny) 4:00.08. 3000m: 1 Jake Byrne (Mullingar) 8:19.56, 2 Brian Maher (KCH) 8:21.07, 3 Emmett Dunleavy (Sligo) 8:21.83. Pole vault: =1 Stuart Greene (Raheny)/Thomas Houlihan 9W Waterford)/Ian Rogers (Clonliffe) 4.30. Shot (6kg): 1 James Kelly (Crusaders) 12.72, 2 Davy Taylor (Crusaders) 11.76.
Women – 800m: 1 Katie Kirk (Lagan Valley) 2:07.56, 2 Fiona Kehoe (Kilmore) 2:08.64, 3 Iseult O'Donnell (Raheny Shamrock) 2:08.65. 1500m: 1 Ciara Durkan 9Skerries) 4:25.22, 2 Becky Woods (Clonliffe) 4:31.49, 3 Niamh Boland (Crusaders) 4:33.33. Pole vault: Claire Wilkinson (Nth Down) 3.70. Long jump: Mary McLoone (Tir Chonaill) 5.70. Shot: 3kg – Fiona Tuite (Fingallians) 11.62. 4kg – Nadine Lattimer 9Clonliffe) 7.18, 2 Ailish Dunne ( Paralympic) 6.63.
Parkrun Marlay 5km (391 finishers; www.parkrun.ie/marlay)
Men: 1 Niall Coppinger (Tallaght , M50) 16.49 (PB), 2 Liam Dunne ( Rathfarnham WSAF) 16.50, 3 Peter Gerard Casey (M45) 17.27. Women: 1 Linda Huyck (W40) 18.26, 2 Rachel McGrane (W35) 20.30, 3 Claire Lauder (Kilcoole, W40) 21.21.
Parkrun Griffeen 5km (127 finishers; www.parkrun.ie/griffeen)
Men: 1 Darren Reilly (Clonliffe) 16.48 (PB), 2 John Canny (Lucan Hrs) 17.30, 3 Richie MacLiam 17.33. Women: 1 Cathy Mannion (Crusaders) 23.01, 2 Aoife Slater 23.47 (PB), 3 Sinead Leavy ( Le Cheile) 24.06.
Parkrun Malahide 5km (396 finishers; www.parkrun.ie/malahide)
Men: First five home "unknown", plus many more. Women: 1 Niamh Leonard 19.55 (PB), 2 Helen O'Connor (Raheny) 20.35, 3 Mairead Mulligan ( Fingallians, W35) 21.01.
North Leitrim Glens 10km (183 finishers; www.precisiontiming.net)
Men: 1 John Russell 36.25, 2 Neil Faulkner 37.07. 3 Darragh McShane (Athenry) 37.132. Women: 1 Patricia McCosker (Nth Sligo) 41.45, 2 Helen Carr (Raheny (Raheny Shamrock) 46.20, 3 Brid Colreavy 48.50.
Friday July 5
Glaxo Smithkline 5-Mile (Rd 8 Ger Wyley Sports/Skins  Summer Series) Dungarvan 8pm. www.westwaterfordathletics.org.
Men: 1 Andrew Connick (Ferrybank) 25.24, 2 Raivis Zakis (W Waterford) 25.46, 3 Brian Murphy (Carrick) 26.40, 4 Shane Simcox (Mallow) 26.46, 5 Michael Lyons (Grange Fermoy) 26.53.
Women: 1 Dympha Ryan (Dundrum) 29.24, 2 Jackie Carty (Kilmore) 29.33, 3 Martina O'Dwyer (Carrick) 30.41, 4 Nollaig Oneill (Leevale) 30.59, 5 Sylvia Malone (Waterford) 31.25.