With less than four months to go, some 40 volunteers signed up at last night's World 24-Hour Championship open evening held in Belfast's Skainos Centre – clos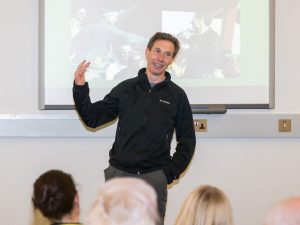 e to Victoria Park where the Championships are scheduled to take place on Saturday July 1.
Among those speaking was  Irish champion and record holder Eoin Keith (pictured) who had traveled from Dublin.
Local organising committee chairman Ed Smith  was delighted with the response. "It's a great start but we reckon we're going to need some 200 volunteers in total."   Volunteers are needed to help with the athletes' village, the opening and closing ceremonies and setting up the course, as well as with  pre-race administration.  Medical people, drivers and linguists are also on the wish list. Teams from forty nations are expected.
Interested? Contact the organisers at info@belfast24.com.