Dereje Debele Tulu of Ethiopia and previous winner Helalia Johannes from Namibia were the winners of today's  SSE Airtricity Dublin Marathon. Times were not fast although conditions were perfect – not too hot and no wind or rain.
In a men's race where Ethiopians made a clean sweep of the top three, Tulu took an early lead,  finishing 2 hours 12 minutes 18 seconds ahead of his countrymen Dereje Urgecha Beyecha and Asafa Legese Bekele.
Much closer was the women's race, which came down to a sprint for the line between Johannes,  the 2011 winner Ehite Bizuayehu of Ethiopia. Johannes edged it by a single second in 2:32.32. Kenyan athlete Viola Jelagat was a distant third in 2:35:03.
Leading home the record 19.500 entries was Paralympian Patrick Monahan of the Le Cheile club in Co Kildare who was winning the race for the third consecutive year. Monahan became the first man ever to break 1 hour 40 minutes on the tough Dublin course when he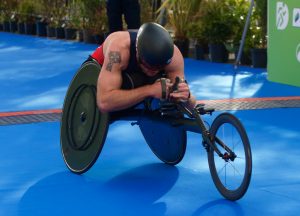 finished in 1: 39.18.
Delighted to win his fourth national marathon title was Clonliffe's Sergiu Ciobanu, who finished seventh overall in 2:17.40 – his best time ever on the Dublin course. Ciobanu and defending champion Sean Hehir of Rathfarnham WSAF ran together until the 20 kilometre mark when Ciobanu opened up a lead. Hehir attempted to stay with him but the Clonliffe man proved too strong. Dropping out with  a groin strain around eight miles was Freddy Sittuk of Raheny.
"It's been a tough year and I needed to prove that I could win a marathon. It wasn't easy Sean pushed me very hard and was only a few seconds behind for most of the race. It's very nice to win and to bring the trophy back to Tipperary! " said Ciobanu, who lives in Clonmel.
Ciobanu's time was just outside the World Championships qualifying mark of 2:17:00 but he hasn't given up hope of donning the Irish vest. Next up for him is the National Cross-Country Championships.
Taking his first championships medal in third place was Mark Kirwan of Raheny Shamrock. Not far behind for fourth place was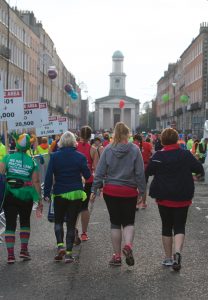 Clonliffe's Gary O'Hanlon, who was also first over 40.With David Mansfield fifth, it meant Irish national team honours went to Clonliffe Harriers. First over 50 was many times Irish champion Pauric McKinney of Inishowen.
Form athlete Laura Graham of Mourne Runners was a comfortable winner of the women's title, finishing ninth overall. Her time of 2:41:54 was by some way a personal best, knocking over six minutes off the 2:48.03 she ran in London last April. It put her almost three minutes ahead of Letterkenny's Caitriona Jennings who finished in 2:44:59. Defending champion Pauline Curley of Tullamore Harriers, running her fifth marathon this year, was third in 2:48:38, maintaining a proud record of never finishing outside the medals at the National Marathon.
Galway City Harriers led by Grainne Ni Uallachain were first senior team. In the veteran classes there was an impressive run by Sligo's Lucy Brennan who finished first W55 in 2:59.58 ahead of Mary Sweeny from St Finbarr's. Showing a welcome return to form when finishing first W60 was Mary Jennings of Waterford AC/ Close to 17,000 finished the event, with the final finishers taking over eight hours.
IRELAND finished 9th team at the European 24-hour Championships Albi, Frnace led by Eddie Gallen who finished 25th with 226kms. One place behind was Cork's Aidan Hogan,making his debut, with a total of 222kms, and Daragh O'Loughlin, who had flown in from Melbourne to take part with 206kms. Eoin Keith of Sportworld, still recovering from his Irish best at the Spartathlon in Greece, completed 197kms and John O'Regan of Le Cheile 161km. In the women's race, Arklow's Amy Masner finished 17th with 215kms on her Irish debut.
Wheelchair: 1 Patrick Monahan (Le Cheile) 1:39:18, 2 Richie Powell (Wales) 2:06:54, 3 John McCarthy (IWA) 2:48:29
Men: 1 Dereje Debele Tulu (Ethiopia) 2:12:18, 2 Dereje Urgecha Beyecha (Ethiopia) 2:14:38, 3 Asafa Legese Bekele (Ethiopia) 2:15:01.
Irish Championships: 1 Sergiu Ciobanu (Clonliffe Harriers) 2:17:40, 2 Sean Hehir (Rathfarnham WSAF) 2:18:46, 3 Mark Kirwan 2:22:17,4 Gary O'Hanlon (Clonliffe Harriers, M40) 2:22.50, 5 David Mansfield (Clonliffe Harriers) 2:27.34, 6 Martin Hoare (Celbridge) 2:28.05.
Masters – M35: 1 Barry Murphy(Celbridge) 2:29.34, 2 Jesper Larsen 2:31.26, 3 Alan O'Brien (Eagle AC) 2:33.31, 4 Trevor Power (Waterford AC) 2:33.44. M40: 1 Gary O'Hanlon (Clonliffe Hrs) 2:22.50, 2 Martin Doody (Limerick) 2:28.08, 3 Richard Hobby 2:30.23. M45: 1 Vincent McMath 2:37.42, 2 Thomas Kelly (Nth Sligo) 2:38.31, 3 Eugene McCarthy 2:38.46. M50: 1 Pauric McKinney (Inishowen) 2:35.03, 2 Cathal O'Connell (St Finbarr's) 2:36.53, 3 Paul Moran (Rathfarnham WSAF) 2:39.12. M55:1 Benny Melnitcki 2:53.52, 2 Brian Kirsopp 2:59.03, 3 Seamus Moran (Mullingar Hrs) 3:00.10, 4 John Joe Rogers (Shercock) 3:00.41, 5 James Murray (Kilmurry INC) 3:03.44. M60: 1 James Cottle (Celbridge) 3:04.21, 2 Terence Coyle 3:04.33, 3 Ronan Ward (Civil Service) 3:04.34, 4 Martin Kearney (GCH) 3:07.10. M65: 1 Enda Whelan (Sligo) 3:23.01, 2 Rudolf Kowatsch 3:28.20, 3 Sean Whelan (Ennis TC) 3:29.51, 4 Michael Greene (GCH) 3:30.51. M70: 1 Sam Hogg (Lagan Valley) 3:48.40, 2 Eddie Coyle (Tallaght) 4:00.36, 3 Marc Vanmaldegem 4:06.28. M75: Kevin Stynes 4:18.59, 2 Tony Dunne (Graneg Fermoy) 4:20.43, 3 Tom Horkan (Ballina) 5:08.13. M80: Frank Starrs 8L20.27. M85: Phonsie Clifford 8:02.44.
Women: 1 Helalia Johannes (Namibia) 2:32:32, 2 Ehite Bizuayehu (Ethiopia) 2:32:34, 3 Viola Jelagat Kenya) 2:35:0
Irish Championships: 1 Laura Graham (Mourne Runners) 2:41:54, 2 Caitriona Jennings (Letterkenny)2:44:59, 3 Pauline Curley (Tullamore Harriers, W45) 2:48:38, 4 Dee Grady (Ennis TC) 2:50.16, 5 Fionnuala Ross (Armagh AC) 2:53.03, 6 Norah Newcombe Pieterse (Mayo AC, W35) 2:53.41,.
Masters – W35: 1 Johannes; 2 C Jennings; 3 Newcombe Pieterse, 4 Roisin Hughes (Nth Belfast Hrs) 2:58.11. W40: 1 Grainne Ni Uallachain (GCH) 3:00.32, 2 Monica Pilla 3:04.03, 3 Sarah Baryga 3:04.46. Irish: 2 Andrea McGuinness (Bohermeen) 3:12.12, 3 Sinead Colderick (Longford AC) 3:12.26. W45: 1 Pauline Curley, 2 Anne Curley (Donore) 3:02.05, 3 Karen Lavelle (Star of the Sea) 3:02.00. W50: 1 Joan Ennis (Grange Fermoy) 3:02.49, 2 Geraldine Schaer 3:16.32, 3 Helen O'Riordan 3:17.23. Other Irish: 5 Monica Mullin (Acorns AC) 3:24.18, 7 Olivia Sheerin (St Michael's) 3:28.04. W55: Lucy Brennan (Sligo AC) 2:59.58, 2 Mary Sweeney (St Finbarr's) 3:24.55, 3 Grainne Grennan 3:31.00. W60: 1 Mary Jennings (Waterford AC) 3:31.54, 2 Cheryl Trundle 3:33.05, 3 Nuala Reilly (Drogheda and Dist) 3:44.23. W65: 1 Mary Lynch (Raheny Shamrock) 3:38.22, 2 Lily Selma Jeppesen 3:51.31, 3 Eileen O'Brien (Lucan Hrs) 3:39,52…6 Josie Power (Fingallians) 4:45.53. W70: 1 Angela McNamara 4:30.36, 2 B. Lynne Spence 4:38.19, 3 Karna Bjarup 4:47.43, 4 Brigid Quinn (Ballymena Runners) 4:50.57, 5 Olivia Seery (Sligo AC) 5:16.32. W75: Maija Kainulainen 7:46.14.
Save