Noel Henry, a tireless promoter of distance running, finally left us last week after a long and brave battle with debilitating illness.
In his young days, Noel was an an Irish marathon champion, a staunch member of Clonliffe Harriers and a huge supporter of women's athletics; he would later write a short history of Irish women's athletics. He was one of the first Irishmen to run the famed London to Brighton race and female members of Clonliffe remember supporting his fund-raising run from Dublin to Lanesboro, where for many years, he was the local bank manager.
When the Dublin Marathon came along, Noel embraced it with enthusiasm, training groups pf novice runners to take part. He was also behind a number of ultra runs, such as the Greystones Festival 24-hour race, which attracted world-class athletes like James Zarei to Ireland. If  Noel could raise money for good causes he would, with the Guide Dogs for the Blind a particular favourite;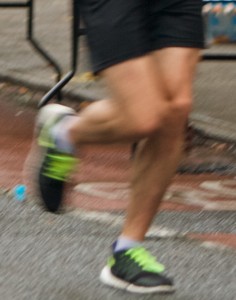 for many years, Noel helped to organise an annual race for the guide dogs in Ballytore. He was also a keen supporter of the annual Djouce Handicap, organised every December for many years on the Earl's Drive in Djouce Woods, near Enniskerry.
Noel wrote extensively about running, and his first book, a history of Irish marathon running called "Irish Marathon Legends",  was published in 1992. "From Sophie to Sonia – a History of Women's Athletics" followed in 1997.
For many years, the home Noel made in Greystones with his wife Nano was "athletics central" for running fans, even after illness curtailed his activities. Nano, a keen bridge player, died last March. To their children Jan, Jill and Ron and their families goes our deepest sympathy.