Joe Sweeney, who makes his marathon debut in Dublin next month leads the entry for Sunday's Lidl Charleville  International Half Marathon, organised by North Cork Athletics Club and billed as the "fastest, flattest half marathon in Ireland".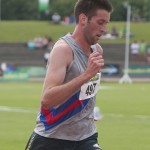 Sweeney, third in the 10,000m in 30 mins 41.49 secs at the National Track and Field Championships, is aiming to break 64 minutes for the distance. Also entered is Sean Hehir, who broke 50 minutes for 10 miles at the Frank Duffy '10' last month; a Ugandan visitor (via his Irish coach in Dubai) who has a PB of 68 mins, and Alan O'Shea, the 2011 winner, who is back in good form.
Last year, Maria McCambridge  ran 73:05 in Charleville.  Sergui Ciobanu was the overall winner in 65 mins 5 secs, with Sean Hehir second in 65.31 and Paddy Hamilton third in 67.00.  In 2011's inaugural race, Alan O'Shea won in 67 minutes, with  Angela McCann first woman in 81.04.
Elite athletes (sub-70 for men and sub-80 for women) get free entry to the race plus their accommodation. Online entry at €5 closed today; late entry at €40 is available tomorrow in Charleville.
This is a good weekend if you fancy a half marathon, with races over the distance taking place in Dublin, Belfast, Galway and Clifden, as well as Charleville.
In Belfast, local athletes Stephen Scullion and Eddie McGinley lead the entry. Scullion won the Omagh Half Marathon title in a personal best time of 64 mins 46 sec earlier this year, following that up with. the Irish 10K title in the Phoenix Park. Annadale's Eddie McGinley races  on the back  of his best ever track season, with a of 29.32.51 for 10m000m at the National Track and Field Championships, where he finished second.
Breege Connolly who ran 2 hrs 40 mins at the London Marathon last April, leads the women's entry.