Kenyan Peter Somba, who runs with Dunboyne AC on his annual visit to Ireland, just pipped Rio-bound marathon man Mick Clohisey of Raheny Shamrock for victory in today's  SSE Airtricity Irish Runner 5-Mile in  Dublin's Phoenix Park.
Somba crossed the line in 23 mins 58 secs, with Clohisey a second behind. Michael Harty of East Cork AC was third in 24:11, with Tallaght's Tomas Fitzpatrick fourth. Next up for Clohisey is the 10,000m at the National Championships.
Somba , who is based in Clane, will continue to run on the roads. He's pleased with his current form. "Last year I wasn't running so good. But this year is a lot better – I've trained hard in Kenya and I do long runs and fartlek around the roads in Clane." The rest of the time he spends resting. "I sleep and I eat!"
He returns to his Kenya in July. Does he miss his native country when he's here? "No I like it here – it's a good country and the people are very nice to me.I hope to come back next year."
Gladys Ganiel of North Belfast Harriers was winning the women's race for the first time after a number of attempts. Her time of 28 mins 36 secs put her comfortably clear of Catherina McKiernan who finished in 28:47 secs. In third place was Catherina Mullen of Shercock A.C, who has spent the last few years in England and was running her first race on home soil after a long gap.
Ganiel is working on her speed in the run-up to the European Championships where she will run in the half marathon as part of a strong Irish teams than includes Clare McCarthy from Cork. "My coach is insisting that I race over shorter distances, so I'm pleased with my run today. I have plenty of endurance but not much speed."
She will run in Saturday's Dunshaughlin 10k. "I'm told it's a good course – very fast. But it's in the evening and I'm wondering how I'll do after a whole day looking after a baby!"
Pics at www.lindie.zenfolio.com and www.flickr.com/lindie
SSE Airtricity Irish Runner 5 Mile, Phoenix Park (2,588 finishers; www.tdleventservices.co.uk)
Men: 1 Peter Somba (Dunboyne AC) 23.58, 2 Mick Clohisey (Raheny Shamrock) 23.59, 3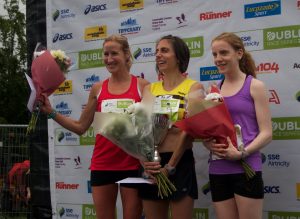 Michael Harty (East Cork, M35) 24.11, 4 Tomas Fitzpatrick (Tallaght) 24.20, 5 John Coghlan (MSB) 25.01, 6 Colin Maher 25.52, 7 Declan Power (Clonliffe, M45) 27.01, 8 Paul Gibbons (SBR, M35) 27.42, 9 Wesley O'Brien (Raheny Shamrock, M35) 27.47, 10 Scott McCann (M35) 28.03. M40: 1 Damian Kehoe (Raheny Shamrock) 28.23, 2 Davy Byrne 29.04, 3 Gordon Macardle (Carrick Aces) 29.55. M45: 2 Paul Balfe (Liffey Valley) 28.25, 3 Peter Gaffney 28.32. M50: 1 Eddie Newman (Mullingar Hrs) 28.05, 2 Paul Quinn (Liffey Valley) 30.57, 3 Michael Finn (Slaney Oly) 31.00. M55: 1 Sean Doyle (Rathfarnham WSAF) 32.15, 2 Joseph Burke 33.29, 3 Nick Devery (CSH) 34.00. M60: 1 Eugene Doherty (SBR) 31.24, 2 James Cottle (Crusaders) 31.54, 3 Brendan Monaghan (Omagh Hrs) 33.15. M70: 1 Michael Ferry (Garda AC) 38.03, 2 Patrick Beauchamp 39.46, 3 Stephen O'Hanlon (Team Carrie) 43.49. Jun: Julian Martin 29.57.
Women: 1 Gladys Ganiel (Nth Belfast Hrs, W35) 28.36, 2 Catherina McKiernan (W45) 28.57, 3 Catherina Mullen (Shercock AC) 29.51, 4 Fiona Stack (Raheny Shamrock) 30.37, 5 Anna Sadowska (Liffey Valley, W35) 30.58, 6 Roisin Hughes (NBH, W35) 31.37, 7 Natalie Hall (Acorns AC) 31.57, 8 Yvonne Macauley (Select) 32.08, 9 Christine Kinsella (Templeogue AC, W35) 32.42, 10 Amy Moriarty (Donore Hrs) 32.55. W40: 1 Yasmin Canning (Drogheda and Dist) 33.15, 2 Maura Matthews (Clonliffe Hrs) 33.19, 3 Bronagh Elliott (Donore) 34.27. W45: 2 Elaine Walls (Carrick Aces) 33.01, 3 Olwyn Dunne (Crusaders) 35.28. W50: 1 Anita Bolton (NER) 36.36, 2 Eileen Rowland (Sportsworld) 37.04, 3 Margaret O'Friel 38.37. W55: 1 Aileen Melody (Sportsworld) 38.17, 2 Bernie Manely (Raheny Shamrock) 39.13, 3 Liz Arkins (Lucan Hrs) 40.28. W60: Mary Jennings (Waterford AC) 37.25. W65: 1 Mary Lynch 37.36, 2 Phyllis Browne (Star of the Sea) 40.10, 3 Caroline Lynch (Sportsworld) 41.53. Jun: Susannah Staunton 41.46.
Little South Run 4-Mile, Kilmacow, Co Kilkenny (162 finishers www,myrnresults.com)
Men: 1 Kevin Maunsell (Clonmel) 19.42, 2 David McPherson (Thomastown) 20.29, 3 Brian Murphy (Carrick-on-Suir) 20.38. Women: 1 Jackie Carty (Kilmore, W45) 23.59, 2 Sally Forristal (St Joseph's) 24.46, 3 Adele Walshe (St Senan's, W40) 25.34.
Glenmore 10-Mile, Co Louth (152 finishers; www.myrunresults.com)
Shane Toner (Glenmore) 57.50; Colette McCourt (Dub Runners Belfast) 72.24
Friday June 10
Old Still Bar Clashmore "5", Co Waterford.
Men:1 Danny Smith Ballynonty AC 27:24, 2 Kevin Kenneally West Waterford AC 28:51, 3 Anthony Flynn West Waterford AC 29:14. M40 Alan Cullen West Waterford AC 31:25. M45 Yevginiy Chizhikov West Waterford AC 31:24. M50 Ray Hahessy West Waterford AC 30:58.
Women: 1 Mary Molloy Carrick-on-Suir AC 34:41, 2 Laura Flavin West Waterford AC 35:22. 3 Stephanie Ilsley 35:43. W35 Diana Chizhikova West Waterford AC 37:36. W40 Karen Ryan West Waterford AC 37:43. W45 Brigid Coffey West Waterford AC 39:17. W50 Alice Fitzgerald West Waterford AC 40:33