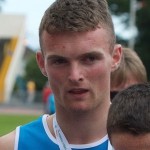 A small Irish team ran at the Luzern International in Switzerland where cold, windy chances scuppered any chances of fast times. In the 100m, Marcus Lawler ran a time of 10.60 –  just off his season's best of 10.59 secs. Lawelr also ran 21.58 secs  for the 200m.
The steeplechase proved a trial with Sara Tracey from Dunboyne  third in 9 mins 56.81 secs – well off the 9:44.56 she ran in Oordegem a fortnight ago. In her first 'chase of the season, Kerry O'Flaherty  ran 9:59.76. Winner was Fabienne Schlumpf of Switzerland in 9:53.61, followed by Fancy Chertich of Kenya in 9:55.76. All three Irish steeplechase women  – Treacy, O'Flaherty and Michelle Finn – are confirmed for the Letterkenny International on Saturday July 2. Last year, the trio qualified for the Rio Olympics on a night not to be forgotten at this meet.
In the hammer, Killian Barry threw 59.57m. The meet was promoted by Irish javelin legend Terry McHugh,who has lived in Switzerland for many years.