Jason Smyth  from Derry Track Club has  added the T13 200m title at the Para Athletics World Championships in London to the 100m he won on Sunday.
Smyth, who had comfortably won his heat yesterday stormed to victory with a season's best time of 21.40 seconds, finishing well ahead of Namibia's Johannes Nambala  second in 21.81 secs and Poland's Mateusz Michalski  third in 21.86 secs. It was a  seventh world championships gold for the 30-year-old.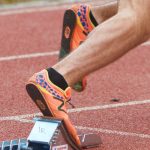 Cushinstown's Paul Keogan finished seventh in the T37 200m with a time of 25.38 seconds. South Africa's Charl Du Toit won the race in 23.27 secs. Keogan, who is competing at his first World Championships, will line out in the 400m at the weekend.
SEAN TOBIN OF CLONMEL and Bandon's Phil Healy both ran personal best times at the 66th Cork City Sports this evening. In the mile, Tobin finished a fighting third in a personal best time of 3 mins 57 secs.  Healy ran in both the 100m and 200m sprints and in the 200m, came home third in 23.32 secs – well inside her previous best of 23:65 secs. Next up for both athletes is the Irish Life Health National Championships in Santry at the weekend.
Cork City Sports – selected results
Men –
100m B: 1 Leon Reid (GBR) 10.96.
Mile: 1 Sam Prakel (USA) 3:55.89, 2 Stewart McSweyn (Aus) 3:55.97, 3 Sean Tobin 3:57.00 (PB)
3000m: Reid Bucchanan (USA) 7:50.26
Open 3000m: 1 Eoin Strutt (Raheny) 8:39.10, 2 Fergal Curtis (Youghal) 8:40.64, 3 Chris Mintern (Leevale) 8:42.23.
Women-
100m:1 Barbara Pierre (USA) 11.31…5 Phil Healy (Bandon) 11.73.
200m: 1 Crystal Emmanuel (Can) 22.50 (meet rec) 3 Phil Healy (Bandon) 23.32 (PB)
Junior 800m: 1 Sophie O'Sullivan (Ballymore Cobh)2:13/84 2 Jo Keane (Ennis TC) 2:15.19, 3 Avril Deegan (Broa) 2:16.80.
Hammer : Ida Storm (Swe) 71.19…4 Cara Kennedy 58.09.
Save