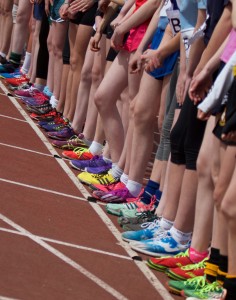 On a day of gusting winds at the Cork IT Track, Ciara Neville of Castletroy College was a clear winner of the senior 100m at the Irish Life Health Munster Schools Championships.
Neville's time of 11. 82 secs came close to Phil Healy's 2013 record of 11.64secs and is inside the European U20 standard of 12 seconds. Neville also finished second in the 100m hurdles behind Kate Taylor of CM Ennis.
Over 200m, Sharlene Mawdsley of St Mary's Newport was battling a -2.5m wind but came home in 24.71 secs; Phil Healy also holds the record for this event with a time of 23.95 secs dating back to 2013. Mawdsley also won the 400m by almost four seconds in 56.39 secs.
Darragh McElhinney of Col Pobail Bantry ran an unpressured time of 4:29.63 to win the inter boy's 1500m. His Ireland team mate Charlie O'Donovan of Col Christ Ri in Cork won the senior 1500m in 4:17.82.
Stephanie Cotter of Coachford College won both the 800m and 1500m. In the 800m, Sonia O'Sullivan's 1987 record of 2:0.90 still stands.
Both Anna Ryan of Ursuline Thurles and Orla Coffey of St Angela's Cork improved on the junior girls' pole vault record old record when they soared over the bar 2.90m. In the junior girls' 2.72kg shot, Ciara Sheehy of St Mary's Charleville with 14.58m was breaking her own record of 13.04m set last year. She also won the hammer.
At inter level, Niamh Foley of SMI Newcastle West won both 100m and 200m and helped team to 4x100m victory. Records mainly untroubled on the track although Alannah Neff's (Carrigaline CS) time of 5:20.01 in the steeplechase was just over a second slower than the record of 5:19.11.
Sophie Meredith of SMI Newcastle West won long jump with 5.54 and was also second in the triple jump behind Aisling Cassidy of Bandon GS with 10.84m. In 3kg hammer, Tienna Ni Chathail of PS na Trionoide with 48.63m was beating Alice Akers' 2013 record of 48.32m.
Setting a new U16 mile record with a run of 5:30.09 was Tara Ramasawmy of Pres Waterford.
Mercy Mount Hawk were the only record breakers in the senior girl's age group, with their time of 49.24 secs a new 4 x 100m record. Second placed Castletroy with 46.26 secs were also inside the 1988 record of 49.70 secs. In the 4 x 300m, Castletroy came out on top beating Bandon GS. Angharad Loughnane of GC Luimnigh won both the shot and discus. Mercy Mount Hawk also won the boys' junior 4 x 100m.
In Minor boys two records were broken. Patrick Ambrose of SMI Newcastle set a new 75m hurdles record of 12.13 secs, while in the shot, Mark Collins from Bandon GS with 14.18m, broke the record of 13.52m set in 1982.
Multi-eventer Darragh Miniter of CBS Ennistymon won the inter boys' 100m hurdles in 14.18 secs. A lot tighter was the 400m hurdles, with Jake Vermeer of Comeragh College winning in 56.32 secs and Brian Lynch of CSN second in 56.44 secs. A time of 54.84 secs gave Cathal Locke of Crescent victory in the senior 400m hurdles.
In the inter long jump, David Ryan of Thurles CBS, whose brother Daniel holds the record at 6.77m, won with a best of 6.50m. Daniel, also Thurles CBS, won the senior 110m hurdles in a time of 15.15 secs and also the shot with 15.04m.
Making it a senior sprint double was Jamie Mitchell of Ardscoil Ris, who ran 11.01 secs for the 100m and 22.94 secs into a headwind for the 200m. Tony Odubote of Rice College Ennis had a comfortable 400m victory in 50.13 secs. Winning the javelin with 51.58m was Kevin Michael of Deerpark CBS.
Full result at www.munsterschoolsathletics.org/category/results/