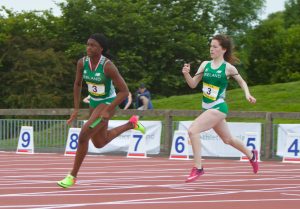 Ireland finished a fighting second overall behind all-conquering England in today's SIAB Schools International in Santry.
Highlights of the day included victory for the Irish girls in the 100m relay, with Patience Jumbo Gula bringing the team home after hard work by Lauren Roy, Rhasidat Adeleke and Niamh Foley.
In a thrilling boys' 4 x 400m, which was the final event of the day, the Irish team caught and passed Scotland for second on the final leg.
Earlier Jumbo Gula, of St Vincent's Dundalk, had won the 100m in 12.21, while Adeleke, of Presentation Terenure, was second in the 200m.
On a good day for the Irish girls, multi-eventer Kate O'Connor of St Vincent's Dundalk won her specialist javelin with a throw of 49.26m. O'Connor also finished fourth in the shot where Ciara Sheehy  of St Mary's Charleville was third.
In the high jump, Caitlin Kennedy of John the Baptist finished second, while in the long jump, Ruby Millett of Kilkenny College was also second and Sophie Meredith of SMI Newcastle West third. Miriam Daly of Scoil Mhuire finished second in the 300m hurdles while Aimee Hayde of St Mary's Newport was second in the girls' 1500m.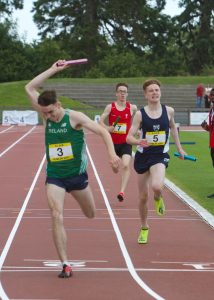 In the boys' 1500m, Darragh McElhinney of Colaiste Pobail Bantry came home first in 4:01.17.
Keelan Kilrehill of Colaiste Iascaigh Sligo pulled himself into second place in the final stages of the boys' 3000m won by England's Thomas Keen in 8:40.92. Kilrehill ran 8:47.25. In the high jump, Ciaran Connolly's height of 1.95 was enough for second place.
Ireland dominated the walks, with Oisin Lane of Mercy Ballymahon and Liam McDonagh of Thurles CBS first and second in the boys' 3km and Sarah Gleenon of St Finian's and Mary Flynn of St Mary's Naas first and second of the girls.  Pics at www.lindie.zenfolio.com
Girls – 1 England 254, 2 Ireland 203, 3 Scotland 105, 4 Wales 118.
Boys – 1 England 258, 2 Ireland 163, 3 Scotland 124, 4 Wales 134.
Save
Save
Save
Save
Save
Save