Cillian O'Leary and Laura Shaughnessy were the winners of the 40th anniversary RTE 5-Mile held in bitterly cold conditions around the roads of Donnybrook.
First held in  1977, when the race started on Beaver Row and took in a loop of  Clonskeagh and Goatstown before returning to Donnybrook, the route has changed many times, due mainly to  increasing traffic in the area. For a number of years, it was based in the UCD campus before returning to Montrose and a three lap course starting on Ailesbury Road and finishing opposite the "Fair City" set.  With most of the RTE land about to be sold, this was the last year on that particular course.
Many old Business Houses Athletic Association hands had turned out for the occasion; lest it be forgot,  RTE and its neighbours Dublin Bus were instrumental in the foundation of the BHAA in 1979. From that came the Dublin Marathon and the series of annual races organised by runners for runners that continues to this day.
Cillian O'Leary led them out today quickly building up a lead on the chasers and coming home a comfortable winner ahead of BHAA stalwart Eoin Callaghan. Finishing first woman and third overall was Laura Shaughnessy, who is the form athlete on the roads at the moment and also a staunch supporter of the BHAA having won the K Club 10km last month. She sheltered behind Paul Fleming for the first lap or so but then made a break for it. Second was Niamh Devlin.
Next BHAA race is the ESB 5km on Sandymount Strand on Tuesday May 16 (7.30). Entry is €10 for BHAA members and €15 for guests, with all standards welcome both for the race and the get-together after which makes the BHAA races the most "social" around.
JOHN TRAVERS of Donore Harriers came home first in the 5000m at the Greystones IMC Meet today, beating Mullingar's Mark Christie. Travers crossed the line in 13:52.67, with Christie timed at 13:55.56. Winning a closely fought women's 800m was Alanna Lally of UCD in 2:09.35. Rose Finnegan of Bohermeen was a shade behind in 2:09.42. In third place Carla Sweeney of Rathfarnham with 2:09.54 was inside the European Junior qualifying mark as was fourth placed Alex O'Neill of St Cronan's with 2:09.70.  In the women's 1500m, Maisy O'Sullivan of St Abban's pipped Ciara Durkan from Skerries; their times were 4:24.16 and 4:24.19. Over 400m, Sophie Becker's time of 64.62 secs was a Euro U23 qualifying mark.
FINN VALLEY'S Sommer Lecky set a new Irish junior record of 1.82m when winning the high jump in the NI Open Meet held at the Mary Peters track in Belfast.   Winning the 3000m in a personal best of 9 mins 11 secs was Emma Mitchell of QUB;  second was Claudia Jalon of AD Marathon in 9:56.75. Denise Toner of Clones was third in 10:06.08 followed by Mitchell's QUB team mates Rebecca Henderson(also Dromore)  in 10:10.64 and Sinead Sweeney in 10:10.72.
Neil Johnston of Springwell won the men's 3000m in 8:31.08, followed by Chris Madden of City of Lisbon 8:42.05 and Gareth Hill of BAAC in 8:42.97.
In men men's shot, James Kelly of Finn Valley had a best effort of 16.88m with the 6km implement. Aaron Sexton of North ran a time of 10.88 secs in the men's 100m, while winning a mixed 400 was Chris O'Donnell of North Sligo in 48.28 secs.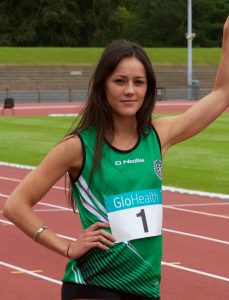 Hurdler Christine McMahon of BAAC ran 55.43 secs in a second race.
SHARLENE MAWDSLEY of Newport AC made European Junior B standards in both the 200m and 400m at the Leevale Open Sports in Cork. Mawdsley ran 24.33  secs in her specialist 200m to finish second behind Bandon's Phil Healy. In the 400m, her time was 55.36 secs .
A 67.20m effort in the junior 6kg hammer from Brendan O'Donnell of Lifford Strabane, was also a European Junior B standard, while Liscarroll's Ciara Sheehy with 14.24m in the  shot putt achieved an EYOF A standard. Winning the men's 400m hurdles was Joe Halwax of DSD in 54.31 secs. Catherine McManus of DCH won the 100m hurdles in 14.11 secs and was also third in the 200m.
In the senior men's shot, Leevale's Dave Tierney came out on top with a 14.17m putt, while high jumper David Cussen of Old Abbey opened his season with a winning leap of 2.00m.  One to watch is Kevin Jelenak of Togher who won the junior (700g) javelin with 50.70 and had three throws over 50m. However the athlete of the meet was national cross-country champion Shona Heaslip of Riocht who won the women's 3000m  by almost a minute in 9:22.99.
IN THE USA, Tom Cotter of Dunleer AC opened his outdoor season with a time of 8 mins 50.06 secs in the steeplechase at Stanford. Cotter ran a time of 8:37.12 last year, putting him sixth on the all-time Irish list.
Results
Saturday May 6
RTE 5 -Mile (216 finishers; www.bhaa.ie)
1 Cillian O'Leary (Teachers) 26.03 , 2 Eoin Callaghan (Teachers) 26.37, 3 Laura Shaughnessy (Temple St Hospital) 37.11, 4 Sean Fox (Deloitte, M40) 27.23, 5 Paul Fleming (Ornua, M40) 27.27, 6 Ian McGrath (B of Ire, M40) 27.32. M45: Mick Hanney (B of Ire) 30.32. M50: Phelim Glynn (Eir) 28.01. M55: Gerry O'Connell (Marino Inst of Ed) 30.04. M60: Jack Doyle (Army) 31.01. M65: John Todd (Cadburys) 33.45. M70: Tom Turner (LWP) 42.45.
Women: 2 Niamh Devlin (HSE) 29.53, 3 Ilona McElroy (PWC) 31.00, 4 Ollie McGrath (Trinity Real Estates, W40) 31.21, 5 Annemarie Kenny (Dublin Fire Brigade, W40) 31.33, 6 Lena Sinclair (RTE, W40) 31.38. W45: Vanessa Sallier (Musgrave) 33.08. W50: Mary Watters (Watters Bus Hire) 35.17. W55: Jean O'Kennedy 36.19. W60: Mary Jennings (Teachers) 37.43. W65: Eileen O'Brien ( St John of Gods) 40.11. W70: Evelyn McNelis (Teachers) 40.58. W75: Ann Woodlock (A Collins ) 46.39.
Greystones IMC T-F (selected)
Men – 500om: 1 John Travers (Donore) 13:52.67, 2 ark Christie (Mullingar Hrs) 13:55.56, 3 Kevin Dooney (Raheny ) 14:04.54, 4 Conor Dooney (Raheny) 14:05.26, 5 Andrew Coscoran (Star of the Sea) 14:08.26, 6 Conor Bradley (City of Derry) 14:09.21.
Women – 400m: 1 Sophie Becker 54.62 (Euro U23 Q); 2 Ciara Deely (KCH) 55.80 (Euro U20 Q). 800m: 1 Alanna Lally (UCD) 2:09.35, 2 Rose Finnegan (Bohermeen) 3:09.42 (Euro jun Q), 3 Carla Sweeney (Rathfarnham WSAF) 2:09.45 (Euro Jun Q), 4 Alex O'Neill (St Cronan's) 2:09.70 (Euro Jun Q). 1500m: 1 Maisy O'Sullivan ( St Abban's) 4:24.16, 2 Ciara Durkan (Skerries) 4:24.19, 3 Nadia Power (Templeogue) 4:26.62, 4 Emma O'Brien (Sli Cualann) 4:27.85, 5 Sarah Healy (Blackrock, W18) 4:28.71.
Glenavy Mile Race 10km/5km (www.championchipireland.com)
10km (114 finishers)- Men: 1 Stephen Scullion 32.59, 2 Stephen Nicolson 36.45, 3 John Miskimmin 38.25. Women: 1 Shileen O'Kane 42.08, 2 Gillian Miskimmin 46.09, 3 Sinead Scullion 49.54.
5km (140 finishers) – David Clonliffe 17.59; Aine McCormick 25.47.
Friday May 5
Ras Benildus 10km/5km, Kilmacud, Dublin (www.popupraces.ie)
10km (88) – Men: 1 Louis McCarthy 32.32, 2 Kevin Donagher 34.54, 3 Maurice Looby 34.59 . Women: 1 Harriette Robinson 37.11, 2 Helen Maguire(U18) 41.04, 3 Marina Ivan 41.26.
5km (148 finishers) – Men: 1 David Power 17.13, 2 Darren Cullen 17.37, 3 Nathan Doyle (U18) 17.49. Women: 1 Shauna Moran 18.58, 2 Helen Barry (W40) 20.07, 3 Cathy Megan (W50) 22.14.